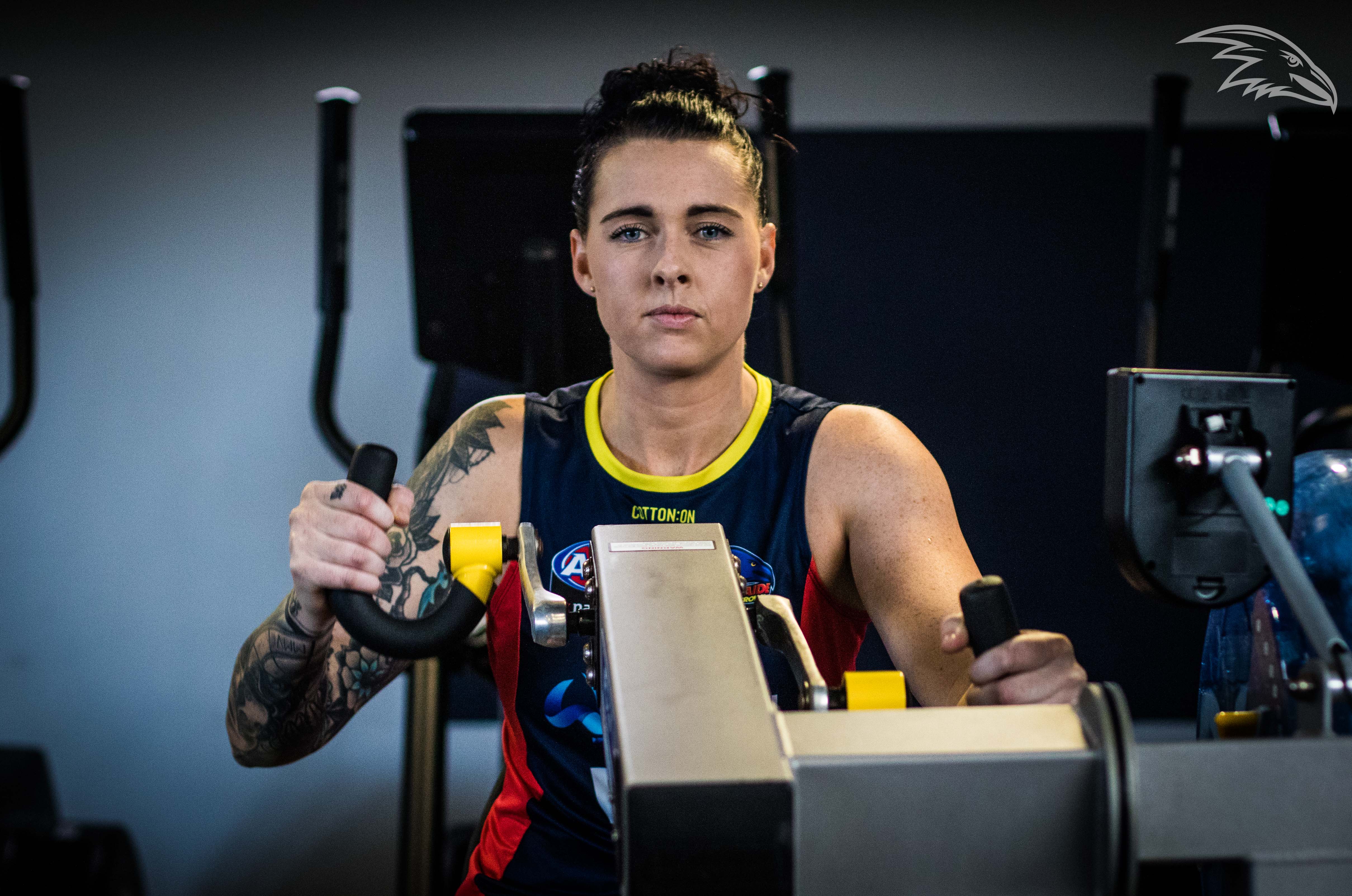 I clearly remember instantly looking down and seeing my knee cap was about 45 degrees out of place
Rhiannon Metcalfe
I've played sport my entire life and never sustained an injury as serious as when I ruptured my ACL in our trial match against Fremantle in January.
It is a moment I will never forget.
As I planted my foot to change direction and impact the contest I felt excruciating pain in my left knee.
I clearly remember instantly looking down and seeing my knee cap was about 45 degrees out of place, before what felt like my whole leg from the knee down clunk back into place.
I have never had a knee injury before but knew exactly what this was the moment it happened.
I was just hoping it was my knee cap that had dislocated, but deep down I knew that my season was over and my next 12 months was going to be completely different.
I was stretchered off into one of the rooms under the stand at TIO.
I remember Erin Phillips and our Well Being Coach Belinda coming in and holding my hand while the medical team assessed my knee.
This was when the all the emotions I was trying not to show on the field all came out.
One of the things that disappointed me the most was how prepared and ready I was for this season.
I worked so hard in the off-season and hit so many personal bests in pre-season to get myself in the best shape I have ever been in and I wasn't going to be able to put it into action.
Days later, scans confirmed I had ruptured my ACL. This news I had already come to terms with.
Two weeks after the incident is when I had surgery. I have never had any kind of operation before so didn't really know what to expect.
I was actually excited to have the surgery done as I knew this was day one of my recovery. In my mind the sooner I had surgery the sooner I am back on the field.
I definitely was not prepared for the physical state I would be in from the moment I woke up after the operation. I was in so much pain.
The surgery went well though and the doctor discovered I had torn my meniscus also, which we weren't able to see initially in the MRI, so he was able to fix that while he was in there.
Thankfully I had someone that was staying with me at home after surgery to help me basically survive.
As much pain as I was in at the time I knew this was the worst of it and I would only get better from here.
Something that completely overwhelmed me from the day I did my knee was the support I received.
Considering I am not originally from Adelaide and my family all live interstate, the girls have been my rock and the ones I rely on.
You expect the support to come from your team mates, friends and family and the Club but it went well beyond that.
The kind words that I received from supporters and from AFLW players from other clubs was breath taking.
It's amazing to see that on the field your opposition is the enemy and you go so hard against each other, but all that stays on the field.
At times like this, to have words of support and advice coming from my peers goes to show the kind of league that we are creating.
Until Round One, I had never missed an AFLW game. It was very hard to be on the sideline watching.
As a player I don't get nervous on game day, but I can confidently say that is the complete opposite when I'm not on the field.
My hands literally shake and I'm so restless watching every game the girls play. I now understand what my family goes through when they watch me.
I know the next 12 months are going to be difficult physically but more so mentally. I am a very strong and resilient person but I'm aware that this will be a challenge.
If I have a positive outlook on the next 12 months I will be much more determined, focussed and in a better head space then if I sat around feeling sorry for myself.
Our coaches approached me and asked if I would like to take on more of a mentor/coaching role with the rucks that would be taking my place for this season.
I learn better is when I'm teaching or helping certain techniques to other people, so for me helping the girls who have unexpectedly been thrown into ruck helps me develop my football knowledge.
Having Doc as our coach is a ruck's dream, but as I have physically played against majority of the rucks in the competition I can provide further insight to our rucks about what their advantage will be over the opposition.
Looking at a long rehabilitation is like looking at a season.
As a team, you will never speak about finals when you are at Round One. Your focus is purely week by week and your next goal or opposition.
That is how I plan to approach the next 12 months. I know I will be back for Season Four but that's my grand final and I need to win Round One first.