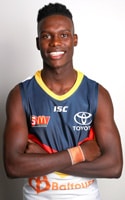 Aron Asfaha
Height: 177cm Weight: 65cm
DOB:13/5/97
Local club: Glenunga
A midfielder/wingman with burst-away speed. Asfaha is a relative newcomer to football, having only taken up the game at the age of 16. Last year, he won the best and fairest with Greenacres, before making the switch to Glenunga for this season.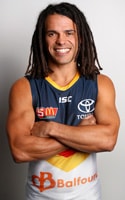 John Boxer
Height: 168cm Weight: 64kg
DOB: 12/9/89
Local club: Golden Grove
Small midfielder who brings a lot of speed and pressure to the side. This is his second year with the development squad, after playing previously with Gaza, Freeling and Golden Grove. He played for Gaza for five years, winning a premiership in 2011.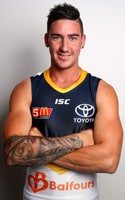 Adam Connelly
Height: 173cm Weight: 74kg
DOB: 11/2/96
Local club: Trinity Old Scholars
A member of the SANFL Crows development squad for the first time this year. Plays on the wing or up forward. Is currently playing for Trinity Old Scholars Football Club in the SAAFL. Has good speed and clean skills.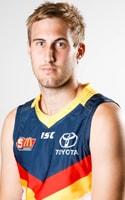 Louis De Michele
Height: 193cm Weight: 88kg
DOB: 11/9/94
Local club: RMFL Imperials
Versatile tall from the River Murray Football League who can play at either end of the ground. Claimed the ANZAC Day Medal as best afield in the Imperials' win over the Murray Ramblers in 2015. Also has experience playing in the ruck. Second season as part of Adelaide's development program.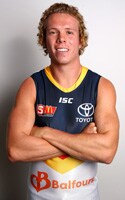 Doug Hadden
Height: 177cm Weight: 70kg
DOB: 26/11/94
Local club: Rostrevor Old Collegians
Wingman who played for Sturt last year. Previously played for the Sydney Swans reserves, including in a grand final, and met SANFL Crows coach Ryan O'Keefe. He was invited to join the development squad this year by O'Keefe. Fierce attack on the ball.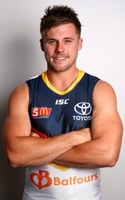 Tyson Irlam
Height: 176cm Weight: 85kg
DOB: 26/11/94
Local club: Willaston
In his first year as part of the SANFL Crows development squad, Irlam is an in-and-under midfielder. Has played for Willaston Football Club in the Barossa Light and Gawler Football Association since he was 14 years old.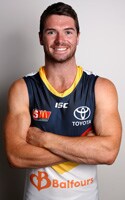 James Lean
Height: 181cm Weight: 81kg
DOB: 13/2/95
Local club: Henley Sharks
An athletic midfielder with the ability to kick goals from the midfield. Spent the last few years playing in the country at Two Wells and won a premiership with them last year. Has returned to the city this year to play for Henley. In the development squad for the second year.

James Loneragan
Height: 189cm Weight: 88kg
DOB: 24/1/98
Local club: Adelaide Uni Blacks
From Sydney, Loneragan was in the Swans Academy until Under-17s, and then competed in the NEAFL last year, where he played against the Brisbane Lions in a preliminary final on the Gabba. The rebounding centre half-back was invited to join the development squad in 2018 and moved to Adelaide. A strong intercept marker and leader.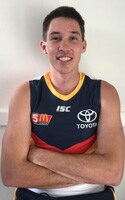 Michael McMahon
Height: 186cm Weight: 83kg
DOB: 18/7/94
Local club: Glenunga
The half-forward played for the Jets as a junior and now plays at Glenunga with the Rams. Represented North Adelaide and played 15 League games. This is his first year in the Crows development squad. Provides good speed and has a strong mark.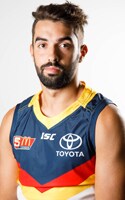 Brad Oats
Height: 194cm Weight: 82kg
DOB: 30/3/96
Local club: Mypolonga
Defender/wingman from the River Murray Football League with good pace and skill. Can also play forward and hit the scoreboard if required. Won two junior premierships with the Imperials and had played his whole career with the club before moving to Mypolonga last year.

Rupert Peake
Height: 190cm Weight: 85kg
DOB:15/9/92
Local club: Sacred Heart Old Collegians
In his first year as a member of the SANFL Crows development squad. Plays for Sacred Heart Old Collegians Football Club and won a premiership in his junior years. Playing at full or centre half-back, Peake has a lot of pace.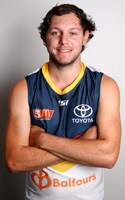 Harrison Slee
Height: 186cm Weight: 86kg
DOB: 7/7/96
Local club: Meninge
A midfielder who pushes up to half-forward and has good foot skills. Played in the juniors at North Adelaide and won a premiership at Under-16 level. Since last year, he has played at the Menindee Football Club in the Murray River Football League.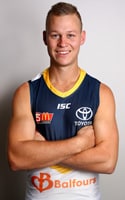 Josh Vandermeer
Height: 186cm Weight: 85kg
DOB: 1/3/96
Local club: Flagstaff Hill
Skilful half-forward who is known for kicking bags of goals. Plays for Flagstaff Hill and was in back-to-back premierships with them in 2015/16. Joined the SANFL Crows development squad last year and played two League games.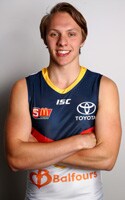 Sam Webster
Height: 181cm Weight: 83kg
DOB: 4/2/98
Local club: PHOS Camden
Started playing football as PHOS Camden juniors and went on to win three premierships in a row. Also represented Glenelg at junior level. The half-back keeps a cool head under pressure, has good voice onfield and clean foot skills.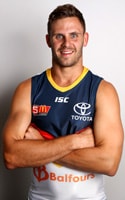 Sam Venning
Height: 184cm Weight: 83kg
DOB: 17/10/91
Local club: Brighton
Has played his whole career at Brighton, as well as reserves stints with South Adelaide and Glenelg. Was the first ever Under-18 premiership captain in the SANFL with Glenelg. Teaches with development coach Paul Thomas, which was his connection to join the squad this year. A defender with a good kick and strong defensive pressure.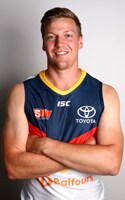 Brady Zwar
Height: 194cm Weight: 104kg
DOB: 7/1/96
Local club: Southern Flinders
A ruckman who is good down low for his height. Has always played for the Southern Flinders Tigers in the Northern Areas Football Association. Represented North Adelaide in his junior years. In his second year as a member of the development squad.