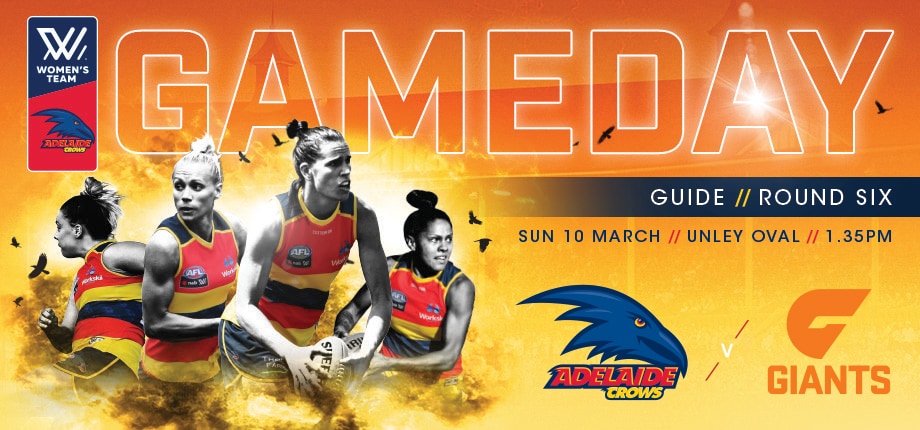 Gates Open: 10.30am
First Bounce: 1.35pm


The Adelaide Football Club would like to acknowledge their Rd 6 home match sponsor, the University of South Australia. Make sure you visit the UniSA marquee, located just inside the main gate at Unley Oval. Pedal your way to a delicious smoothie or spin the wheel of fortune to discover your future career, and you may be in store to win a prize!

STATEWIDE SUPER MATCH DAY EXPERIENCE
The Statewide Super Match Day Experience is a great opportunity for kids aged 5-16 years to learn a variety of footy skills and have a great time playing with their mates in a curtain raiser to the Crows game. This FREE experience will be offered to fans before each Adelaide Crows Women's Team home match. The Statewide Super Heroes will be on hand to meet the kids at the northern end of Unley Oval from 11.45am this Sunday!
GUARD OF HONOUR
A select group of 2019 Crows Women's Team Members will form the Guard of Honour when the Crows players take the field on Sunday.

CROWS KIDS ZONE
Open from 10.30am, the Crows Kids Zone is located in the south east corner of Unley Oval, alongside Gate 4, and has plenty of fun and FREE activities for the kids including:
Huge goal kicking inflatable
How high can you jump? Measure your vertical leap up against your favourite Crows Women's Team stars
Show your club colours with Crows face painting
OPTUS MAGIC CARD
Visit Optus next to Gate 2 (alongside the food court) at Unley Oval this Sunday and watch yourself become our women's team coach, Matt Clarke, or Claude the Crow! You won't believe your eyes when using the Optus Magic Card.
Hit107
Visit the Hit107 marquee behind the northern goals at Unley Oval this Sunday, for glitter facepaint and giveaways including delicious icy poles.
CHOBANI GIVEAWAYS
Drop past the Chobani stand behind the northern goals at Unley Oval for your chance to sample their tasty yogurt.
CROWS SOCIAL
Use #weflyasone on Twitter and Instagram to show your colours on Sunday and follow us on Facebook @CrowsAFLW, Twitter @CrowsAFLW and Instagram @CrowsAFLW to make sure you don't miss a minute of the action.
CLAUDE THE CROW
Claude will be roaming the Oval Sunday – if you see him around the ground, make sure you stop and have a photo with him, using #ClaudeTheCrow to share them with us.

POST-MATCH FOOTY GIVEAWAY
Will you be lucky enough to score yourself a free footy from a Crows player at the end of the game?
MCDONALDS KICK AND CATCH
Thanks to McDonald's, don't miss your chance to have a kick and catch on Unley Oval after the game.
PLAYER SIGNING SESSION
Catch up with all the players at the post-match signing session that will take place at the conclusion of the game above the player's race.

Visit the CROWmania Van just outside Gate 3, on Trimmer Terrace, this Sunday and receive a massive 30% OFF all AFLW gear!
We also want to see the most fanatic Crows supporters this week! Take a picture wearing your Crows colours, post it to Instagram, Facebook or Twitter and tag #Crowscolours to show us how you support the team.

BUY ONE, GET ONE FREE! Sign up as a Crows Women's Team Supporter or Junior Member from only $35 this Sunday and you will receive a Membership for FREE! Visit our friendly team in the Crows Membership Marquee, located inside Gate 1 at Unley Oval on Sunday to find out more or sign up today at crowsmembership.com.au.

Footy Records are available for sale as you approach Unley Oval on Sunday.