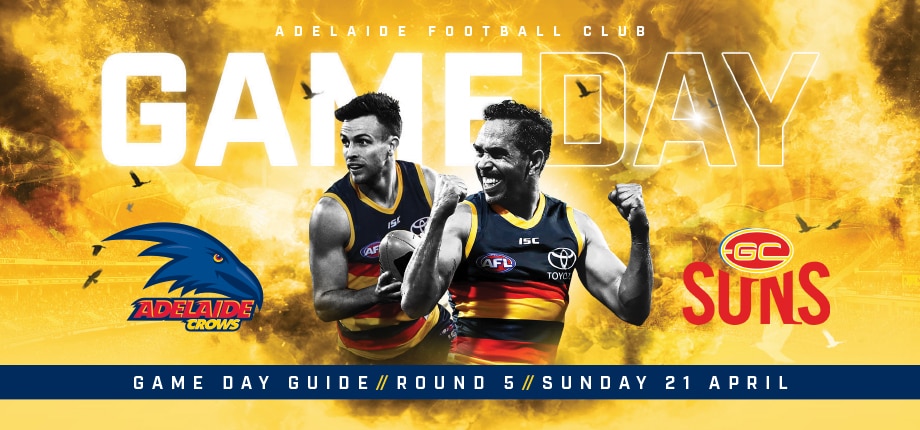 Gates Open: 2.00pm
Ticketek Open: 1.30pm
First Bounce: 4.10pm

EDDIE'S LITTLE LEGENDS JUNIOR ROUND
This Sunday is a special Eddie's Little Legends Junior Match! Visit the McDonald's Kids Zone before half time to collect your FREE AFL Player Cards and passport. Bring your passport when you attend our first three Junior Rounds (Round 5, 7 & 12) and you could be one of 24 lucky players in a friendly match on Adelaide Oval before our Round 22 game against Collingwood.
EDDIE BETTS CLAP BANNER
Make sure you get to the ground early this Sunday to receive a FREE Eddie Betts 300 game clap banner.
CURTAIN RAISER
There will be plenty of young talent on show when the Adelaide Football Club's Elite Boys Academy Teams play in the curtain raiser game. Get to your seats for a 2.05pm game start when the next generation of talent will put their football skills on display.
PLAYER RUN-OUT
Don't miss the player run out scheduled at approximately 3.55pm to bring your team onto the ground for our Sunday afternoon clash!
BENDIGO BANK MIGHTY MASCOTS
Thanks to the Club's Premier Partner Bendigo Bank, 6 year old Maliah Connolly will get the thrill of a lifetime, running out with the team onto Adelaide Oval this Sunday.

MCDONALDS CROWS KIDS ZONE
Open from 2.00pm until half time, the McDonalds Kids Zone is located next to the Victor Richardson Gates at the south-east corner of the stadium, and has plenty of fun and FREE activities for the kids including:
Kids Crows Draft – try your hand at our Crows footy skills
Huge kicking inflatable
Show your Crows colour with tri-colour facepainting
Science Cart
Egg colouring in station
Torpedo kicking contest
Have a pic with the Crows Wings Wall
Crows Players in attendance
Meet Claude the Crow
Collect your FREE AFL Player Cards
A giant kicking inflatable (located Creswell Gardens)
EASTER EGG GIVEAWAY
Celebrate Easter with mini Easter eggs as you make your way into the Oval this Sunday. Look out for Claude the Crow and the Easter Bunny who will be gifting the delicious treats before the game.
OPTUS 'YES'
Visit the new giant Optus 'YES' in the Southern Plaza for the perfect photo opportunity on your way into the footy this Sunday! Claude and past AFC player Wayne 'Weed' Weiderman will be making a special guest appearance throughout the afternoon and, if you share your pic on social media using #yescrows you could win a chance to play for a huge prize at ¾ time.
CROWS COLOUR CREW
Keep a look out for the Crows Colour Crew this Sunday, who will be wandering the Oval providing mobile face painting and waterless tattoos. With their branded mini colour crew flag banners they are easily recognizable.
TRIPLE M HANDBALL TARGET
Catch up with the Triple M Rock Patrol in the Southern Plaza before the game on Sunday and test your skills at the Triple M Handball Target for your chance to win some great prizes. Don't miss your chance to join the Triple M Club and go in the draw to for the Triple M Kick for Cash competition.
RAA RANGERS
The RAA Rangers will be roaming around the stadium surprising and delighting random fans with giveaways. You never know, it might be your lucky day!
MENULOG AT ADELAIDE OVAL
Make sure you head past the Eastern Plaza and grab your Menulog discount vouchers, with the first lucky visitors also scoring themselves a Menulog cooler bag!
TRIPLE M KICK FOR CASH
Triple M and RAA are giving one lucky fan a chance to win $5000 CASH right before the bounce at every Adelaide Crows home game! To enter, just head to TripleM.com.au and follow the prompts. And if you're an RAA member, you'll get 'Insurance against the miss', giving you peace of mind that if you miss the kick, you'll still walk away with $500! This is the kick you don't want to shank!
BALFOURS SPECKY CAM
Lucky fans will be selected at quarter time to take part in the Balfours Specky Cam, thanks to Balfours, baking people happy since 1853.
FARMERS UNION KISS CAM
To kiss or not to kiss, that is the question at half time this Sunday. Thanks to Farmers Union Iced Coffee, we are asking fans to pucker up, as you never know when the Farmers Union Kiss Cam could catch you. A team signed 2019 AFL Guernsey is up for grabs for one lucky fan who isn't afraid to pucker up!
CHINA SOUTHERN RACE THE PLANE
Make sure you bring your running shoes to the game as you could be the lucky fan selected at half time to take part in China Southern's Race the Plan. If you can beat the plane, you'll win a $50 CROWmania voucher and memories of running on Adelaide Oval to last a lifetime!
OPTUS PHONE SHUFFLE
Thanks to our new principal partner Optus we are giving one lucky fan the chance to play the Optus Phone Shuffle and the opportunity to win an amazing prize. Make sure you visit the Optus 'YES' sign located in the Southern Plaza pre-game, share your pic on social using #yescrows and you could be the lucky contestant chosen to play at three-quarter time.
THOMAS FARMS #CROWSCROWD
Want to kick back alongside Crows legend Tony Modra for a BBQ that you'll never forget? You could win the opportunity to meet Mods in our #crowscrowd competition, thanks to Club Premier Partner Thomas Farms. Guess the official crowd attendance at every Crows home game during the 2019 Toyota AFL Premiership Season on Twitter while mentioning @thomas_farms and using the hashtag #crowscrowd and the fan who submits the closest guess before the first bounce, wins!
CLAUDE'S EASTER GIVEAWAY
Claude will be getting in the Easter spirit, giving away Easter packs to lucky fans who will be sitting in their seats pre-game and during the half-time break. Claude will also be roaming the Oval Sunday – if you see him around the ground, make sure you stop and have a photo with him, using #ClaudeTheCrow to share them with us.
CROW RADIO
We'll be playing the best pre-match tunes in the Southern Plaza from as you head into the ground. Take your time pre-game, have fun at the Crows activities and enjoy some game-day tunes, thanks to Encore.
CROWS SOCIAL
Want to have your selfie showcased on the Adelaide Oval superscreen this year? All you have to do is upload a video, selfie or Boomerang to social media before and during the game. Use #weflyasone on Twitter and Instagram to show your colours and follow us on Facebook /AdelaideCrows, Twitter @Adelaide_FC and Instagram @Adelaide_FC to make sure you don't miss a minute of the action.

MILESTONE GAME PRESENTATIONS
Be sure to stick around after the final siren as the Club will make a special presentation on Adelaide Oval to Brodie Smith who will pay his 150th club game, and of course we'll hear from Eddie Betts following his 300th game.
MACCA'S POST GAME FOOTY GIVEAWAY
Will you be lucky enough to score yourself a footy from a Crows player at the end of the game all thanks to McDonald's?
* Subject to change. Activity to be confirmed post-match.
McDONALD'S KICK TO KICK
Make sure you bring your footy to the game this week, for the post-match McDonald's Kick to Kick. When the match concludes, make your way onto Adelaide Oval and take a couple of 'speckies' on the ground or boot a couple of 'torps' all thanks to McDonalds.
POST-MATCH EVENT
Head to the William Magarey Room on Level 3 after the match to hear from selected players. The bars will be open for drink sales.

Celebrate Eddie Betts' 300th AFL Game in our exclusive Eddie 300 merchandise range available now at CROWmania. Share a selfie of you wearing your Eddie 300 gear using #Eddie300 for your chance to WIN an Eddie Betts signed cap.
Did you know that you can now Click & Collect at CROWmania? Purchase your Crows gear online at shop.afc.com.au and you can collect it at the next Crows home game at Adelaide Oval.
CROWmania also offers personalised numbers at Adelaide Oval. Visit any of the CROWmania outlets at Adelaide Oval before the start of the match and you can pick up your personalised guernsey during the match.
We also want to see the most fanatic Crows supporters this week! Take a picture wearing your Crows colours, post it to Instagram, Facebook or Twitter and tag #CrowsColours to show us how you support the team.
Adelaide Football Club Member Services
For any member enquiries, scanning issues or lost cards please visit the Member Services window, located outside the South Gate in the Southern Plaza (near the ATMs).
The Member Services team will be open from 1.45pm until the end of quarter time.

Footy Records are available for sale as you approach all gates at Adelaide Oval.

Your ticket to the game is also your ticket to FREE travel on dedicated Game Changer Footy Express bus, train and tram services. Game Changer Footy Express services make getting to and from the game easy so leave the car at home and get a free ride to the game!
Travelling home on the tram? Go the Festival Plaza stop on King William Road for trams to Glenelg and the Adelaide Railway Station stop on North Terrace for trams to the East End or Entertainment Centre. Visit the Adelaide Metro website for all the details
Please note: Seaford and Tonsley line trains will be replaced by "Game Changer Footy Express" substitute buses for AFL games at Adelaide Oval up to and including Sunday 5 May. Visit the Adelaide Metro website for details.
FOOD AND BEVERAGE:
Adelaide Oval food and beverage outlets now accept payment by card only. Patrons attending Adelaide Oval with cash only will be able to exchange it for a complimentary 'Cash Card' via Card Exchange booths located around the stadium. Any un-used 'Cash Card' credit can be used at future events or redeemed in full at any time.
ADELAIDE OVAL SECURITY:
Get There Early
Adelaide Oval patrons are being advised to arrive early this Sunday. Security staff and search technology will be present at entrance gates and other key locations.
Patrons are being asked to remember six key things ahead of their next visit to Adelaide Oval:
Arrive early
Be patient
Limit the number of bags you bring
Co-operate with staff at all times
Be our eyes and ears
To report bad behaviour during games, text Adelaide Oval security on 0400 TELL US.