Six-year-old Mario de Pinto is hoping to be Adelaide's lucky charm for Showdown XL.
Saturday, April 2 is World Autism Awareness Day and the Crows Children's Foundation is proud to support South Australian children on the autism spectrum. The Foundation has already donated $50,000 to Autism Spectrum Australia to help fund the construction of South Australia's only school for children on the spectrum.
Crows captain Taylor Walker met with Mario's father Phillip de Pinto at this year's charity partnership launch.
Walker extended an offer to allow Mario the opportunity to toss the coin at Saturday's Showdown in recognition of World Autism Awareness Day and the Crows Children's Foundations commitment to the cause.
'Tex' also invited the entire de Pinto family, including young Mario, inside the Club's West Lakes headquarters for a special tour of the facility. Walker also gave Mario a few handy tips on how to toss the coin to get the right result on Showdown day!
The Crows Children's Foundation has also invited 15-year-old Mitchell Neagle to present the Showdown trophy to the winning team after the match.
Adelaide will tally all of its players' steps from Saturday's Showdown clash to raise awareness for the Walk for Autism's campaign. The goal is to have participants walk 42,000,000 steps, covering the length of the country's coastline in one week.
Find out more about the Walk for Autism campaign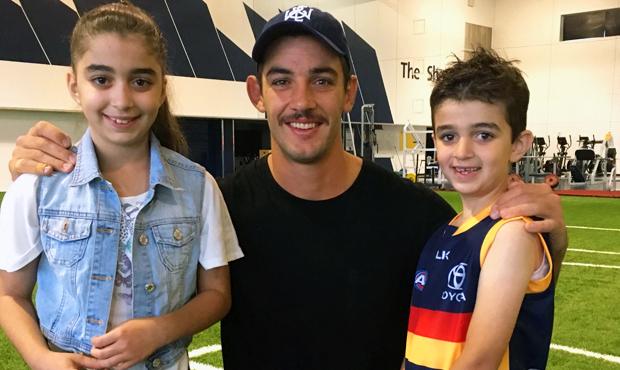 Angelina and Mario de Pinto with Crows captain Taylor Walker