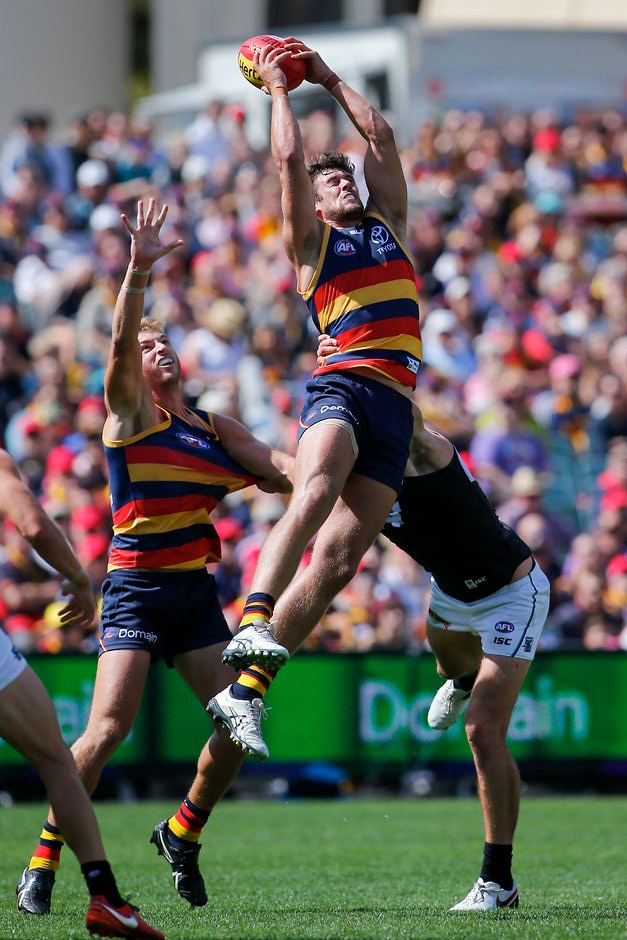 I'm starting to feel comfortable and I think that's coming out in my footy, I'm going for a lot more marks and that sort of thing.
Kyle Hartigan
Kyle Hartigan might be $1,000 lighter in the pocket this week, but he enters Round Seven in arguably career-best form.
The key-position defender was one of the Crows' best in Saturday's 33-point win over Fremantle, keeping Matthew Pavlich to one goal while collecting 18 disposals himself.
Hartigan also led the Crows disposal efficiency going at 88.9 per cent.
The 24-year-old told radio station FIVEaa that he was enjoying his football at the moment.
"I missed out Round One so I had to find my way into the team. For me it's just about building every week and just cementing my spot," Hartigan said.
"I'm starting to feel comfortable and I think that's coming out in my footy, I'm going for a lot more marks and that sort of thing."
In the first part of the season Hartigan has had the chance to play on some of the best key forwards in the competition, and he said it's a challenge he is relishing.
"They've (the coaching staff) shown a lot of faith in me the last few weeks and it's been great to play on some good forwards," he said.
"I've played a bit on Buddy (Lance Franklin) and Jack Riewoldt and 'Pav' (Matthew Pavlich) on the weekend so it's been really good for my confidence.
"If Tals (Daniel Talia) ends up not playing one week, someone has to step up and fill his role because he does it week-in, week-out so hopefully I can step up and take some of the load off him."
Hartigan has always been a good one-on-one defender, but one of the biggest improvements in his game in 2016 has been his work with the ball in hand.
His kicking efficiency has gone up from 72.8 per cent in 2015 to 85.3 per cent so far in 2016.
Hartigan said kicking is something he is constantly working on.
"When I first came to the Club that (my kicking) was probably a knock on me early and it's something I've always had to work on,"
"Podsy (James Podsiadly) and Paul Thomas have worked with me a lot this year about my kicking efficiency and hitting the targets so I'm constantly at it so hopefully it's starting to pay off."
Hartigan said the Crows defensive group, under the guidance of Darren Milburn and now James Podsiadly, had developed a really good relationship.
"We just get along really well both on and off the field," he said.
"He (James Podsiadly) gives us the licence to take the game on and play with a bit of flair and he has built a really good culture with the boys."
This week the Crows defensive group has the big task of stopping Jake Stringer and Hartigan said it would be a team effort.
"With the game plan that we are playing with this year we are a lot more proactive as defenders and we help each other out, it's not just one-on-one, we come across and support each other," he said.
"I'm sure I might get him for a little bit but Jakey Lever, Kyle Cheney, Tals will all roll through.
"He (Jake Stringer) is hard to stop because he is good in the air and good on the ground but hopefully with the defence we are playing at the moment we can do it as a team and get it done."
The views in this article are those of the author and not necessarily those of the AFL or its clubs