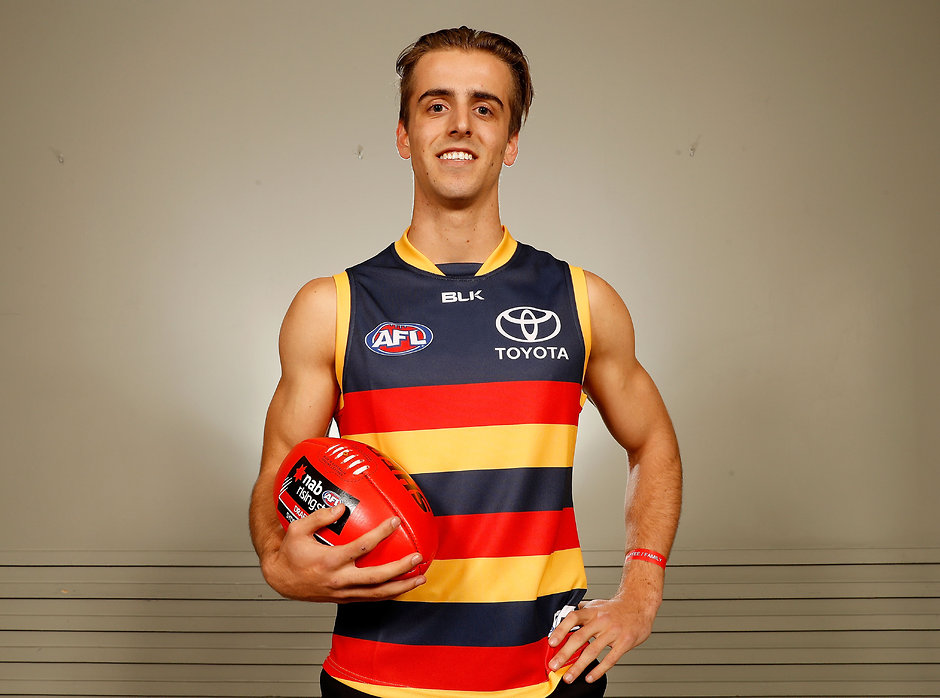 He's got speed, power, can play in and out – so that was the attraction, he can play lots of roles
Hamish Ogilvie on Jordan Gallucci
Adelaide has addressed its need for speed, taking zippy midfielder Jordan Gallucci with its first pick – 15 overall - in the NAB AFL Draft.
The Crows have long had their eye on the Eastern Ranges product, who boasts some freakish athletic ability. Gallucci broke the all-time draft combine record for the standing vertical jump (89cm) this year and also excelled in the beep test, repeat sprint and running vertical jump.
The former volleyballer, who captained Vic Metro this year, enjoys taking the game on and follows last year's top draft pick Wayne Milera by bringing some dash and dare to the Crows.
"We've followed him for a long time. He's got speed, power, can play in and out – so that was the attraction, he can play lots of roles," Crows National Recruiting Manager Hamish Ogilvie told AFL.com.au.
"He has played at half-back, he can go forward with his elite vertical … nobody has really ever been better and he's a midfielder, so he can play three areas of the ground which is good.
"We traded for needs with (Curtly) Hampton, (Troy) Menzel and (Paul) Seedsman (last year) and we just keep drafting for talent.
"We were able to balance it out with some of our needs tonight, we got a tall later on."
The Crows took five draft picks – one more than planned – after Ben Davis remained on the board late, but overlooked Ben Jarman, the son of dual premiership player Darren.
Adelaide was also pleased to snare Elliott Himmelberg, the brother of GWS player Harry, a strong overhead mark who can play either end of the ground.
"We're all happy this time of year, but we stuck to our talent and addressed some needs, so it looks a good result at this stage," Ogilvie said.
Selection No.15 – Jordan Gallucci
Hamish Ogilvie says: "I think they made a decision to play volleyball because it was going to help his footy. He's also trained in a martial art."
Selection No.44 – Myles Poholke
Hamish Ogilvie says: "Myles is a big, strong midfielder with some power. He's good in the air, very clean ball take, which is the thing we like about him."
Selection No.51 – Elliott Himmelberg
Hamish Ogilvie says: "Elliott's been injured, so he's missed a bit of footy this year, but we really liked his start to the season. He played back in the Allies, but we think he's probably forward with maybe a bit of forward-ruck, because he's maybe 197cm-plus now, so he's grown."
Selection No.62 – Matthew Signorello
Hamish Ogilvie says: "We really like Matty, we just gritted our teeth and hoped he got to us. He's got elite ball take. There was a game he played up in Highgate, when they used the pink breast cancer balls, they were poly-coated balls and he never fumbled all day when hardly anybody could take it clean. He's a really tough mid, he's got a bit of an injured shoulder but he'll be fine to do pretty much everything after Christmas."
Selection No.75 – Ben Davis
Hamish Ogilvie says: "We debated whether we'd have the last pick. We thought we'd probably finish at four but we had Benny pretty high on our list so we made a quick decision our table let's keep going. Ben's had some really high-level performances this year with the Allies and New South Wales … we just thought he was too good not to keep going and use the extra pick."
The views in this article are those of the author and not necessarily those of the AFL or its clubs