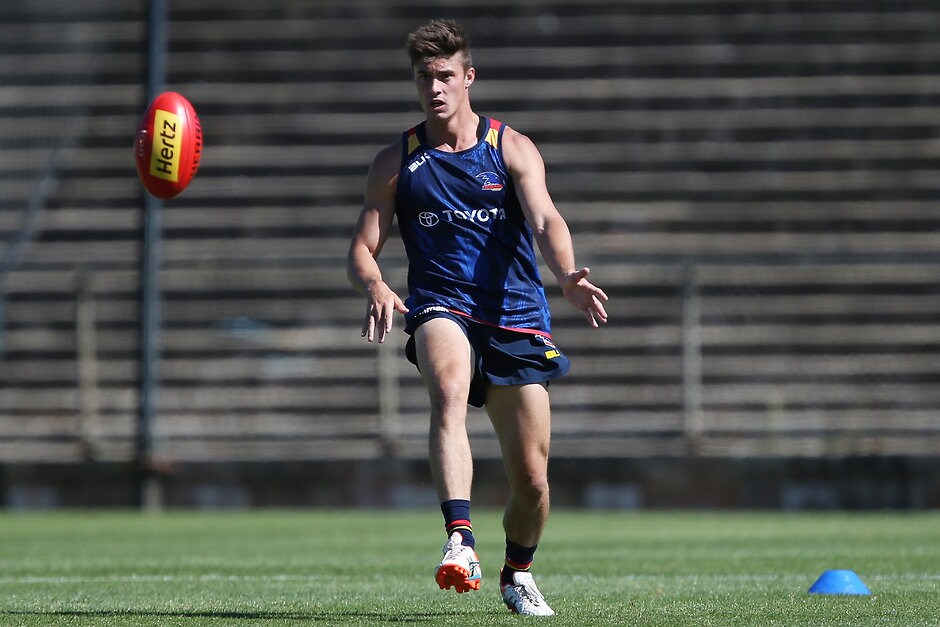 The 2016 season was a great one for Crows fans, despite the fact they fell short to the Sydney Swans in the Semi-Final.
Led by Rory Sloane (MID, $639,000) who had his best ever Fantasy season, the Crows brought their Fantasy game to a new and improved level.
Sloane was outstanding and led all teammates with an average of 106. He was phenomenal all year and was well supported as always by Scott Thompson (MID, $578,000) who had his 10th consecutive season averaging over 93 points.
Brad Crouch (MID, $525,000) returned to the game after a length stint on the sidelines and young gun Mitch McGovern (FWD, $345,000) played in all but one match in a breakout season. McGovern was a handy cash cow for many Fantasy coaches who selected him at the beginning of the year.
So who are the cash cows in 2017 and will the stars from the Crows shine once again?
Click here to subscribe on iTunes
In Fantasy, there are few better defenders than Rory Laird (DEF, $584,000). Laird took his game to new heights in 2016 to become one of the top six defenders in Fantasy.
In his last seven games of the year, Laird was on fire, averaging 30 disposals and 99 points.
This year, we are presented with many premium options in the backline. Laird's Fantasy numbers over the last two years only suggest his average will continue to improve and should push into triple figures.
With Jarryd Lyons departing the Crows to join Gold Coast, the door has been left open and maybe it will be Riley Knight (FWD, $241,000) who steps through.
Knight had a persistent ankle injury for much of the 2016 season and only managed one game at AFL level. He played 11 games in the SANFL and over this time he proved his Fantasy worth averaging 97.
Knight is having a great pre-season, where he has added more speed to his game, running personal best times at training. His performance in the JLT Community Series will need to be closely monitored, as this should indicate if he gets the nod and fills the vacant shoes left by Lyons.
While some believe Knight is the man to fill the void left by Lyons, others think Cam Ellis-Yolmen (FWD/MID, $362,000) will be the man … and I tend to agree.
Ellis-Yolmen debuted for the Crows in 2014 and since then he has played just 13 games and spent the majority of his time in the SANFL. From his 19 SANFL games last year, he averaged an impressive 27 disposals and 99 Fantasy points.
Despite only playing two games last year, Ellis-Yolmen is discounted and priced at an average of only 60. If he finally gets another opportunity, he's certainly a 'mid-priced' option worth considering in your forward line.
The obvious answer is the Crows' No. 1 draft selection in Jordan Gallucci (FWD/MID, $222,000). However, this goal-kicking midfielder is coming into a pretty well-rounded team and might find games hard to come by early.
Last year, the Fantasy community had both Jonathon Beech (FWD, $150,000) and Dean Gore (MID, $150,000) on their pre-season radar. Sadly, both players failed to register a game and now find themselves at a bargain basement price.
Gore came to Adelaide as a part of the Patrick Dangerfield trade and played 22 games last year in the SANFL, averaging 75. He'll turn 21 this year and may yet get an opportunity if the planets align.
Ah yes, my favourite Crouch … Matt Crouch (MID, $564,000).
After starting last season with Matt on my field, I became frustrated with his slow start that saw him average just 76 in his first eight games.
I'm not known for my patience and of course I traded him out. It didn't take long before he proved me wrong and became one of the premium midfielders in the game.
Over the last six games of the home and away season, Matt averaged 112. This puts him in the elite bracket and due to his slow start, he's now a bargain, priced at an average of 94.
It's not that I'm against people with red hair – rather it's the fact that Kyle Cheney (DEF, $340,000) is a defender who always struggles to score. He averaged 56 last year, and in Fantasy you do not score points for punching the ball. A rule that might need to be relayed to Kyle, so he can boost his scoring output this year.


Adelaide's positions and prices for 2017
| | | |
| --- | --- | --- |
| Player | Pos | 2017 Price |
| Rory Sloane | MID | $639,000 |
| Rory Laird | DEF | $584,000 |
| Scott Thompson | MID | $578,000 |
| Matt Crouch | MID | $564,000 |
| Tom Lynch | FWD | $545,000 |
| Sam Jacobs | RUC | $534,000 |
| Brad Crouch | MID | $525,000 |
| Josh Jenkins | FWD | $483,000 |
| Eddie Betts | FWD | $482,000 |
| Brodie Smith | DEF | $466,000 |
| Paul Seedsman | MID | $462,000 |
| David Mackay | MID | $455,000 |
| Richard Douglas | MID/FWD | $453,000 |
| Taylor Walker | FWD | $453,000 |
| Rory Atkins | MID | $441,000 |
| Luke Brown | DEF | $415,000 |
| Charlie Cameron | FWD | $402,000 |
| Daniel Talia | DEF | $398,000 |
| Jake Lever | DEF | $367,000 |
| Cam Ellis-Yolmen | MID/FWD | $362,000 |
| Mitch McGovern | FWD | $345,000 |
| Kyle Cheney | DEF | $340,000 |
| Reilly O'Brien | RUC | $340,000 |
| Kyle Hartigan | DEF | $322,000 |
| Wayne Milera | FWD | $286,000 |
| Riley Knight | FWD | $241,000 |
| Jordan Gallucci | MID/FWD | $222,000 |
| Jake Kelly | DEF | $210,000 |
| Curtly Hampton | DEF | $204,000 |
| Troy Menzel | FWD | $199,000 |
| Myles Poholke | MID/FWD | $164,000 |
| Andy Otten | DEF | $150,000 |
| Jonathon Beech | FWD | $150,000 |
| Hugh Greenwood | MID/FWD | $150,000 |
| Sam Shaw | DEF | $150,000 |
| Alex Keath | DEF | $150,000 |
| Dean Gore | MID | $150,000 |
| Harrison Wigg | MID | $150,000 |
| Ben Davis | FWD | $150,000 |
| Harry Dear | FWD | $150,000 |
| Ben Jarman | MID/FWD | $150,000 |
| Paul Hunter | RUC/FWD | $150,000 |
| Matthew Signorello | MID | $150,000 |
| Tom Doedee | DEF | $150,000 |
| Elliott Himmelberg | DEF/FWD | $150,000 |
The views in this article are those of the author and not necessarily those of the AFL or its clubs