The romance of the Crows women's team playing in a Grand Final 20 years after their male counterparts achieved the same feat for the first time isn't lost on defender Talia Radan.
A lifelong Adelaide supporter, Radan vividly remembers the 1997 Grand Final and the excitement that swept across South Australia in the lead-up.
Only eight-years-old at the time, Radan and her family were among the tens of thousands of fans that turned out to watch the team train in Grand Final week.
There's a photo of Talia, sister Kelsea and cousins Ashlea and Luke taken before the tight-knit group headed off to Football Park that day.
Talia is holding a handmade sign and all four kids are decked out head-to-toe in Crows gear.
"We were so excited. I actually made that sign. I tried to be a really witty eight-year-old, and I've written on there, 'We will Kill-da Saints'! That was my really funny pun," Radan said with a laugh.
"The sign's got 'No.1' on it and I've even printed off a picture. It must've been a Microsoft Publisher Clip-Art job. I've printed off a big cup and written stuff like '10/10' and 'Adelaide Crows Rule'.
"I was dressed appropriately for the day, so I've got a red, long-sleeved skivvy on under my Crows guernsey. Luke has his long-sleeve, knitted Camry jumper on and Ashley and Kelsey look like twins with their hair in ribbons. I remember that I didn't want ribbons, I wanted face paint instead.
"We've got photos of us getting autographs from all of the boys – I've got a pic with Matthew Robran signing my guernsey.
"I just remember the excitement of the week, going to training that day and being allowed to wear our team colours at school."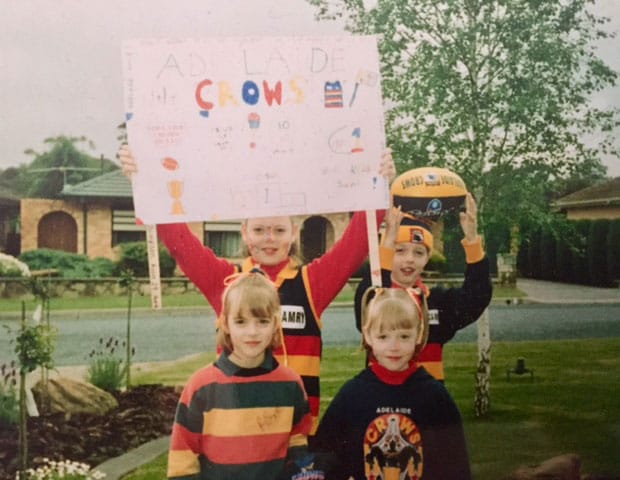 An eight-year-old Talia Radan proudly displaying her sign, with cousins Luke and Ashlea and sister Kelsea
After being unable to secure seats at the MCG, the Crow-loving families decided to get together to watch the clash with St Kilda on TV. The kids also invented their own goal celebration.
"We tried to get tickets. Back in the day when no one had mobile phones, Mum was sitting on one of the cordless home phones and my Aunty was on the phone on the wall. No one could get through, so we ended up having our own little party instead," Radan said.
"Every time the Crows kicked a goal, we'd do a sprint lap of the street. We'd take these huge balloons and run up and down the street yelling!
"We were going crazy in the third and fourth quarters, and Darren Jarman and Shane Ellen were our heroes."
Now 28 and with "improved fashion sense", Radan will be part of the Crows team that contests the inaugural AFL Women's Grand Final.
On Wednesday night, the Federal Government Adviser was the one doing the training on Football Park, where fans came to watch her and the other Adelaide-based Crows AFLW players in action.
In the adjoining office building, the two-time premiership player in her photo Matthew Robran (Events Executive at the Club) was helping to put the finishing touches on post-grand final arrangements for the women's team.
"It's crazy now to think where we are now. I can't believe that was 20 years ago," Radan said.
"That was our passion as kids. We just loved footy and had so much fun.
"Back then, I would never have thought about being in an AFL Grand Final myself. My cousin Luke obviously could dream about it and have a chance to do it, but not the girls.
"How cool is it that now girls can do it too?"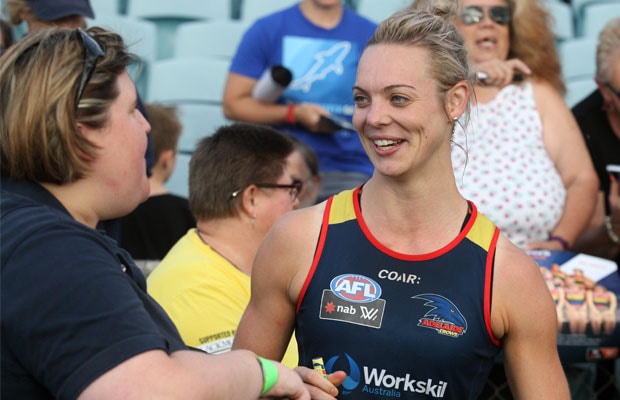 Talia Radan among fans at open training at on Wednesday night