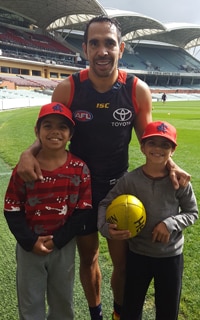 Twelve months ago nine-year-old Indigenous twins Phrasswell and Wyatt had never seen a football match.
On Saturday night they will have the chance to not only attend a live game, but to run out onto Adelaide Oval with the Crows team as mascots for Sir Doug Nicholls Indigenous Round.
The boys, who attend Pimpala Primary School in Adelaide's south, were introduced to AFL by their teacher Pam who showed them clips of Crows games featuring Eddie Betts last year.
Having faced some challenges in life, Pam thought the young twins could benefit from a role model like Betts. Soon enough, the two were avid fans and decided to write letters to the Crows forward to tell him how awesome they thought he was.
Not expecting a response knowing the hundreds of letters he must get each year, Phrasswell and Wyatt were overjoyed when Betts' wife Anna got in touch and invited them to attend a training session through the Crows Children's Foundation.
Now, thanks to Crows partner Bendigo Bank which has donated the opportunity, the twins also have the chance run out on Adelaide Oval with their new heroes – Betts and Charlie Cameron – on Saturday night in front of a crowd of 50,000.
"As a teacher, it's great to be able to see the difference this experience has made to these kids' lives – because they don't have it that easy," Pam said.
"When they found out they were going to be mascots they were shocked and they had their mouths open and were looking like they didn't really understand. So we showed them some clips of when the players run out on the ground and Wyatt asked if he would get kicked in the head by a ball or if the fire would get him, because they saw the flames that shoot up when the team runs out!
"To come to training and meet their heroes alone was an amazing experience for them. Now to be a mascot – it's very exciting and we never expected it.
"It's this dream, this amazing dream for them to actually run out onto Adelaide Oval with the atmosphere and the crowd. They've never seen anything like it and I just don't think it's going to really hit them until Saturday."
Phrasswell and Wyatt attended a second training session during the week to familiarise themselves with Adelaide Oval and be presented with their Indigenous guernseys. In return, they gave Betts and Cameron a thank you letter and some Crows themed Indigenous drawings.
Bendigo Bank State Manager SA/NT Joe Formichella said it was great to be able to provide the opportunity.
"It's great to see young people get the chance to meet their role model, and do something they enjoy, helping them to be confident, healthy and happy kids," he said.
Each player will have a mascot for Saturday night's match against Fremantle, with Adelaide Football Club partner Bendigo Bank gifting the opportunity to Phrasswell and Wyatt as well as Crows Children's Foundation partner Kickstart for Kids to give underprivileged kids the joy of running onto the ground with the players.
The views in this article are those of the author and not necessarily those of the AFL or its clubs