Asking recruiters how they view this year's draft class has brought varying responses. But they have often returned to same thing: "Let's wait and see how they go at the nationals".
That time has come. On Saturday, the division one NAB AFL Under-18 Championships will start when South Australia and Western Australia lock horns at Domain Stadium.
The five-team, four-round carnival will run until July 5, so here are 25 players (in alphabetical order) worth watching in that time.
AFL Media will release the first Phantom Form Guide of the season, ranking the prospects, at the end of the championships.
Oscar Allen
Key forward
West Perth/Western Australia
191cm/83kg
19/3/99
The key forward might be his state's best draft prospect this year. Allen has been the standout hopeful in WA's under-18 trials, and is athletic, good overhead and appears to have good game sense. He is averaging nearly eight marks a game at colts level in Western Australia, and has also been used in the ruck at times – although he won't be tall enough to do that at the next level. In a draft light on for talls who have pushed themselves up the ranks, Allen will be one to look for in WA's matches.
Connor Ballenden
Key forward
Brisbane Lions academy/Allies
199cm/95kg
29/3/99
Ballenden was quiet at times for the Brisbane Lions side in the academy series, but got more involved when he moved into a rucking position. He's big enough for that role, but it appears his future lies as a key forward. Ballenden is a big, strong prospect already: he's built ready for the top level. This season he has found it difficult to hit the scoreboard, but he is generally a long and accurate kick, and his contested marking is also a key attribute when on song.
Noah Balta
Key defender
Calder Cannons/Vic Metro
194cm/92kg
23/10/99
Balta kicked two goals on the weekend for the Cannons, proving he can move forward and be dangerous near goal with his booming right foot kick. His presence in attack was noted by scouts at the game. But most seem to think he's best positioned as an athletic key defender who can jump for his marks, take the game on and send the ball his side's way in a direct manner. Balta has also spent time in the ruck at TAC Cup level, but he won't be big enough to hold down that spot at the next level.
Jarrod Brander
Key defender/key forward
Bendigo Pioneers/Allies
194cm/89kg
11/2/99
Opinions remain split about where Brander plays his best footy, but he remains one of the leading tall prospects in this year's pool. Injuries continue to bug him – he missed some footy this year with a minor knee complaint – but when up and going he can mark well and dominate a game at either end. He's a nice kick for a player his size and should play a prominent role for the Allies at the championships. Brander is no longer a part of the Giants' academy despite playing for them during the academy series.
Andrew Brayshaw
Midfielder
Sandringham Dragons/Vic Metro
183cm/80kg
8/11/99
The younger brother of Melbourne's Angus. Brayshaw is also a midfielder, although a little different and perhaps not quite as physically developed as Angus was at the same age. Andrew is good by foot, he's happy getting his head over the ball and winning it himself, and he can provide some outside run. Brayshaw can be trusted with the ball and he started the season in terrific form with the Sandringham Dragons.
Adam Cerra
Midfielder
Eastern Ranges/Vic Metro
186cm/85kg
7/10/99
Cerra looms as an early selection at this year's draft. The versatile and composed midfielder has enjoyed a strong year at TAC Cup level, where his play-making style has shone. Things seem to slow down around Cerra when he has the ball: he can spot an option others don't see, and he never seems fazed by oncoming pressure. Cerra can also play across half-back where his decision-making comes to the fore, and he's a good mark overhead. Cerra missed most of last season with a meniscus injury in his knee, but it has been hard to miss his output in 2017.
Hunter Clark
Half-back/midfielder
Dandenong Stingrays/Vic Country
186cm/79kg
26/3/99
Some groin troubles saw Clark start the season a little slowly, but he's grown into the year and is in good form. After spending the past couple of years as a half-back, Clark has moved into an inside midfield role and started to collect plenty of the ball. He had 30 disposals (14 contested) and eight tackles last weekend for the Stingrays, and has proven himself to be a tough, hard and competitive player. He can kick on both feet and isn't afraid to put his body on the line.
Hunter Clark has shown potential as an inside midfielder. Picture: AFL Photos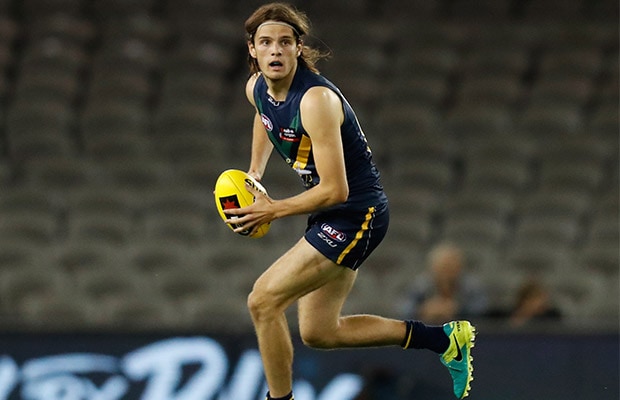 Nick Coffield
Midfielder/half-back
Northern Knights/Vic Metro
190cm/83kg
23/10/99
Some of Coffield's best form has been as an attacking half-back, but he is just as comfortable playing through the midfield. His versatility is an appealing trait (he even kicked four goals in the opening round of this season), as is his size given his athleticism and ability to use the ball well. A good leader, Coffield is captain of the Northern Knights in the TAC Cup and is a natural competitor. He looks to be right in the mix as a top-20 pick at this year's draft.
Luke Davies-Uniacke
Midfielder
Dandenong Stingrays/Vic Country
187cm/85kg
8/6/99
A leading contender for the No.1 pick. The competitive midfielder can find the ball consistently at stoppages and has the capacity to turn on his pace and explode out of a clearance with the ball tucked under his arm. After overcoming a shoulder injury from the end of last season, Davies-Uniacke has pieced together a strong season so far and showed his capabilities as a midfielder able to win the ball and use it on the outside. His size will also appeal as a likely early selection.
Paddy Dow
Midfielder
Bendigo Pioneers/Vic Country
184cm/78kg
16/10/99
Dow has shown in the first half of this season there is more to his game than just being an inside midfielder. He can bust away from a pack and kick it long, and has also demonstrated his pace, turning good testing results into breakaway actions on the field. His goalkicking has also stepped up a notch, with Dow regularly going forward and hitting the scoreboard (he even kicked a bag of seven at school level). Dow is a no-fuss, no-frills type of player but he has some good tricks to complement his work ethic.
Darcy Fogarty
Half-forward/midfielder
Glenelg/South Australia
192cm/92kg
25/9/99
Fogarty's improvement in the past year has seen him burst into No.1 pick contention. The South Australian is powerful, tough, and means business whenever he plays: he gets opponents out of his way and he has a presence around the ball. Fogarty is also not lacking in finesse – he's a nice right foot kick, and he has sticky hands on the lead. At his size he can play a number of roles, often being used through half-forward and the midfield, where he seems likely to be eventually deployed. There's a lot to like about Fogarty and a standout championships could further elevate his stocks.
Lachlan Fogarty
Midfielder
Western Jets/Vic Metro
179cm/75kg
1/4/99
Fogarty is part of a fleet of smaller midfielders in this year's crop, but he is hard working, adept by foot and excellent in distributing the ball by hand. He is the type who can make you look twice at a statistics sheet, often surprised by how much of the ball he has accumulated. That's probably because plenty of his work is done in congested situations. He was one of the NAB AFL Academy's best players against VFL side the Northern Blues in April, gathering 17 touches and seven tackles.
Lachlan Fogarty shone for the AFL Academy against the Northern Blues. Picture: AFL Photos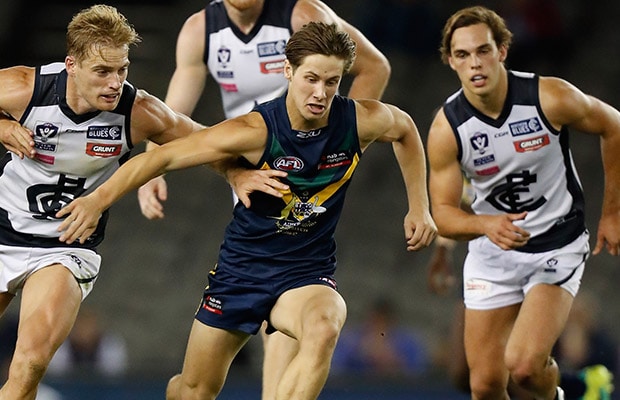 Joel Garner
Half-back/midfielder
Eastern Ranges/Vic Metro
183cm/81kg
21/5/99
Garner has played in a few different roles throughout this season, but his best position seems to be as a sweeping half-back, where he can use his long left-foot kick to set up the play. The indigenous prospect is solidly built, crafty with the ball and has clean hands to shoot it out and find a teammate. The championships should provide him a good platform to show his skills.
Vic Metro's Joel Garner boasts and impressive left foot kick. Picture: AFL Photos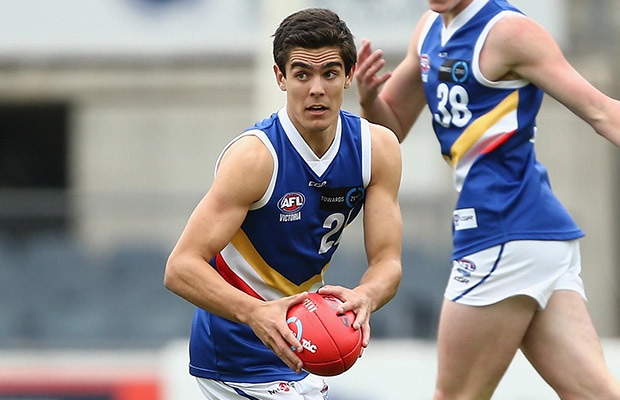 Sam Hayes
Ruckman/key forward
Eastern Ranges/Vic Metro
203cm/93kg
9/6/99
If you had quizzed recruiters at the start of the year whether Hayes was more ruck or forward, most would have said ruckman. The consensus might not be so clear now. Of late, the Eastern Ranges big man has spent more and more time in attack, and recently booted six goals at TAC Cup level. He can take a grab overhead, is a steady set shot for goal, and he remains the top-placed ruckman in this year's pool with good mobility. Hayes was the only bottom-ager to be named an All Australian last year after impressing for Vic Metro.
Jack Higgins
Small forward/midfielder
Oakleigh Chargers/Vic Metro
178cm/76kg
19/3/99
Higgins finds a way to impact a game. He sees himself more as a small forward who goes into the midfield than the other way around, but he can do both capably. He booted four goals from 15 disposals for the Oakleigh Chargers last weekend, taking his tally to 14 majors from eight games. Higgins is tough, a very neat and reliable kick, has worked hard on his pace, and is also a smart overhead mark for a player of his size. Higgins has a knack of getting involved when his team needs him.
Matthew Ling
Midfielder
Geelong Falcons/Vic Country
182cm/74kg
21/4/99
Ling's standout trait is his pace. The Geelong Falcons midfielder enjoys running and taking the game on, which is sure to appeal to some clubs as they search for a line-breaker. Sometimes the 18-year-old can get himself into some strife with his go-at-all-costs approach, but he can also give his side a lift. Given speed always tends to catch the eye at the championships, Ling seems likely to get some attention across the carnival.
Andrew McPherson
Midfielder
Woodville West Torrens/South Australia
186cm/78kg
20/6/99
The hard-working South Australian is versatile, reliable and does things with a no-worries attitude. He can play in the midfield and also in defence, where his skills are steady and he remains calm under pressure. McPherson is the type of player who can fly under the radar, but he has a good aerobic base and is able to outwork plenty of opponents. A leg injury has sidelined him in recent weeks.
Patrick Naish
Midfielder
Northern Knights/Vic Metro
183cm/73kg
15/1/99
The Richmond father-son prospect has pieced together a strong season. Naish can play as a midfielder or on a flank at either end, with his running ability and line-breaking dash offering something different. He combines that with top-end kicking – he's a controlled kick on the run and a nice set shot for goal. He kicked seven goals recently at school level. The Tigers will have first call on the son of former player Chris.
Patrick Naish is the son of former Richmond goalsneak Chris. Picture: AFL Photos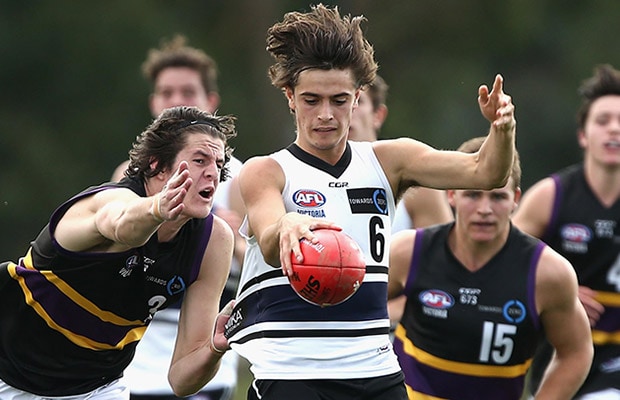 Lochie O'Brien
Midfielder
Bendigo Pioneers/Vic Country
184cm/75kg
18/9/99
O'Brien is the player you want to have the ball. He likes to get it and set up the play from the wing, using his classy left foot to pick out options few see and even fewer can find by foot. O'Brien's elite running background allows him to work up and down the ground, and he's clever when he pushes forward where he has shown an ability to kick a goal. The Bendigo Pioneers product played for Vic Country at last year's carnival so should be ready to take his game up a notch this time around.
Jack Petruccelle
Half-back/half-forward
Northern Knights/Vic Metro
184cm/73kg
12/4/99
There aren't many players quicker than Petruccelle, who runs the 20-metre sprint in 2.82 seconds. That speed will appeal to plenty of clubs who are looking for dash from defence or through the midfield. The former basketballer has a little way to go in getting more involved in games but he's a good mark over his head for his size and has tear-away speed to change games. He kicked five goals against Gippsland Power recently and one of his majors showed all of his traits: he whisked the ball out of a stoppage, dodged past traffic and slotted a goal from the boundary line. Petruccelle sets himself apart because he's exciting.
Cameron Rayner
Half-forward/midfielder
Western Jets/Vic Metro
187cm/88kg
21/10/99
Rayner has been a player whose stocks have risen this season. He was added to the NAB AFL Academy last year after some powerful performances for the Western Jets, and he starred early this season for the Academy with a best-afield display on the MCG. He showed that day he could push through the midfield, gathering 23 disposals to go with his three goals. Rayner will need to improve his running but he can impact games like few others with his strength in the midfield, long kicking and contested marking. He's in the mix for No.1.
High-flying Cameron Rayner has impressed this year for the Western Jets. Picture: AFL Photos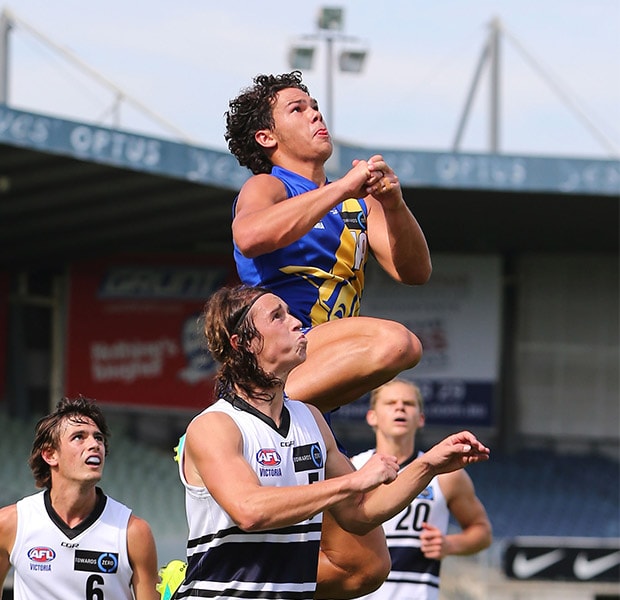 Charlie Spargo
Midfielder
Murray Bushrangers/Allies
174cm/73kg
25/11/99
Spargo is a busy, neat and determined small midfielder who makes good decisions with the ball and wins plenty of it. The son of former North Melbourne player Paul knows how to dig into congestion and come out with the ball, and he's also adept at going forward and creating the play closer to goal. Spargo was formerly a part of the GWS academy but after its zone was reduced by the AFL, he is now in the open draft.
Jaidyn Stephenson
Half-forward
Eastern Ranges/Vic Metro
189cm/76kg
15/1/99
Having already starred for two years at TAC Cup level, recruiters were well aware of Stephenson's elite talent before this season. The mercurial half-forward can produce 'wow' moments on a regular basis: he has electric leg speed, brilliant spring he uses to take big marks, and an uncanny goal sense. He's unlike any player in this year's pool and it's hard to find anyone like him full stop. He has spent more time in the midfield this season, and gathered 26 disposals and seven tackles for the Ranges on the weekend. The national carnival is a good stage for Stephenson to highlight his wares.
Will Sutherland
Key forward
Scotch College/Vic Metro
195cm/90kg
27/10/99
All eyes will be on Sutherland when he lines up for Metro, even if nobody is keen to talk about when that will actually be. His first game certainly isn't going to escape attention. Football and cricket are both lining up for the talented teenager's services, and the Australian under-19 cricket captain is weighing up which way he goes. If he chooses football he has plenty of fans. Recruiters have been watching him closely for school side Scotch College and been impressed with his agility, athleticism and skills as a key forward. Many believe Sutherland will be an early draft choice if he follows the football pathway.
Toby Wooller
Medium forward
Oakleigh Chargers/Vic Metro
193cm/90kg
16/3/99
Wooller plays as a tall forward and has had a good season for the Oakleigh Chargers, where he has kicked 23 goals in nine games. Whether he is big enough to play as a key target at the next level is perhaps arguable, but he can also spend some time further up the ground. Wooller is a natural forward who knows where the goals are, and he is also a keen tackler. He is the grandson of Geelong's 1963 premiership captain Fred Wooller.
WESTERN AUSTRALIA
| | | | |
| --- | --- | --- | --- |
| Backs | 24. Durak Tucker | 27. Sam Taylor | 18. Zareth Roe |
| H Backs | 17. Jaxon Cahill | 29. Aaron Naughton | 6. Jarrod Cameron |
| Centres | 3. Tom Joyce | 22. Kyron Hayden | 13. Gordon Narrier |
| H Fwds | 21. Matt Young | 25. Oscar Allen | 8. Sydney Stack |
| Fwds | 20. Brandon Starcevich | 28. Ben Miller | 2. Ian Hill |
| Followers | 31. Jonathan Frampton | 11. Callan England | 9. Jake Patmore |
| Interchange | 19. Christian Ameduri | 35. Louis Miller | 15. Brayden Ainsworth |
| | 16. Jordan Boullineau | 5. Taryce Stewart | |
| Emergency | 23. Damon Cramer | 10. Connor West | |

SOUTH AUSTRALIA
| | | | |
| --- | --- | --- | --- |
| Backs | 44 Lachlan Pascoe | 38 Harrison Petty | 17 Brad McCarthy |
| H Backs | 14 Isaac Hewson | 32 Thomas Schmusch | 31 Mitchell Coles |
| Centres | 2 Izak Rankine | 40 Darcy Fogarty | 37 Charlie Ballard |
| H Fwds | 15 Jordan Houlahan | 36 Jack Lukosius | 13 Jackson Edwards |
| Fwds | 3 James Rowe | 49 Callum Coleman-Jones | 34 Sam Davis |
| Followers | 46 Ruben Flinn | 12 Alex Martini | 16 Mitchell Crowden |
| Interchange | 28 Jakob Heitmann | 5 Stefan Giro | 20 Jackson Hately |
| | 6 Connor Rozee | 22 Jake Weidemann | 18 Brodie Carroll |
| | 24 Brandon Zerk-Thatcher | | |

ALLIES
| | | | |
| --- | --- | --- | --- |
| Backs | 31. Tom Highmore | 36. Jack Payne | 3.Brodie Foster |
| H Backs | 18. Jake Hinds | 33. Jarrod Brander | 23.Luke Robertson |
| Centres | 22. Tarryn Thomas | 26. Nicholas Shipley | 25. Harry Simington |
| H Fwds | 14. Jack Clayton | 35. Hugh Dixon | 10. James Bell |
| Fwds | 34. Nick Blakey | 38. Connor Ballenden | 2. Jack Hardman |
| Followers | 39. Brayden Crossley | 5. Zac Bailey | 1. Charlie Spargo |
| Interchange | 6. Jack Powell | 11. Brendan Myers | 7. Sam Davidson |
| | 40. Nathan Richards | 24. Kwaby Boakye | |
| Emergency: | 8. Luke Skrivanic | 13. Bailey Scott | |

VIC COUNTRY
| | | | |
| --- | --- | --- | --- |
| Backs | 5 Ben Paton | 36 Cody Henness | 37 Joshua Jaska |
| H Backs | 21 Hunter Clark | 25 Oscar Clavarino | 19 Matthew Ling |
| Centres | 13 Ethan Floyd | 28 James Worpel | 8 Lochie O'Brien |
| H Fwds | 33 Changkuoth Jiath | 22 Jordon Butts | 15 Paddy Dow |
| Fwds | 10 Brent Daniels | 20 Tom DeKoning | 4 Gryan Miers |
| Followers | 38 Lloyd Meek | 9 Luke Davies-Uniacke | 6 Aidan Quigley |
| Interchange | 3 Jye Caldwell | 1 Kane Farrell | 16 David Handley |
| | 12 Edward McHenry | 7 Zane Barzen | |
| Emergencies | 2 Samuel Walsh | 27 Harrison Jones | 29 Bailey Williams |