The Adelaide Football Club has signed more than 70,000 members for the first time in its 27-year history.
The Club's current total of 72,930 members, achieved 12 rounds into the 2017 season, caps off three successive years of strong membership growth and surpasses the 2016 record of 67,874.
Importantly, the number of 11-game members who have access to every Crows home game at Adelaide Oval is once again among the industry's best and the Club's membership renewal rates are also market leading.
The figure is expected to continue to grow, with the Club hosting a further five matches at Adelaide Oval as well as travelling to Melbourne three times before the end of the season.
The Club still has 3-game Bronze membership packages available as well as Victorian General Admission memberships. For more information visit 19thman.com.au.
Attendances for Crows matches have also been among the strongest in the league this season, with the Club attracting an average crowd of 46,489 for the first six home games of 2017.
The Crows' remaining home games include blockbuster clashes with Hawthorn (Thursday, June 22), Western Bulldogs (Friday, July 7), Geelong (Friday, July 21), Port Adelaide (Sunday, August 6) and Sydney (Friday, August 18).
Crows CEO Andrew Fagan thanked the Club's members for their continued commitment and enthusiasm.
"To surpass 70,000 members is a remarkable and historic moment for our Club and demonstrates the passion and loyalty shown by our supporters," Fagan said.
"We're extremely proud to have reached this milestone, and also to have seen three years of really strong membership growth, and I'd like to thank our members who have either renewed or joined the Club for the first time in 2017 for their support.
"For the past four seasons, since moving to Adelaide Oval, we have consistently had amongst the largest home crowds in the AFL and contributing to that is the fact that our member attendance rates are market leading. We're proud to see that trend continue this season, with our fans filling the stadium no matter what weather conditions or timeslot is presented.
"The entire Club is extremely grateful for the support we receive from our fans – not only on match days but also through merchandise sales, engaging with our digital platform, backing our community initiatives and of course supporting our women's team."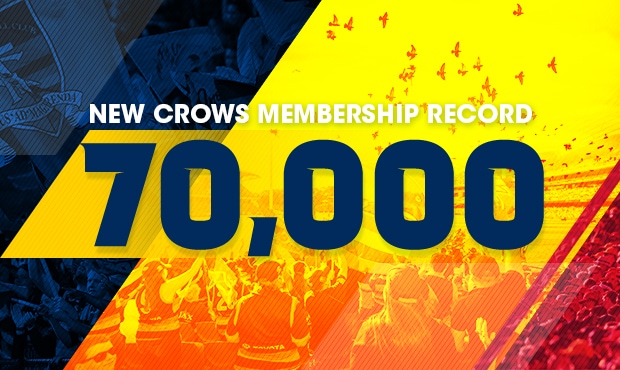 Crows membership numbers
2014 - 54,343
2015 - 63,038
2016 - 67,874
2017 - (at completion of Round 12) – 72,930