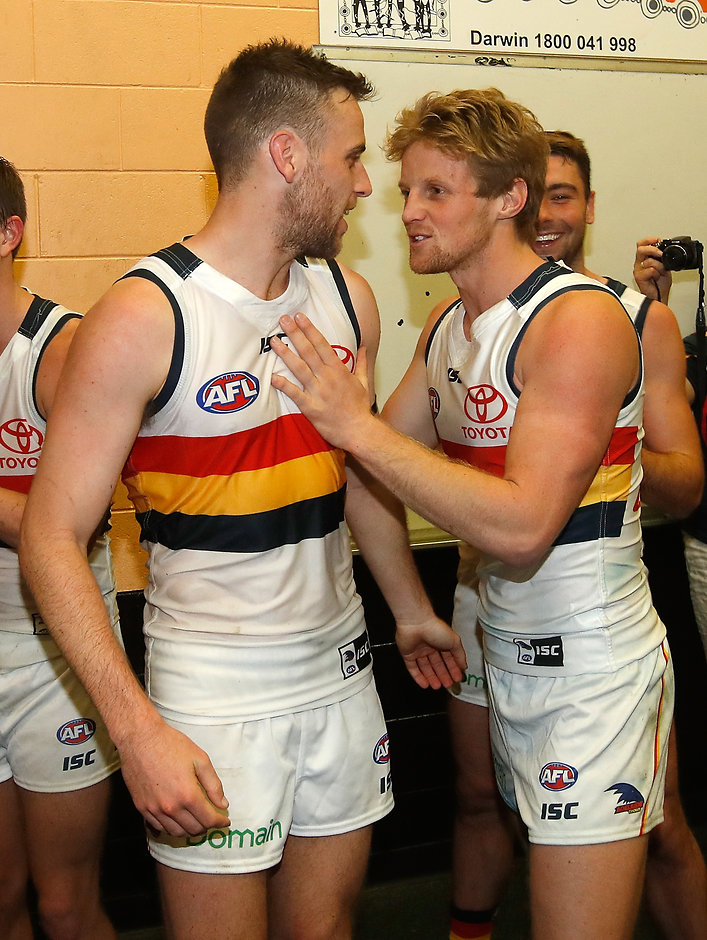 I just said, 'Mate, get off and we'll get the job done for you'
Taylor Walker
It took a reassuring word from captain Taylor Walker to convince a dazed Rory Sloane to leave the ground for assessment at TIO Stadium on Saturday night.
Sloane, 27, was concussed when his head hit the turf in a heavy tackle from Melbourne forward Dean Kent in the third quarter of Adelaide's 46-point win.
The two-time Crows Club Champion lay motionless for a few moments and the stretcher was called. But Sloane refused to use the stretcher, fighting off concerned medical staff and climbing to his feet.
In unbelievable and unsettling scenes, the brave midfielder motioned as if to continue playing.
It wasn't until Walker went up to his vice-captain and urged him to get checked out that Sloane obliged.
"I could see that the doctors were trying to get him (Sloane) off," Walker told Channel 7.
"Being the courageous player he is, he was reluctant to get off.
"I just said, 'Mate, get off and we'll get the job done for you'.
"(The doctors) are in that position because they've got the knowledge and experience so you've got to listen to them."
Forward Eddie Betts was only metres away when the incident occurred.
He was also talking to Sloane, encouraging him to listen to Club medical and support staff.
Betts was in awe of his teammate's courage, but said his welfare had to come first.
"He got concussed and I was right there standing next to him and I was trying to talk to him," Betts said.
"Rory's a fighter. He's a warrior and you could see the mentality that he had. He wanted to get back up, push off the trainers.
"He actually skipped along to try get back in the game, but the game couldn't go on unless he went off the ground. We were telling him to 'Go off, go off' and finally he went off.
"It's always hard seeing something like that happen, but he seems up and about in the change rooms now."
Coach Don Pyke said Sloane would follow standard concussion protocols, which would determine his availability for Friday night's top-of-the table clash with Geelong.