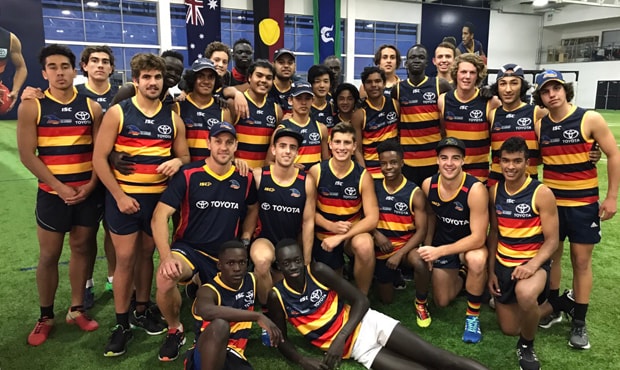 It's a great honour and privilege to be playing in the curtain raiser before the Crows and Geelong game.
Academy participant Kudzi Motsi
Fans have an opportunity to watch some potential future Crows in action at Adelaide Oval on Friday.
The Crows' Next Generation Academy Talent Squad, which consists of emerging footballers from multicultural or Indigenous backgrounds, will play against the SANFL Diversity Squad in a curtain raiser starting at 5:20pm ahead of the AFL game between Adelaide and Geelong.
Among the group will be 16-year-old Kudzi Motsi, who is from Zimbabwe and made the switch from soccer to football three years ago.
Motsi , who currently plays for Central Districts in the SANFL Under 16s, dreams of one day playing AFL and is excited for the opportunity to step out onto Adelaide Oval.
"It's a great honour and privilege to be playing in the curtain raiser before the Crows and Geelong game," Motsi said.
"The game and experience to play on an AFL venue like Adelaide Oval is an opportunity not many footballers get and I am very excited to be playing in it."
Next Generation Academy Coordinator Jarrod Meers, who will coach the Crows Talent Squad on Friday night, said the curtain raiser is the final session for this year's group, which has been coming together for training sessions once a month since last November to develop their football skills and education.
"To have the opportunity to play on Adelaide Oval before an AFL game is very exciting for this group of young developing players," Meers said.
"Many of these boys have never been to a Crows home game, let alone having the opportunity to play on the ground on a Friday evening as a crowd of 50,000 pours in.
"The aim is that from that this Academy squad a future AFL footballer is developed and gets a springboard into playing at the highest level.
"Hopefully for some of these boys it's the first of many times they grace the turf of an AFL venue.
"And for those boys who don't reach the lofty heights of the AFL, hopefully the Adelaide Football Club through the Next Generation Academy has provided them with a wonderful lifelong experience that they will never forget."
Designed to increase the opportunities and pathways for young talented participants from unrepresented backgrounds to participate in Australian Rules, the Academy is a joint initiative between the Crows and the AFL and is supported by the SANFL.
In addition to the Talent Squad, which is focused on 14-18 year-olds with a Multicultural or remote Indigenous background, the Club has rolled out a number of Next Generation Academy aligned programs including Talent Carnivals, Regional Academies and a number of shared services initiatives with our NGA aligned SANFL clubs - Glenelg, Sturt, Central District and North Adelaide.
A ticket to the AFL game will need to be purchased for entry to the curtain raiser match.
The views in this article are those of the author and not necessarily those of the AFL or its clubs