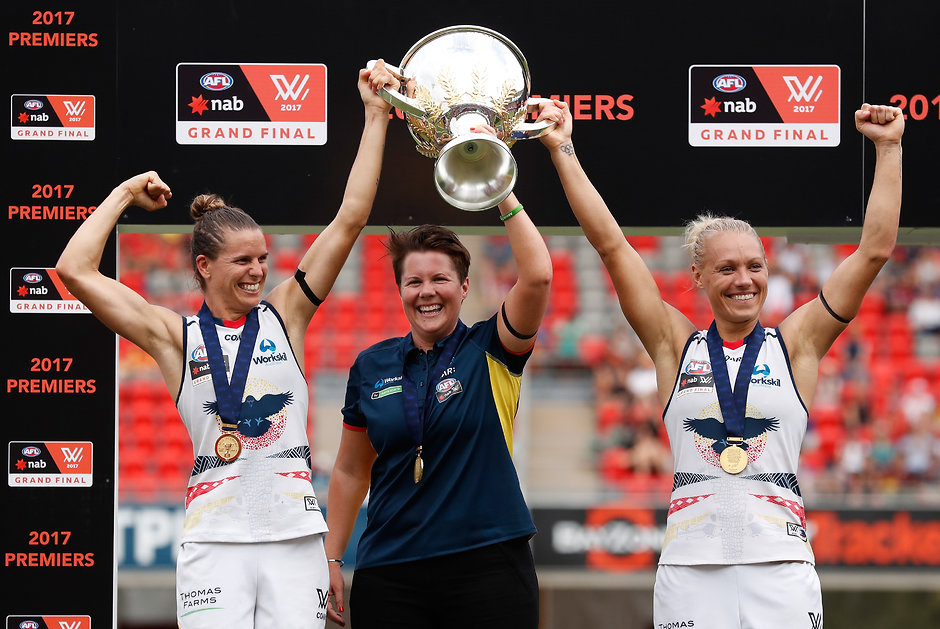 The competition will be even tougher and we are already working hard to ensure we play a brand of football of which we and our fans can be proud
Bec Goddard
AFLW premiership coach Bec Goddard has committed to the Adelaide Crows for the 2018 season.
Praised for her ability to bring together a team which had players based in both Adelaide and Darwin, Goddard steered the Crows to five wins from seven home-and-away matches in the inaugural season.
The team then went on to score a historic six-point win over the Brisbane Lions in the first Grand Final.
As well as having an established career in football across playing, coaching and umpiring, Goddard has significant professional expertise gained through a 16-year career with the Australian Federal Police (AFP).
She will continue to balance the Crows coaching role and her job with the Joint Anti-Child Exploitation Team, a partnership between the AFP and the South Australian Police Special Crimes Investigation Branch in Adelaide.
Crows CEO Andrew Fagan said he was delighted the Club could secure Goddard for the upcoming season.
"Bec is a talented coach with a strong work ethic and fierce desire to get the best out of herself and those around her," Fagan said.
"Our first season was an overwhelming success by any measure and she played an integral role in both the on and off field results.
"We have a strong platform to continue to grow the game and ensure the Crows are the team of choice for girls and women who wish to be involved in football."
Goddard said she was proud to continue in the senior coaching role at a Club which demonstrated a genuine commitment to developing the women's game.
"Our aim in the first season was to develop a strong culture and in 2018 we want to strengthen and enhance our program," Goddard said.
"The competition will be even tougher and we are already working hard to ensure we play a brand of football of which we and our fans can be proud."
Adelaide has also announced it has joined forces with global resources company BHP in a major partnership which will support the Club's AFLW team for the next three years.
Pre-season training will commence in November.