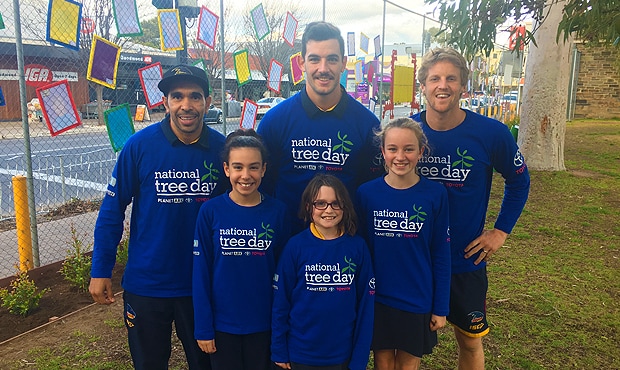 Crows players took time away from the Club on Tuesday to lend a hand to school kids helping the environment.
The entire playing group teamed up with students from Goodwood Primary School to support Toyota and Planet Ark's Schools Tree Day – Australia's largest community tree planting and nature care event.
Through Schools Tree Day and National Tree Day, which both fall this week, Planet Ark hopes to educate people on the value and importance of preserving the environment.
Crows partner Toyota and its extensive national dealer network have supported the event for close to two decades, helping to get communities and schools across Australia involved.
This year is the 21st anniversary of the initiative and players and students spent the afternoon tree planting in the school's yard and 'The Goody Patch' community garden.
Crows forward Tom Lynch said the players enjoyed the day.
"Toyota is a great supporter of the Club and a great partner in this initiative and we enjoy being involved," Lynch said.
"Each year we go to a different school and it's great to spend time educating kids and doing our bit for the environment."
Since 1996, the event has seen more than 23 million trees planted with 3.8 million Australians donating their time.
People can get involved in National Tree Day through Treeday.planetark.org or by contacting their local participating Toyota dealership. To get the latest tips, news and information on the initiative, visit Toyota.com.au/tree-day or via Twitter.com/toyota_aus and Facebook.com/toyota.aus
The views in this article are those of the author and not necessarily those of the AFL or its clubs