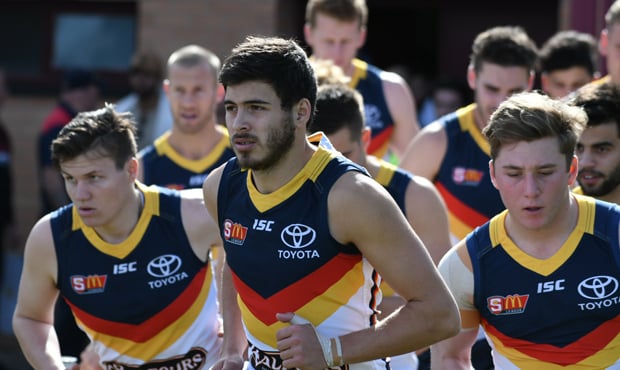 If I work hard and do the right things, hopefully I'll be able to create my own pathway to the next level and play some AFL footy
Ben Jarman
Father-son rookie Ben Jarman is determined to make his own name as a Crow.
Jarman, the son of dual Adelaide premiership hero Darren, became the Club's first ever father-son selection at last year's AFL Rookie Draft. His uncle, Andrew, was also an inaugural Crow and played 110 games across six seasons for the Club.
It's easy to see the 'Jarman' in 19-year-old Ben. He's clean, skillful, has great footy smarts and knows how to kick a goal.
After all the external hype surrounding his arrival at the Club, Jarman has quietly gone about his business with Adelaide's SANFL side this year. He's played every game in his first full season of senior SANFL football and has shown glimpses of his great potential.
But it was fitting that the talented teen produced arguably his best performance of the year on Saturday at Prospect Oval against his former club, with his father watching on as part of North Adelaide's 1987 Premiership Reunion celebrations.
Surnames aside, Jarman said he was eager to carve out his own football career.
"Last year there was a lot said about me with Dad's name and his career, but I just stayed focused on my footy," Jarman said.
"All that matters to me is that I play my role for the team and develop my game. But it was good to come back here to my junior club and perform well.
"If I work hard and do the right things, hopefully I'll be able to create my own pathway to the next level and play some AFL footy. Hopefully - that's the ultimate goal."
Jarman isn't the type of player to rack up big numbers on the stats sheet, but it's his efficiency and frenetic pressure at the ball carrier that makes him so dangerous.
The speedy forward/midfielder kicked one goal from 16 possessions, but had an equal-game high three score assists and played a part in several other Crows scoring chains against the Roosters on Saturday.
"I prefer giving goals off, to be honest!" Jarman said.
"It makes you feel good when you give a goal to your teammates, especially if they're in a better position. I was fortunate to give a few away today, but it was a solid team effort all round."
SANFL stats: Round 16 v North Adelaide
Adelaide's 39-point win over North Adelaide kept the Crows in contention for a last-gasp SANFL finals appearance in Season 2017. The Crows blasted eight goals to North's three in the final term to eventually seal an important victory.
Jarman said the win proved how much the team had grown throughout the course of the year.
"We got challenged at half-time and responded strongly in the second half," he said.
"It was a good effort by the boys. We got on top in the midfield and played it in our half.
"The game was on their terms in that first half and they sliced through us, but we addressed that at the break, got our defence set up and our offence came off that.
"Then we had a really strong final quarter which was a credit to the boys' effort and showed a bit of maturity."
Jarman also had another theory behind Adelaide's win, which snapped a five-game losing streak for the Crows at SANFL level.
"It was good to have big 'ROB' (Reilly O'Brien) back today - we lost five in a row without him so I think we missed him!" Jarman said of the ruckman, who returned from a back injury against the Roosters.
"Dad actually heard big 'ROB' was going to play at full-forward and told me to make sure I get front and square off him."
Good advice, Darren.
The views in this article are those of the author and not necessarily those of the AFL or its clubs