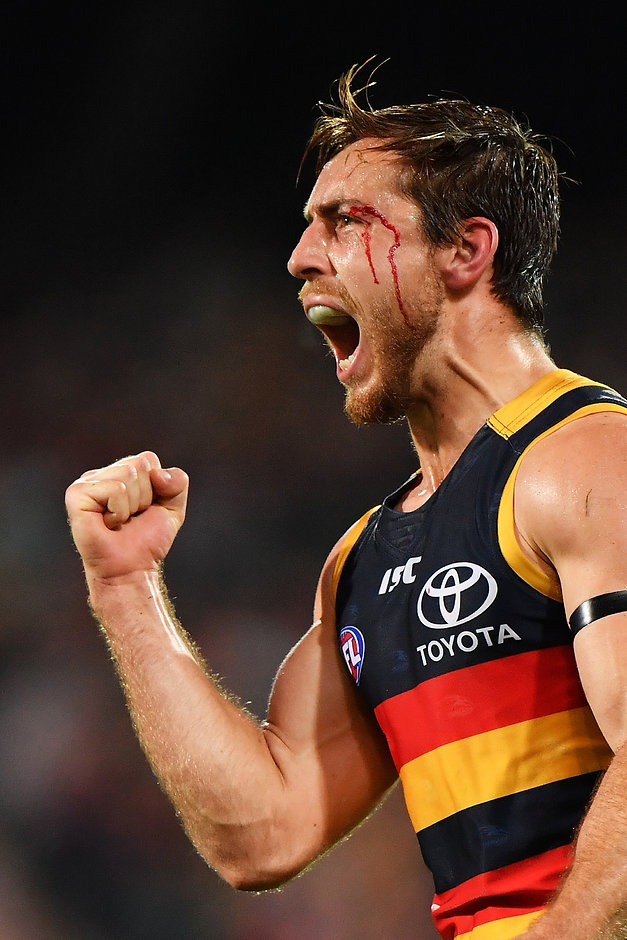 We're more than just a one-man show
Richard Douglas
Richard Douglas believes Adelaide's midfielders deserve some credit for their efforts as a collective.
Prior to the start of the season, critics questioned the Club's midfield depth.
Concerns were raised again when vice-captain Rory Sloane was heavily tagged, and the Crows dropped a couple of games mid-year.
Sloane, who is recovering from an appendectomy, watched from the stands in the Qualifying Final on Thursday night as Adelaide's onballers took it to the star-studded Greater Western Sydney midfield.
Led by Douglas, Brad and Matt Crouch, contested-ball beast Hugh Greenwood and lion-hearted ruckman Sam Jacobs, the Crows matched the best clearance team in the competition (42 – 42) and applied pressure to help their defence limit the Giants to only one goal in the first half.
Douglas said the impressive display highlighted the important of an even spread of contributors.
"We knew it was going to be tough without Sloaney, but we don't rely on him. We're more than just a one-man show," Douglas said after the game.
"In fairness to the other boys, we've got some real quality in the midfield.
"Hughy came in (for Sloane) and, I thought, did an excellent job. Matty is an All Australian now, Brad played outstanding and 'Sauce' again was good. Everyone played their role.
"It was a good performance, but we'll be pretty happy to have Sloaney back come the prelim."
For the 16th time this season, Matt Crouch amassed 30 or more (31) possessions and operated a 81 per cent efficiency. The 22-year-old also won an equal-game high seven clearances, applied seven tackles and assisted in two goals.
Older brother Brad gained more metres (546) with his 27 possessions than any other Crow. The 2013 Rising Star runner-up generated a personal best 11 inside 50ms, laid eight tackles and burst away to kick a running goal from outside 50m in the third quarter.
Incredibly, Greenwood won a game-high 17 contested possessions in his first AFL final.
Adelaide's inside ball winners were well supported by wingmen Rory Atkins, David Mackay and Paul Seedsman, who provided plenty of run.
Coach Don Pyke was pleased with his engine room's ability to stand up in the heat of a final.
"The midfield would say it's a bit of a slap in the face to them, to say they can't get the job done with Rory not playing," he said after the match.
"It was a credit to them. They came in with the right attitude and approach and produced a really strong performance without Rory."
Praised for his leadership, Douglas continued his excellent season with an inspirational performance against the Giants.
The 30-year-old kicked two goals, including one to halt a run of three GWS goals in the third quarter.
He sustained an errant arm to the head in the preceding marking contest and was forced from the ground after slotting the set shot with blood trickling from his eyebrow.
Douglas finished the game with 20 possessions, seven clearances, two goals and two staples in his head.
"That's finals footy. It's bash and crash," Douglas said of the moment.
"I was happy to kick a snaggy (goal) off the back of that.
"I might leave it (the staples) in a couple of days, it looks pretty tough doesn't it?!"
Richard Douglas addresses Adelaide's midfield group pre-game
The 36-point win over Greater Western Sydney was Douglas' 11th final.
The 2010 Crows Club Champion has only played in one Preliminary Final before, a heartbreaking five-point loss to Hawthorn at the MCG in 2012.
Douglas said it was exciting for the Club and its loyal supporters to secure another home final, but that everyone was hungry to go deeper into September this time. Preliminary Final fixture and ticketing information
"The boys have worked really hard and not just this year. We've been building towards this for a number of years," he said.
"As nice as winning a Qualifying Final is, it doesn't mean much. We know what our goal is and we're only one step closer. The prelim is another step to where we want to get to.
"Obviously, we don't know who (which opponent) we'll get yet but we'll be cherry ripe. We'll rest up, recover and then train hard over the next week.
"We'll really make sure we come out, start well, and give ourselves the best chance to make a granny."
Richie Douglas appreciation tweet #AFLFinals #AFLCrowsGiants

— Jono Baruch (@JonoBaruch) September 7, 2017