A two-time Crows premiership player and a Richmond captain, Kane Johnson finds himself in a unique position leading into Saturday's decider.
In a Grand Final week special Where are they now?, Johnson talks about his early days in Adelaide, the trade to the club he barracked for as a kid and his fascinating post-football career.
An All Australian and Victorian Under-17 captain, Johnson was selected by the Crows with pick No.27 in the 1995 National Draft. The Eastern Ranges midfielder was just 17-years-old when he packed up his belongings, farewelled family and friends and headed interstate to follow his football dream …
"I'd left school by that stage and was in my first year as an apprentice electrician. On draft day, I was working onsite at the Melbourne Casino, which was being built at that time. To actually hear that I'd been drafted by Adelaide I had to go down to the payphone because there were no mobile phones back then. I had to ring Dad and say, 'How did we go?'
"I was actually thinking I was going to Collingwood because they showed the most interest and said they were potentially going to take me at pick No.10. Obviously, that didn't eventuate and when Dad picked up the phone he said, 'Mate, you're off to Adelaide'. It was a bit of a shock, but I was pretty happy to go anywhere at that stage as long as I was drafted and within a couple of hours (Football Manager) John Reid and (coach) Robert Shaw came down to visit me onsite.
"I still remember getting on the plane for that first trip over to Adelaide. It was a sad time, but an exciting time as well. I was lucky enough that a couple of other Victorian boys, Brent Williams and Ashley Fernee, were drafted at the same time as me and Matthew Collins was in his second year at the club. That helped because we could all look after each other and work through those early periods, which were quite tough.
"It was a steep learning curve that made you grow up pretty quick."
As was the process at the time, Johnson was aligned to a SANFL club and spent most of his first year in Adelaide playing at Glenelg while working two days a week with teammate Chad Rintoul as an electrician. The homesick teenager struggled to adapt to senior football and even found himself in the Bays reserves during the season …
"It was a bit of a shock to the system. I thought the U18 VSFL competition in Melbourne was quite strong, but it doesn't prepare you for those bigger bodies especially in the SANFL which is a good competition. I probably underestimated just how good it was back then."
In July, 1996, almost out of nowhere, Johnson was selected to make his AFL debut against the Brisbane Bears at Football Park along with friend and another future fan favourite …
"I got a random call-up from Robert Shaw when we (the Crows) were struggling in the senior team. I actually played my first game with Peter Vardy, who I was living with at the time. It was a pretty exciting night for both of us and probably made it a bit easier coming into the team.
"It was a little bit of a turning point for me to feel more connected to the playing group and the city. I felt like I was doing what I was there for."
Shaw was replaced by Malcolm Blight at the end of Johnson's first season. Blight made ruthless and unpopular decisions on some Club stalwarts, which created opportunities for players like Johnson. After only two AFL appearances in the season prior, the kid nicknamed 'Sugar' played 23 games in 1997 …
"It was a pretty good move for me when 'Blighty' came in. He certainly wanted to back in young players and made a bit of a statement by letting go a few of the older players who had been around for a while in Chris McDermott, Tony McGuinness and Andrew Jarman. It was a bit of a shock to everyone at the Club because they were senior, well-known players around the Club.
"It gave young players such as myself a lot of confidence. We certainly didn't look back after he gave a few of us an opportunity. I enjoyed the season on and off the field. We were fortunate enough to play finals and win a Grand Final. Blighty was a bit of a genius in what he was able to do in those two years."
The 1997 Grand Final against St Kilda was only Johnson's 25th career game. And on the biggest stage, the masterful Blight once again entrusted his young charge with a big responsibility …
"That year I played a little bit in the midfield, but mainly at half-back on dangerous forwards. In the finals, I spent some more time in the midfield doing a couple of run-with roles.
"On the Monday night at training in Grand Final week, Blighty came and tapped me on the shoulder when I was having a bit of a kick-to-kick. He said, 'I'm thinking about playing you on Robert Harvey'.
"Harvey had just won the Brownlow! I was a little bit surprised purely because I didn't know if I could keep up with him – he was that good a runner and I'd never played a full game in the midfield at AFL level. There were no real rotations in those days. There was a bench, but you only went there if you were injured or weren't getting a kick!
"I lost a lot of sleep that week. But I think because I was still quite young, I felt like I had nothing to lose. I knew Harvey was still going to get possessions because no one had stopped him getting possessions all year! It was just about trying to nullify his possessions and, hopefully, get a little bit of ball the other way."
Harvey still had 36, but Johnson walked away from the MCG that day with a premiership medal. After an injury-plagued start in 1998, the composed and tough onballer returned to win a second flag. He was a two-time premiership player by the age of 20 and with only 37 career games to his name …
"I certainly think it's different playing in two Grand Finals in your first three years compared to someone who works for 10 – 12 years and then plays in one. It's a different feeling and understanding.
"In my last year at Adelaide, we got to the prelim final again but unfortunately didn't win it. In my seven years at Adelaide, I think we played in four or five finals series. The next six at Richmond weren't as much fun in terms of winning, but there were more self-lessons in terms of leadership and those things.
"They were two different stories across the two clubs, but both gave me a lot of learnings for life afterwards and I've got great memories of both. It's just that one was more successful than the other."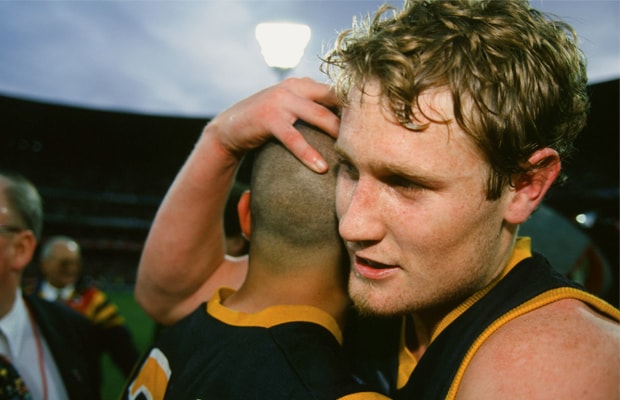 Kane Johnson & Andrew McLeod were part of a core, close-knit group of young Crows in 1997
The 2002 Preliminary Final loss to Collingwood was Johnson's last game as a Crow. After 104 games and an aborted trade in 2001, the Victorian was traded to Richmond in exchange for Jason Torney and a swap of draft picks …
"I was nearly traded to Richmond the year before with Ben Holland coming back to Adelaide. I signed my end of the deal, but at the last minute he pulled out and it didn't happen.
"It was Collingwood that I was more than likely to go to for most of 2002. It wasn't until trade time that Richmond came in late and offered a better deal to Adelaide than Collingwood could. Me being a lifelong Richmond supporter, it wasn't going to take much to get that deal over the line!
"It was hard leaving the Crows, but in the end I felt like I'd completed my mission in Adelaide in a way. There was always that lure of coming home, playing in Melbourne and being with family and friends."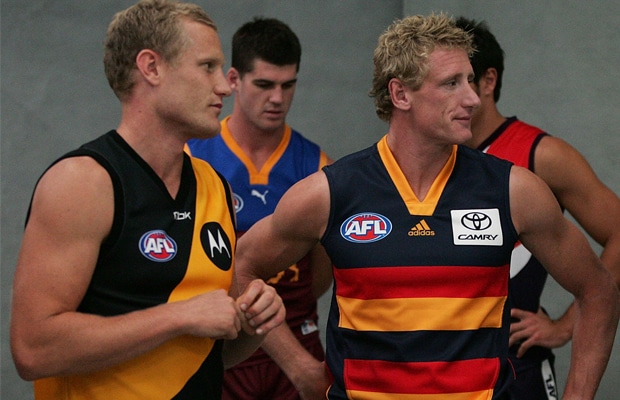 Kane Johnson in his new colours with former Crows teammate Brett Burton
Johnson left his management to arrange the trade and jetted off to Bali. Johnson was enjoying a beer at Paddy's Bar in Kuta less than an hour before the bombings that killed 202 people, including 88 Australians …
"I think for anyone that was there, it probably changed the course of their life forever, especially Jason McCartney and the people who were actually involved with it. It was a sliding doors moment for me. I was at the bar where Jason was not long before and just missed him, and Peter Vardy was just arriving in Bali too. Jason was the unfortunate one who was in the wrong place at the wrong time. The rest of us escaped unharmed in that sense.
"It was scary to be so close to something so devastating for people close to you. What you learn from experiences like those is how resilient people are. For a person like Jason McCartney to be able to bounce back and play football again was amazing and you take a lot from that. He's now living a great life and is doing some amazing things. It's been special to watch."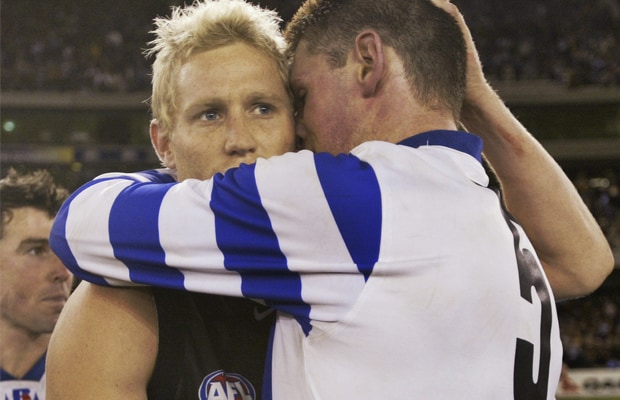 Kane Johnson and Jason McCartney embrace after the Round 11 match in 2003
Back on the football field, Johnson had personal success with Richmond but did not play another final. He finished runner-up in the Tigers' best-and-fairest in 2003-04, was appointed captain in 2005 and in 2006 won the Jack Dyer Medal as the best-and-fairest.
He stepped aside as captain at the end of 2008 and then retired midway through 2009, because of knee issues, with a total of 220 AFL games to his credit …
"The Tigers were going through some struggles in terms of building that winning culture, and there were certainly some tough times.
"It's nice to see it's starting to come to fruition now, and the club is capitalising on the hard work of a lot of people over the years.
"Looking back you could probably say that if I did stick it out with Adelaide, I would've had a bit more success. But I got the chance to come home and play for the club I barracked for which is pretty special."
The then 31-year-old did some work as a development coach with the Tigers. He quickly realised he needed a break from football, but was keen to pursue his passion for personal development and leadership. A trip to a Kung Fu school in China inspired Johnson to channel his energy into holistic wellbeing …
"Once I finished football, left the club and decided that coaching wasn't for me at that time, I went on a bit of an exploration, I suppose, and had different experiences. I went to China and trained with the monks over there.
"It was the first time I'd really practiced mindfulness, meditation, Qigong and breathing. I remember the first time that I practiced it, I felt something really profound in my body and mind. I felt really clear and focused. The first thing I thought was, I wish I had this while I was playing. I wanted to be able to implement that back into football, that was my mission.
"I've explored and studied holistic wellness and different coaching practices. From there, I started doing high performance programs and one-on-one work with athletes and footballers I'd known from my AFL days.
"I also do high performance programs with a friend at a corporate company, SANO Health. Basically, we're helping people be healthier, more mindful, have more energy and balance within their work day and home life. The real passion eventually will be to implement some of that with athletes in different sports, which I love doing and still do a little bit of on the side through my own business Chi Lab."
Johnson is adopting a balanced approach to this week's Grand Final. The father of two young sons admits it'll be a tough day. He plans to attend the game with former Crow Tyson Stenglein, and will catch up with ex-teammates from Adelaide and Richmond at the MCG. Johnson, who has a Crows premiership tattoo on his ankle, believes both clubs would be worthy winners …
"I can't lose! If Adelaide wins I'm not going to be disheartened because I spent time with a lot of great people there and had success with the Club. I wouldn't be anywhere without them.
"But deep in the veins is the Richmond blood I grew up with, and it's hard to deny that. My whole family is riding this wave of Richmond success that has never happened since I've been alive!
"It feels like the lid has been lifted a little bit. The darkness that was around the club for quite a long time has been lifted, which is really amazing especially knowing what it was like being there and still knowing a lot of the players there. It's great to watch them experience something that I've been to before.
"Adelaide has overcome its challenges, which have been well documented and would be a great story too.
"For every player that is going to run out for both teams on Saturday, it's their first Grand Final and that's even more special."