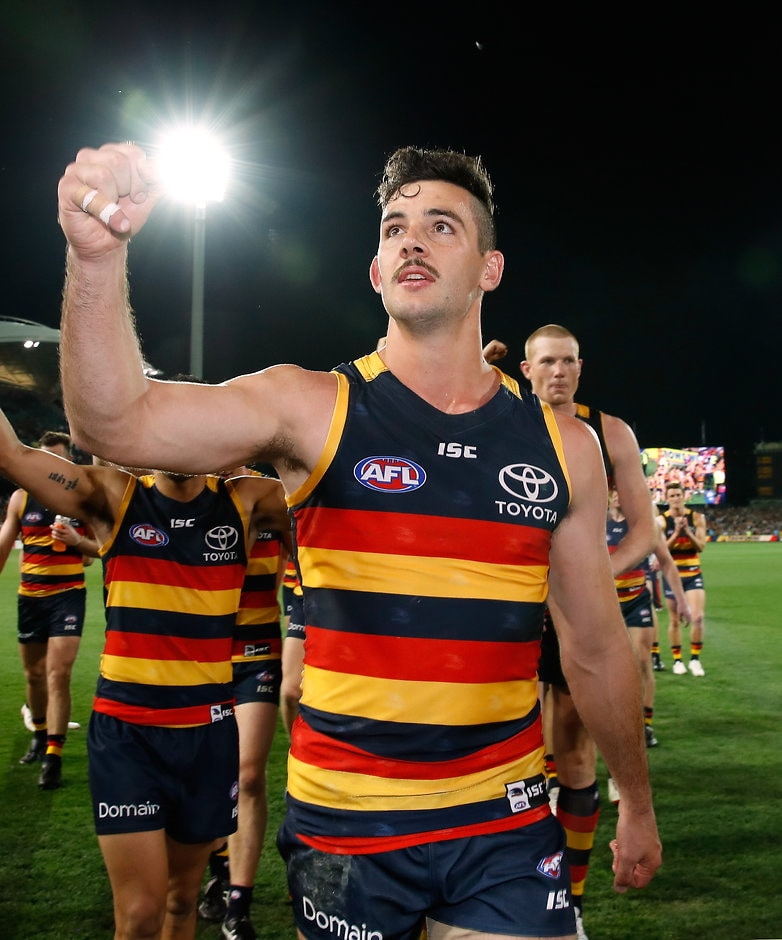 Crows captain Taylor Walker and long-serving Club Doctor Andrew Potter have been awarded Life Membership for their outstanding contribution to the Club.
Walker has made a significant impact at the Crows after being drafted via the now-defunct NSW Scholarship program in 2007.
The forward has played 153 games since making his AFL debut as an 18-year-old in Round One, 2009 and has grown into one of the most respected leaders in the game.
He assumed the captaincy in 2015, winning the AFL Players' Association Best Captain title for the past two seasons, while leading Adelaide to three consecutive finals series.
A two-time Crows leading goalkicker, Walker sits second on the Club's all-time goalkicking tally (357) behind only Crows Hall of Famer Tony Modra (440). He also earned Adelaide's Best Team Man title in 2014.
Potter was a much-loved figure at the Club for two decades.
He served as Adelaide's senior doctor for 10 years, showing tremendous care and compassion for players, coaches and staff alike. He remains involved in the AFL landscape as President of the AFL Doctors Association.
Potter also spent 10 years with the Norwood Football Club in the SANFL, but his passion for sports medicine went beyond the footballing world, with roles with the Australian Hockeyroos, the South Australia Redbacks, and the Sydney, Athens and Beijing Australian Olympic teams.
Criteria for Adelaide Football Club Life Membership is 10 years of service at the discretion of the Board.
Several staff received Club service awards at Friday night's Club Champion Dinner including Greg Wright, Rob Aitken and Trevor Klei (25 years), Dr Steve Kennett (20), Leanne Blandis and Chris Smelt (15), and Scott Degabriele, Steven Honkoop, Tate Kaesler and Bernie McNamara (10).
ADELAIDE FOOTBALL CLUB LIFE MEMBERS
1995
McDermott, C.S
1996
Jarman, A.N
McGuinness, A.B
1999
Bickley, M.A
Smart, N.J
Liptak, M.G
Jameson, R.P
Pittman, D.M
Tregenza, S.L
2000
Hart, B.M
Rehn, S.J
Hammond AM, R.A
Campbell OAM, R.E*
Sanders, W.B
2001
Ricciuto, M.A
2003
Basheer AM, M.R
McLeod, A.L
2004
Edwards, T.R
2005
Goodwin, S.M
2006
Bean, D.F
Leahy, R
2007
Goudge, G*
Sheppard, A
2008
Robran, M.C
Jarman, D.R
Bassett, N.W
Perrie, I.M
Sando OAM, Dr. B.G*
Modra, A.D
2009
Burton, B.T
Downs, B.J
Jaques, T.D
2010
Reid, J.A
Doughty, M.J
Shirley, R.J
McGregor, K.D
2011
Johncock, G.R
Gerard, R AO
Hurley, P.J
Sutton, J.S
Payze, A.J
Ballestrin, M
Pilkington, A.E
Rutherford, G.P
2012
Rutten, B
Reilly, B.C
Trigg, S.G
Whitford, K
McAvaney, S
Carter, D
2013
Cornes, G OAM
Del Bono, V
2014
Thompson, S
2015
Porpylzia, J
van Berlo, N
Douglas, R.J.E
Norris, M
2016
Condon, J OAM
Mackay, D
Sutter, A
2017
Walker, T
Potter, Dr. A
* Deceased
The views in this article are those of the author and not necessarily those of the AFL or its clubs