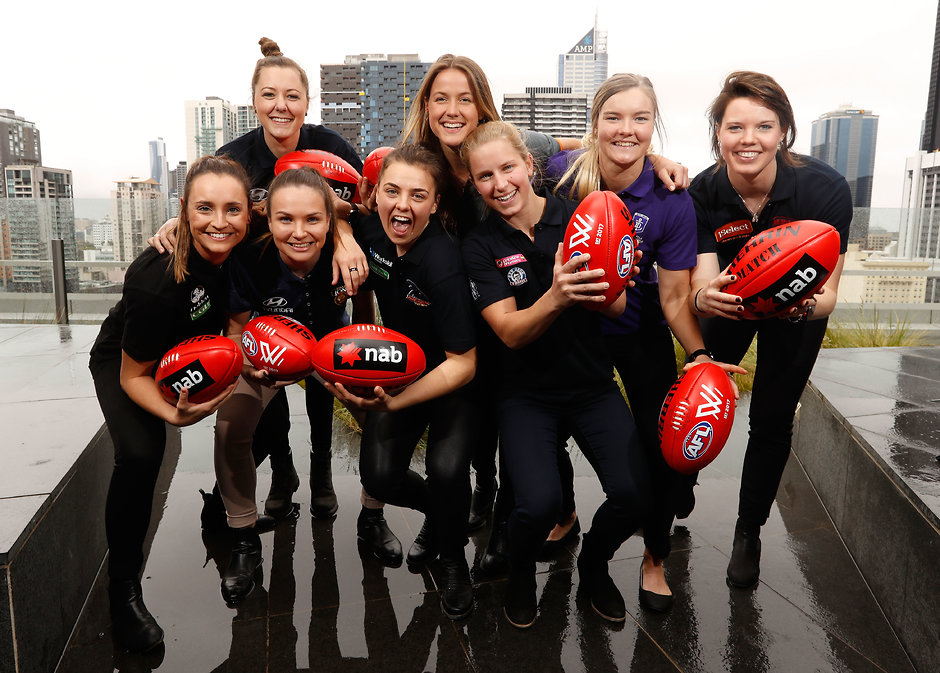 The Crows will welcome up to seven new players in the NAB AFL Women's Draft on Wednesday.
As reigning premiers, Adelaide's first pick in the draft will be at No.8.
The Western Bulldogs acquired pick No.1 during the AFLW Trade Period.
Last year, the Crows selected would-be premiership player and NAB Rising Star Ebony Marinoff with their opening selection (No.7 overall) in the inaugural AFLW Draft.
Premiership players Deni Varnhagen, Sally Riley, Georgia Bevan, Jenna McCormick, Talia Radan, Rachael Killian, Rhiannon Metcalfe, Anne Hatchard, Abbey Holmes, Stevie-Lee Thompson, Jess Sedunary, Sarah Allan, Justine Mules and Heather Anderson also joined the Club in the 2016 AFLW Draft.
Unlike the men's competition, the AFLW Draft is state based. This means players are only able to nominate in one state of their choice, and clubs can only select players who have nominated their 'home' state. For example, the Crows can only choose players who have nominated South Australia.
The Crows women's team is in partnership with AFL Northern Territory.
Joint vice-captains Riley and Ange Foley, Allies representative Stevie-Lee Thompson and forward Holmes were all recruited from Darwin.
Excitement both sides of the SA/VIC border when @eb_marinoff's name was read out by coach @BectheICON in the #aflwdraft! #weflyasone pic.twitter.com/zCvWvnm7Jb

— Adelaide Crows (@Adelaide_FC) October 12, 2016
The meet will be held in Melbourne from 11:30am (SA) on Wednesday. Follow @Adelaide_FC on Twitter, Instagram and Facebook for updates on the Club's newest AFLW recruits.
An AFLW free agency period will be held from the conclusion of the draft until 4:30pm (SA) on Thursday, October 19, to allow Clubs to consider interstate players that may be willing to move if not selected in the draft.
Star Crows forward Sarah Perkins, who was overlooked in last year's draft, is a free agency success story.
For AFLW 2018, squads have been increased to 30 including 27 senior-listed players and three rookies. The AFLW Rookie Draft will be held on Friday, October 20.
The Crows have already filled one rookie spot, with Olympic beach volleyball player Becchara Palmer joining the list of sport-swappers. The Club was able to sign Palmer as a rookie prior to the draft because she has not participated in football competitively for the last three years.
In May, the Crows secured 20 members of their history-making AFLW premiership team for the 2018 season including co-captains Erin Phillips and Chelsea Randall.
Crows AFLW players will start pre-season training on Monday, November 20.
Check out Adelaide's AFLW player profiles
ROUND ONE
1. Western Bulldogs
2. Fremantle
3. Collingwood
4. Western Bulldogs
5. Greater Western Sydney
6. Melbourne
7. Brisbane
8. Adelaide
ROUND TWO
9. Collingwood
10. Fremantle
11. Western Bulldogs
12. Carlton
13. Collingwood
14. Melbourne
15. Brisbane
16. Adelaide
ROUND THREE
17. Greater Western Sydney
18. Fremantle
19. Western Bulldogs
20. Collingwood
21. Collingwood
22. Melbourne
23. Brisbane
24. Adelaide
ROUND FOUR
25. Greater Western Sydney
26. Fremantle
27. Western Bulldogs
28. Carlton
29. Carlton
30. Melbourne
31. Brisbane
32. Adelaide
ROUND FIVE
33. Fremantle
34. Western Bulldogs
35. Collingwood
36. Carlton
37. Brisbane
38. Adelaide
ROUND SIX
39. Greater Western Sydney
40. Fremantle
41. Brisbane
42. Adelaide
ROUND SEVEN
43. Greater Western Sydney
44. Fremantle
45. Brisbane
46. Adelaide
ROUND EIGHT
47. Greater Western Sydney
48. Brisbane
ROUND NINE
49. Greater Western Sydney