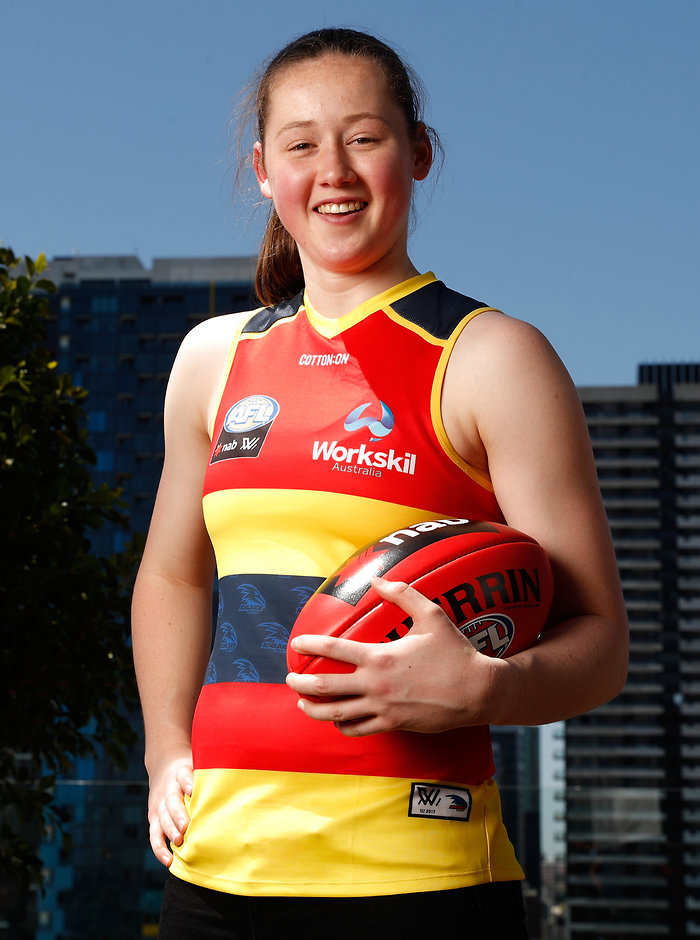 Jess is so exciting. Aside from her football abilities, she is a natural-born leader
Crows AFLW coach Bec Goddard
The first thing that strikes you about Jess Allan is her height.
At 184cm, Allan is one of the tallest female under-18 players around. In fact, only four listed AFLW players – Erin McKinnon, Emma King, Alison Downie and Kate Shierlaw – are taller.
Coupled with an impressive vertical leap, the 18-year-old looks set to be a star ruck of the future.
Allan is very composed both on and off the field, answering questions with the same poise she displays when palming the ball down to a teammate.
"I thrive on pressure, because from the moment the game starts, all eyes are on you as the ruck," Allan said.
"There's no pressure to get the ball for the first time, because you know as long as you jump high enough, it's yours.
"One of the best things about playing footy is when you're up in the air and you know you're about to tap it straight down a teammate's throat."
Allan is the youngest of a footy-mad family of three girls. Growing up first in Beachport, a tiny coastal South Australian town about 400km south-east of Adelaide, then Millicent (30 minutes inland), she followed her sisters into the Auskick development program.
"I started when I was about five, because my dad (Keith, who played for SANFL club Central District) was the coach, and I played with my two sisters as well," she said.
"As a kid, it was always just good fun to run around, rough around with the boys and it just grew from there."
One of Allan's older sisters, Sarah, is a premiership player with Adelaide, having played six games (including the Grand Final) in the first NAB AFLW season.
Allan got to work under Sarah's AFLW coach Bec Goddard as a member of the Allies team that competed in the last phase of the NAB AFL Under-18 Championships.
"It was an insight into what she's like with the Crows. It was an awesome experience, not just working with her but with all the line coaches as well [AFLW players Katherine Smith, Jess Dal Pos and Renee Forth]."
Goddard was impressed with what she saw from the under-18 All-Australian vice-captain.
"Jess is so exciting. Aside from her football abilities, she is a natural-born leader," Goddard said.
"She's got a real instinct for it. Her voice on the ground is exceptional. It's rare in a young person, but she's already out there instructing her teammates and giving real structure to the team.
"She's got a great vertical leap, she can take intercept marks and has a huge and accurate kick."
This year, Allan juggled year 12 at Millicent High School with playing seniors for Salisbury in the Adelaide Footy League, four and a half hours from home. This was her third season at senior level, after getting an exemption to play at the age of 15.
"I did two subjects last year to get ahead with all my sport, so I did modern history and graphic design. I was actually two points off a merit for that one, so that was pretty disappointing.
"This year I'm doing maths, English and PE, and I've already finished my research project."
Despite her dominance in the ruck (she was named under-18 All-Australian ruck), it is not a position Allan has grown up in.
"I used to be real short when I was younger. It was probably only a year and a half ago I started shooting up.
"When I started, I was just a half-back flanker or on the wing, but a year or two ago I started playing ruck."
A keen basketballer, Allan still makes time to play the sport despite her busy football commitments.
"One of my weapons is my vertical jump, which obviously translates from basketball. Basketball is such a versatile sport and there's so many ways to make mistakes but there are also so many ways to showcase yourself.
"They're different games but they're sort of the same. It's all about the team environment. That's what I love. With footy … if you make a mistake, you get the ball back, you've got so many second chances. You can just run and jump."
The views in this article are those of the author and not necessarily those of the AFL or its clubs