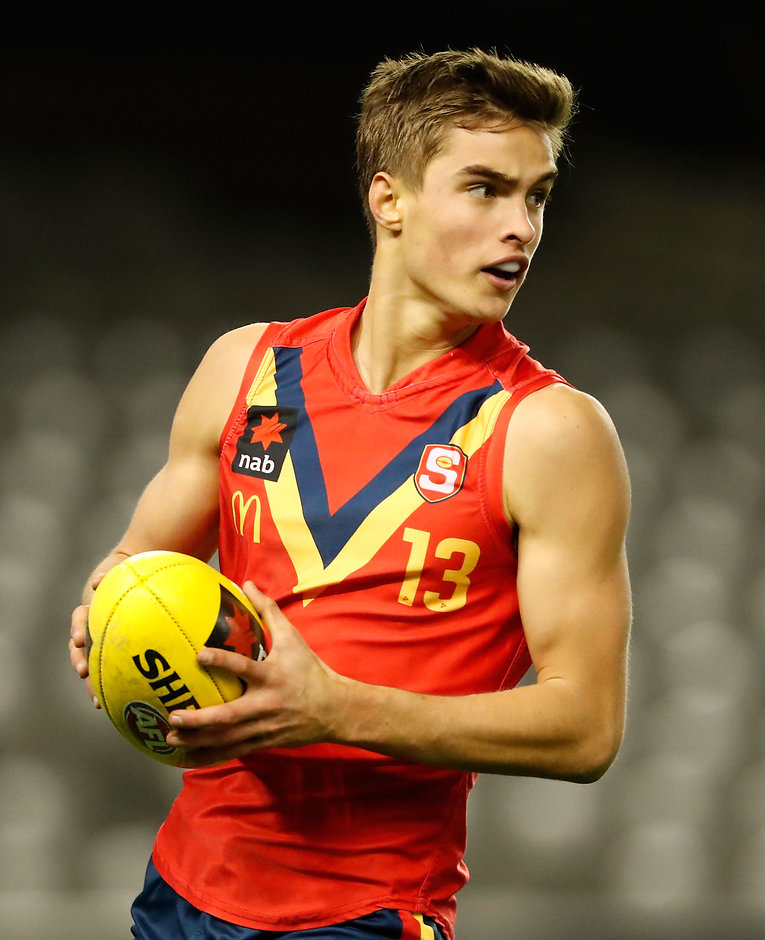 It's a good fit for us – one of, if not, the best-performed SANFL player comes into the Club ready to go
Hamish Ogilvie, National Recruiting Manager
Adelaide wrapped up a "positive" trade and draft period with four selections in Monday's AFL Rookie Draft.
The Club secured father-son selection Jackson Edwards and provided opportunities to two standout SANFL performers, Sturt premiership star Patrick Wilson and Crows development player Lachie Murphy.
Wilson was recruited with Adelaide's first pick (No.17) in the Rookie Draft.
The 22-year-old was named in the SANFL team of the year after a strong season in the midfield. He averaged 20 disposals, six tackles, five clearances and nearly a goal a game.
The 188cm, 88kg, contested ball winner has also played in defence and on the wing for the Double Blues.
National Recruiting Manager Hamish Ogilvie said the Crows had been tracking Wilson for several years.
"We nearly drafted him (Wilson) as an 18-year-old when he played predominantly half-back," Ogilvie said.
"He had some time out and time away from the game injured, but he came back and his form this season, particularly before he got a little bit sore, was really strong.
"He was the main midfielder at Sturt and (coach) Marty Mattner was a big rap for him.
"It's a good fit for us – one of, if not, the best-performed SANFL player comes into the Club ready to go."
Adelaide's second rookie selection, Murphy becomes the first member of the Club's SANFL development squad to make it onto an AFL list.
The skilful and courageous 18-year-old played every game after relocating to South Australia from Victoria, cementing his spot as a rebounding small defender.
He won the Dean Bailey Award as the Club's best and most dedicated development player and finished fourth in the State League Club Champion count.
Murphy has trained with Adelaide's AFL squad, impressing coach Don Pyke.
"We sold Lachie a little carrot (and said) there was a small percentage chance that we might pick him as a rookie," Ogilvie said.
"We set him a few goals to go away with over the break. To his credit, he pretty much achieved those and showed he was dead keen to give it a crack
"Pykey was a really big rap for him, and keen to bring him in and give him a go.
"He's our first-ever Crows SANFL (development) player to be drafted and I reckon that's fantastic."
Pumped for Lachie Murphy! Worked his backside off to get his chance 👊🏽

— Brodie smith (@Brodiesmith33) November 27, 2017
The Crows used their third rookie pick to re-draft big-bodied onballer Cam Ellis-Yolmen.
Ellis-Yolmen was let go from Adelaide's senior list at the end of the season after rupturing his ACL in the JLT Community Series.
The 24-year-old worked diligently in his rehabilitation and returned to pre-season training with his 1-4 year teammates – a fortnight earlier than required.
"Curly (Ellis-Yolmen) has had a tough year with rehab, but he's performed it well and is in really good condition," Ogilvie said.
"He's another biggish midfielder like Patty Wilson, so we've got plenty of depth in the midfield now."
Jackson Edwards, son of Crows great Tyson, was secured with Adelaide's final rookie pick.
"We were probably confident it was always going to work out with Jackson. We knew where things sat and that we could probably get him through to us as a rookie, so that worked out well," Ogilvie said.
"We're really glad that Jackson is here. He's a great kid and he'll work really hard.
"He's going to give himself every chance."
Edwards joins Adelaide alongside South Australian Under-18 teammates Darcy Fogarty and Andrew McPherson.
In all, the Crows have added eight players this offseason including trade period recruits Bryce Gibbs and Sam Gibson, who arrived at West Lakes on Monday.
Gibbs was secured with one of the first-round picks the Club received from Melbourne for defender Jake Lever, while Fogarty was drafted with pick No.12 which the Brisbane Lions handed over for forward Charle Cameron.
"We know what we're going to get from Bryce and Sam straight away," Ogilvie said.
"The proof will be in the pudding with the others over years three, four and five.
"We've also got some picks in next year's draft, so the trade and draft period has been pretty positive."
ROOKIE DRAFT SELECTIONS
Pick 17 – Patrick Wilson (Sturt)
Pick 31 – Cam Ellis-Yolmen (Adelaide Crows)
Pick 38 – Lachlan Murphy (SANFL Crows)
Pick 41 – Jackson Edwards, father-son selection (Glenelg)
NAB AFL DRAFT SELECTIONS
Pick 12 – Darcy Fogarty (Glenelg)
Pick 40 – Andrew McPherson (Woodville-West Torrens)
AFL TRADE PERIOD ADDITIONS
Bryce Gibbs (Carlton)
Sam Gibson (North Melbourne)