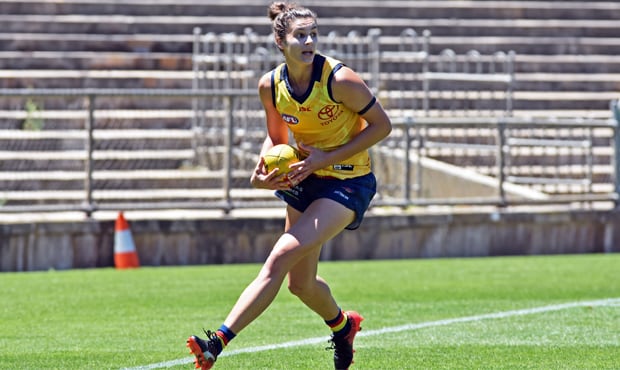 I still consider myself a student of the game, so to now be on the big stage, it's exciting and nerve-wracking.
Jasmyn Hewett
Only 12 months ago, Jasmyn Hewett had never played a game of football in her life.
Now, Hewett is playing football at the highest level after being drafted by the Crows with pick No.16 in the 2017 AFLW Draft.
For majority of her life, Hewett lived in Stirling North in South Australia, and to play football would have been a four-hour drive towards Adelaide and back every week as there was no competition in the country.
Last year, she moved up to the Northern Territory and one of the first questions she asked people was, 'Do you play football?'
After hearing about St Mary's, who competed in the NTFL Women's League, Hewett joined and dominated from the outset, kicking six goals from the ruck in her first match.
She went on to kick another 30, was runner-up Most Valuable Player in the NTFL, also earning the NTFL Rising Star award.
Hewett can't believe how quickly her football career has come about.
"I wasn't aware I'd be good at the sport at all," Hewett said.
"I didn't even know there was an AFLW competition. I didn't realise it was such a big thing and what was to come.
"I still consider myself a student of the game, so to now be on the big stage, it's exciting and nerve-wracking."
Netball was her choice of sport growing up, as she didn't feel like she had opportunities to play anything else.
"I was always interested in sport that boys played, but as a girl there were no opportunities at competitive level, and my parents weren't too keen to let me play with the boys," Hewett said.
Kick-to-kick out the front with her dad was the only way Hewett could get a football fix.
"I used to kick with my dad a lot, my brothers weren't keen on playing and I was the only one interested in kicking for an hour," she said.
"It was quality time with my dad and I'm appreciative of the time now as I can kick."
Hewett's dad wasn't the only one that saw football talent in her.
Only four games into the NTFL season, her coach Jarred Ilett took her aside.
"He pushed me to consider taking footy semi-seriously. He said I had what it takes to get to the next level," Hewett said.
Ilett having a chat with Crows AFLW assistant coach Andrew Hodges got the ball rolling.
Vice-captain @sallyriley_8 on the 🎤 ... our next #AFLWDraft pick is NT-based talent Jasmyn Hewett! Bio https://t.co/6978HxttmZ #weflyasone pic.twitter.com/ytuU6kNcNU

— Adelaide Crows (@Adelaide_FC) October 18, 2017
"Hodgey asked me if I wanted to go to training as a top up player for the Crows and I ended up doing that for the whole season," she said.
"I was blown away by the opportunity to be part of the team, it was incredible.
Given Hewett hadn't gone down a 'traditional' football route through representative football and the like, the 2017 AFL Women's Draft Combine was an important chance for Hewett to showcase her athletic ability.
As a professional fitness instructor she did just that, ranking in the top 10 in all physical tests at the combine, including second in the Yo-Yo, vertical jump, the 2km time trial.
"I had to prove myself not just on football ability. To play this game you need to be fit and have good football skills, so the combine was important for me."
Her fitness is only improving given the conditions the Darwin-based Crows are training in, over 35 degrees and 85% humidity.
"It's really hard but so beneficial, we are now equipped for playing in the worst weather all around Australia," Hewett said.
"Mentally it's tough, but physically it's awesome."
As a lifelong Adelaide supporter, the hard training is worth it for Hewett.
"It's special being one of them now, it was unbelievable for me," she said.
"I don't think I'll believe it until I pull on the guernsey and run onto the field."