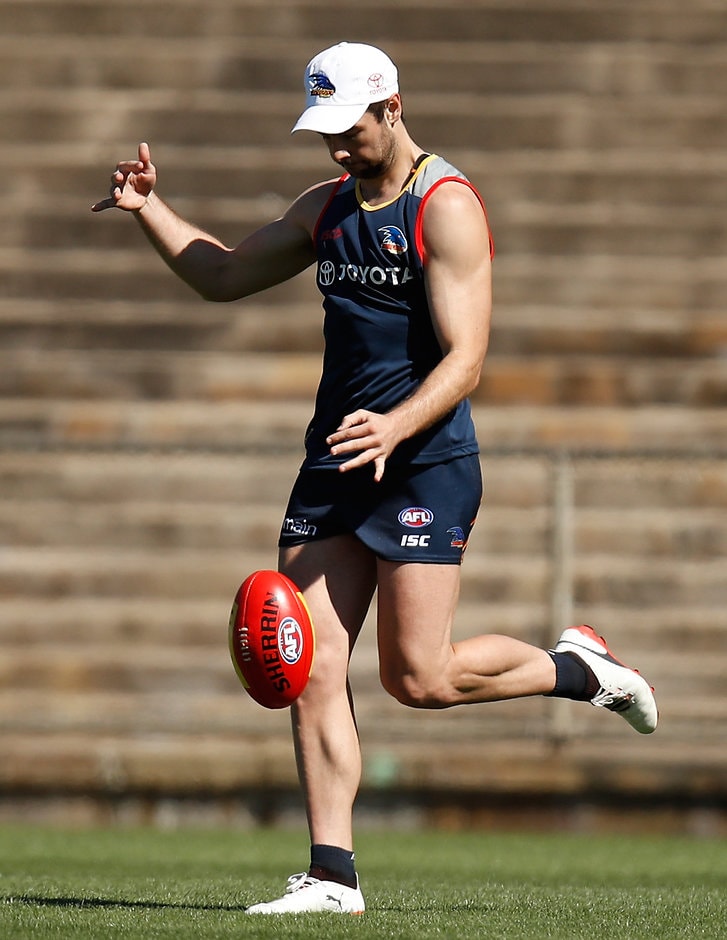 I'm enjoying my time here and Adelaide feels like home now
Rory Atkins
Despite being a mainstay for Adelaide in the past two seasons, Rory Atkins still isn't comfortable with his place in the senior team.
Atkins, 23, has played 49 consecutive games. The wingman, who notched his 50th game in the draw against Collingwood last season, has only missed two matches since his debut in Round 16, 2015.
The recruitment of experienced pair Bryce Gibbs and Sam Gibson in the offseason instantly added to the selection pressure at West Lakes, while Riley Knight, Wayne Milera Junior and Jordan Gallucci lead the list of young Crows eager for more opportunity on a wing or at half-forward.
Paul Seedsman and Curtly Hampton are also determined to regain their spots after injury-interrupted 2017 campaigns.
After securing his future with a new two-year deal, Atkins said the competition for spots in his position was as strong as it has been since he joined Adelaide at the end of 2012.
"I wouldn't necessarily say I feel comfortable with my spot in the team," Atkins said.
"I've put two consistent years of footy together, but there are a few guys who roll through the wings and half-forward.
"I keep looking to build my game and improve so I can, hopefully, keep my spot in the team and also help the team to improve.
"(I need to) work on my deficiencies, get fitter again and take my game to another level which I think I can do."
Atkins' dare, ability to break the lines and penetrating kick are features of his game.
In 2017, Atkins ranked second at the Club for inside 50ms and running bounces, and third for metres gained.
He averaged a career-high 21 disposals across the season, collecting a personal best 37 against Fremantle in Round 10.
Atkins also kicked 11 goals including three in Adelaide's Round One win over Greater Western Sydney.
The left-footer hopes building a stronger aerobic base will help him add another dimension to his game, and meet coach Don Pyke's demand for versatile players.
"I've only done one full pre-season to-date (in 2017) because of injuries. Hopefully I can stay out there again (this pre-season)," he said.
"I'd like to build my fitness levels and hopefully get a bit more midfield time, rolling through the wings but also mixing it up a bit (inside the contest) and still trying to hit the scoreboard as well.
"I kicked a few goals early last year and I would like to continue that throughout the year."
From Victoria, Atkins was an astute selection at pick No.81 in the 2012 AFL National Draft.
Entering his sixth season, the Calder Cannons junior is happy in South Australia.
"I'm enjoying my time here and Adelaide feels like home now," he said.
"We've got an exciting group and I'm glad to stay around for a few more years."
Only thing better than a @RoryAtkins21 goal ... is a Rory Atkins goal celebration 😉 #weflyasone pic.twitter.com/BRGJpPG7ZM

— Adelaide Crows (@Adelaide_FC) January 19, 2018
Living with senior teammate Josh Jenkins helped Atkins settle in his adopted home state.
Atkins stayed with Jenkins and fiancé Hannah for two years before moving out on his own.
Prior to Christmas, it was Atkins' turn to open his doors.
He hosted draftee Darcy Fogarty for a month and hoped the experience would help the Lucindale teenager as much as living with Jenkins helped him.
"I met Darcy last year when he trained with us through the AFL Academy and we got along really well," Atkins said.
"I'm not one of the older guys, but I'm in that middle group where I feel comfortable enough to talk to the older guys and also the younger guys.
"I decided I'd open up my doors and let Darcy stay in my spare bedroom for a month.
"I thought if I could do that for Darcy it could be a great help for him.
"He's a different character at home to what he is at the football club. He's very quiet and reserved at the Club, but he doesn't shut up at home!
"He didn't cook a thing for a month – he didn't cook one meal!
"But I think we've got a good one on his hands. He'll be pretty exciting for us in the near future."