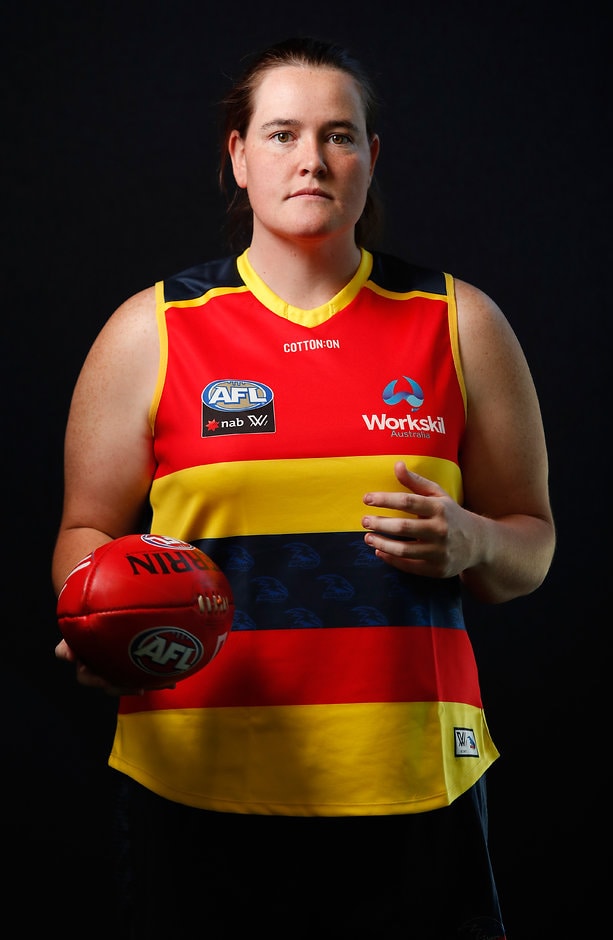 The Crows will have to defy the expectations of AFLW captains to defend their title in 2018.
At the NAB AFL Women's Season Launch in Melbourne on Tuesday, the eight club captains were asked anonymously for their predictions ahead of the upcoming season.
Melbourne (four votes) and Carlton (three votes) drew the most nominations for which club, apart from their own, was most likely to contest this year's Grand Final.
Not one skipper tipped reigning premiers Adelaide to reach the final two in 2018.
It's a repeat of last year, when not a single rival captain believed the Crows would be there on Grand Final day. The unheralded Crows beat out more fancied rivals in 2017 to win five home and away games and topple the unbeaten Brisbane Lions in the inaugural decider.
Surprisingly, Crows co-captain Erin Phillips didn't receive a single nomination on Tuesday to claim back-to-back AFLW Best and Fairest awards.
All Australian Phillips dominated last season, winning the League's highest individual honour, the AFL Players' MVP, best on ground in the Grand Final, Adelaide's AFLW Club Champion and Goal of the Year.
Darcy Vescio (Carlton), Daisy Pearce (Melbourne) and Bri Davey (Carlton) were tipped to be stand-out players again.
Pearce and Davey each received three votes to claim the competition's best and fairest award.
The leading goalkicker across the competition in season one, Vescio was nominated by seven of the eight captains to top the goalkicking again.
Crows forward Sarah Perkins, who finished second to Vescio in 2017, was the only other player to receive a nod.
In 2017, one captain correctly nominated Carlton's Darcy Vescio to be the leading goalkicker.
The No.1 selection in the NAB AFLW Women's Draft, Isabel Huntington, was selected by four judges to claim the NAB AFL Women's Rising Star award in her debut season this year for the Western Bulldogs.
Crow Ebony Marinoff, who was correctly nominated by one captain in 2017, claimed the first-ever AFL Women's Rising Star award.
Get up to speed with all the offseason AFLW news before the season starts
The captains were also asked to nominate the single match they were looking forward to watching involving another club this season, with selections including two of this weekend's season-openers -- Carlton and Collingwood at Ikon Park and the Grand Final rematch between the Adelaide Crows and the Brisbane Lions at Norwood Oval.
The full survey results were (Captains polled – Katie Brennan, Western Bulldogs; Steph Chiocci, Collingwood; Bri Davey, Carlton; Kara Donnellan, Fremantle; Amanda Farrugia, GWS Giants; Carlton; Daisy Pearce, Melbourne; Erin Phillips, Adelaide Crows; Emma Zielke, Brisbane Lions):
Which other team apart from your own is most likely to reach the Grand Final?
4 – Melbourne
3 – Carlton
1 – Western Bulldogs
Who will win the competition Best and Fairest?
3 – Bri Davey (Carlton), Daisy Pearce (Melbourne)
1 – Katie Brennan (Western Bulldogs), Karen Paxman (Melbourne)
Who will kick the most goals in the competition?
7 – Darcy Vescio (Carlton)
1 – Sarah Perkins (Adelaide Crows)
Who will win the NAB AFL Women's Rising Star?
4 – Isabel Huntington (Western Bulldogs)
1 – Monique Conti (Western Bulldogs), Sophie Conway (Brisbane Lions), Chloe Molloy (Collingwood), Ruth Wallace (Adelaide Crows)
Which one other game of the season, not involving your own club, will be you definitely be watching?
2 – Carlton v Collingwood (Opening match of the AFLW season at Ikon Park on Friday night)
2 – Adelaide Crows v Brisbane Lions (Grand Final re-match in Round One)
2 – Carlton v Melbourne (Round Six)
1 – Carlton v Brisbane Lions, (Tayla Harris turning out against her former club in Round Three)
1 – Western Bulldogs v Melbourne (The two clubs who began the exhibition game series, meeting in Round Seven on the eve of the Grand Final)