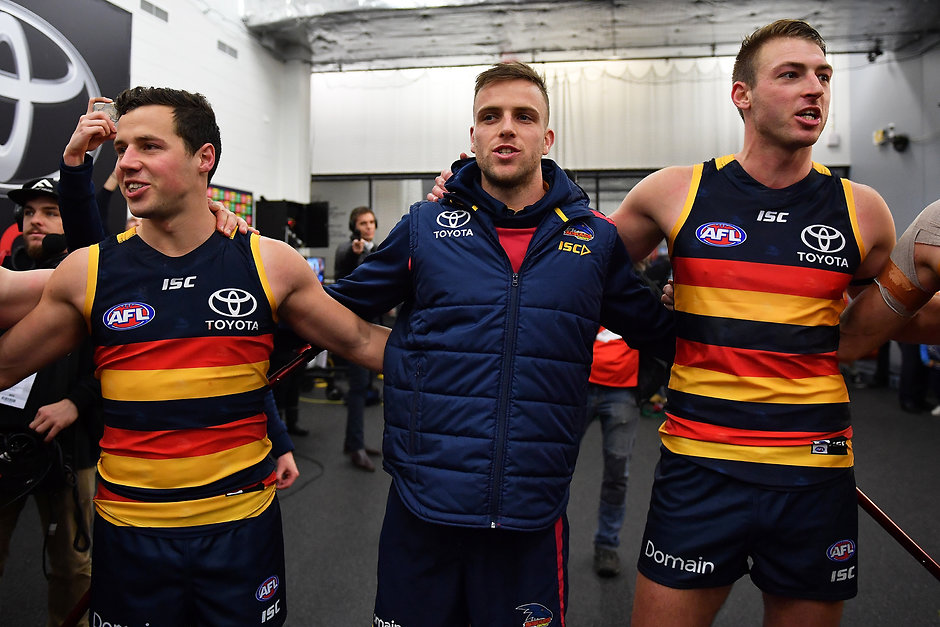 Everything is on track, so fingers crossed you'll see me out there at the end of the year
Brodie Smith
Injured Adelaide defender Brodie Smith has endured a tough offseason so far, but he has reason to be excited next week.
Smith, 26, is embarking on a two-week trip to the United States which includes attending the NFL Super Bowl between the New England Patriots and Philadelphia Eagles in Minneapolis.
The All Australian, who has inked a new three-year deal with the Crows, said the trip would be an important mental refresher after a long few months rehabilitating from a knee reconstruction.
"Firstly, it's just to get a bit of a break from the Club environment," Smith said.
"Obviously, over the offseason I spent all of it at the Club getting physio and doing exercises post-operation.
"You spend so much time at the Club so it's good to get away."
As part of the trip, Smith will complete a week of training in Philadelphia with world-renowned rehabilitation specialist Bill Knowles.
Knowles has previously worked with Crows captain Taylor Walker, and a number of other AFL players including star West Coast ruckman Nic Naitanui, Geelong forward Daniel Menzel, GWS big man Jon Patton and young Demon Christian Petracca.
"The trip is also an opportunity to see a highly recommended specialist who 'Tex' went and saw and couldn't speak higher of," Smith said.
"It's just to get a different perspective and different drills and ideas to fast-track where I am and try and get back as quickly as possible."
Smith, who ruptured his anterior cruciate ligament (ACL) in Adelaide's Qualifying Final win over Greater Western Sydney, is now four-and-a-half months into his recovery,
The upbeat backman remains in good spirits and hopes his training will ramp up when he returns to Adelaide.
"Speaking to Cam Ellis-Yolmen after he did his knee last year, he really broke his rehab down into little goals and I have found that definitely works and gives you something to look forward to," he said.
"It started at being able to do a calf raise, to being able to squat and then squat with some weight on, moved to eventually running and then I've got to kicking, so I've been slowly ticking all those off.
"Hopefully, when I get back from America the next step will be doing a little bit more with the boys and start having a kick with them."
Attending the Super Bowl is something that has made several of Smith's teammates very jealous.
"The boys like Lairdy, 'JJ' (Josh Jenkins) and Lynchy who love NFL are filthy at me!" he said.
"There will be plenty of vision being sent through to those boys.
"I'm going for Philadelphia because the Patriots have been there plenty of times and won it all and Lynchy has been in my ear about Tom Brady all year, so I'm just hoping they get knocked off."
During his time in Philadelphia, Smith plans on linking up with the Eagles as well as NBA team the 76ers.
"There's a week of training there and also some down time either side of that where I'll link up with some NFL and NBA clubs over there and check out how they operate and see their facilities," he said.
"It's a bit of an all-round trip with some career development, but some relaxing as well."
Smith is hopeful training with Knowles will aid his bid to return to the field this year.
"The surgeons look at it as a 12-month injury, so I'm trying to fast-track that as much as I can but there is just too much distance to go be able to look that far," he said.
"I'm progressing each week so as long as I'm doing that I'm feeling pretty comfortable.
"It's nice to prove people wrong even when it's a highly renowned surgeon.
"I've always been one that if you set me a time I'm out there to beat it.
"Everything is on track, so fingers crossed you'll see me out there at the end of the year."
The views in this article are those of the author and not necessarily those of the AFL or its clubs