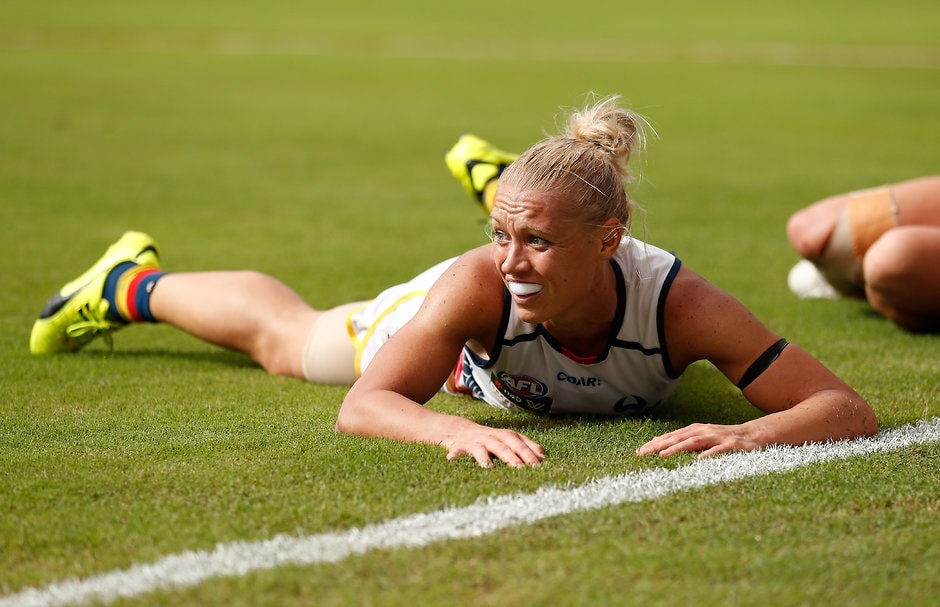 We'll do everything we can this week to get her back.
Bec Goddard
Adelaide star Erin Phillips is no certainty to return against Melbourne next week after a quad injury forced her to withdraw from Adelaide's side to face Brisbane at Norwood Oval on Saturday night.
It was a massive blow for the Crows, who lost the Grand Final rematch by 12 points, after already losing All Australian defender Courtney Cramey and forward Abbey Holmes to injury.
Phillips, the reigning NAB AFL Women's best and fairest, suffered a quad injury at training on Friday night and will be assessed further on Monday.
Speaking after their loss to the Lions, Crows coach Bec Goddard hoped Phillips would return against the Demons at Casey Fields, but there remained some doubt until she was assessed during the week.
"I'm not a doctor, so I've got to just take the advice of the doctors and I haven't spoken to the doctor tonight to find out," Goddard said.
"She'll be assessed and hopefully we'll get her back.
"We haven't had a scan, it only happened last night, so it's too soon to say, but my understanding is it's a strain, and we'll do everything we can this week to get her back."
Phillips was replaced in the Crows team by Northern Territory midfielder Sophie Armitstead, who played her second AFLW game.
The former professional basketballer took all before her during the inaugural AFLW season, claiming every individual award on offer.
Phillips sat out of match simulation at Crows training on Wednesday night, instead doing some standing kicking drills and a limited amount of running, while Cramey was restricted to shuttle runs away from the main group at the same session.
"She's always on light duties, she's an older body, and like Courtney Cramey as well, we've got to manage those bodies really responsibly," Goddard said.
"Every girl is unique on our squad, but we would treat her the same as any of our other girls.
"When you've got signs of soreness, you've got to be really careful about what you do, and that's the precaution we took with Erin on the weekend."
Star utility Chelsea Randall captained the Crows for the clash with the Lions with co-captain Phillips on the sidelines.
The views in this article are those of the author and not necessarily those of the AFL or its clubs