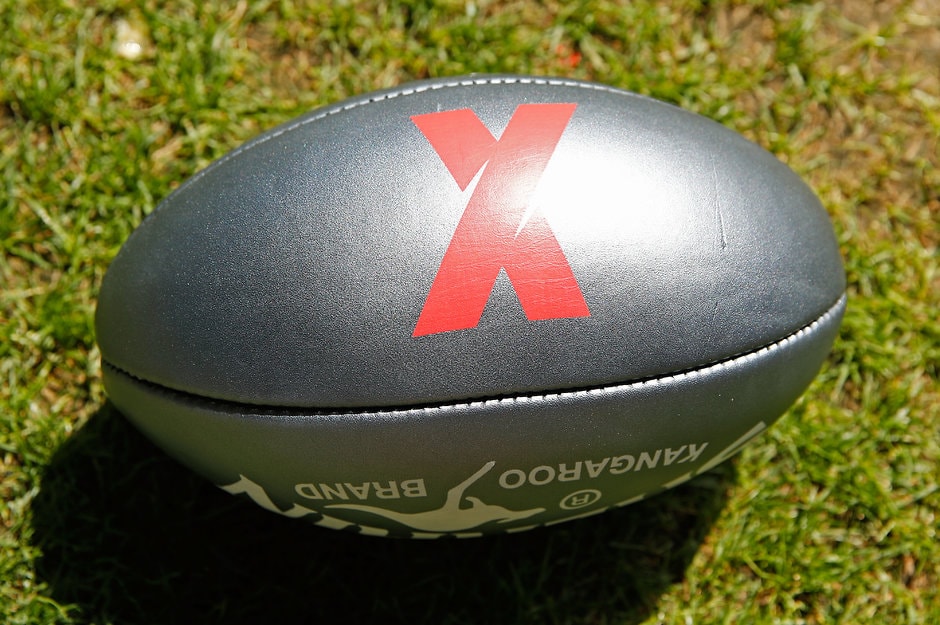 What is AFLX?
AFLX is a new and different version of Australian Football created by the AFL to showcase some of the most thrilling elements of the game to attract new fans.
The AFLX version of Australian Football is fast paced and will be played on a rectangular field with seven players on the field and three on the bench.
AFLX will be an express form of the game with explosive action exhilarating fans of all ages. Get ready for 10-point super goals, last touch out of bounds and non-stop action on and off the field.
The 2018 AFLX Tournaments will see three tournaments played across three cities in three days. The first tournament will be at Hindmarsh Stadium on Thursday, February 15, Etihad Stadium on Friday February 16 and Allianz Stadium on Saturday February 17.
These events will feature six teams at each location with two pools of three playing in a round robin format. A Grand Final will be played at each event.
The inaugural 2018 AFLX Tournaments promise to be a great family experience exciting fans of all ages. Off the field fans will see plenty of action with fireworks, DJs with plenty of music, in game commentary, roving performers, kids and family zones and giveaways a feature at all events.
Why AFLX now?
AFLX allows the AFL to do something different and new for fans, for players, for clubs and broadcasters. The men's pre-season period has been chosen as the best period to introduce AFLX as a lead up to the Toyota AFL Premiership Season before AFL Clubs move into the JLT Community Series.
Why is it called AFLX?
Having started as AFL Express, the AFLX brand was created as ten became a constant theme in the new version. X is the roman numeral symbol for ten.
What are some of the rules changes that will be seen in AFLX?
Played on a rectangular field (approx. 70m width x 110m length) with four posts at each end (as per a normal AFL field). Ground markings will showcase X as the centre square and 40m arcs.
Two field umpires, two boundary umpires and one goal umpire at each end of the ground.
Ten players per team, seven on field at all times and three on the interchange bench. No restrictions on player rotations.
Each squad may consist of up to 20 players, with 10 selected per game.
10-minute quarters or halves depending on the tournament format.
Free kick against for last touch out of bounds.
Kick-ins from behind the goal line after all scores.
No marks paid for backwards kicks (except in forward 40m area).
Quarters commence with a 'ball up' in the centre and at least two players from each team starting inside the 40m arc.
Free shot from forward 40m arc – directly in front for deliberate rushed behinds.
10-point super goals when goals kicked on the full from outside the 40m arc.
Is AFLX replacing the JLT Community Series?
No, the men's pre-season competition is still being played in 2018, starting on Saturday February 24 and is still an integral part of the season. The JLT Community Series focuses on the traditional format of Australian Football being played at grounds that don't usually see Toyota AFL Premiership Season matches.

How can you get tickets?
From X.afl
Ticket Prices:
Adult - $15
Concession - $10
Family - $30
Kids 12 and Under – Free
Does AFLX replace AFL 9s? Who can play?
The AFL will continue to support AFL 9s, a nine-a-side non-contact social version of the traditional game, for all levels of participation. To find out more information about playing AFL 9s, visit afl9s.com.au
What are the broadcast details?
Fans who can't get to the venues, are able to watch live nationally on the free-to-air channels of Seven and its digital platforms, on Fox Footy only on Foxtel and its digital platforms and in partnership with Telstra via the Official AFL website AFL.com.au and the Official AFL Live App created by Telstra, and will deliver the action live, fast and data-free for Telstra mobile customers. Fans will also be able to watch replays in full via the Telstra TV AFL App.
Thursday February 15
Hindmarsh Stadium – ADELAIDE
Broadcast: Live nationally on 7Two (and Seven's digital platforms), Fox Footy (and Foxtel's digital platforms) and Telstra via afl.com.au and the Official AFL Live App
Friday February 16
Etihad Stadium – MELBOURNE
Broadcast: Live nationally on 7Two (and Seven's digital platforms), Fox Footy (and Foxtel's digital platforms) and Telstra via afl.com.au and the Official AFL Live App
Saturday February 17
Allianz Stadium – SYDNEY
Broadcast: Live nationally on 7Mate (and Seven's digital platforms), Fox Footy (and Foxtel's digital platforms) and Telstra via afl.com.au and the Official AFL Live App
What are the three tournament fixtures?
Thursday February 15
Hindmarsh Stadium – ADELAIDE
Gates open at 5.00pm ACDT
Pool A: Port Adelaide, Geelong Cats, Fremantle
Pool B: Adelaide Crows, West Coast Eagles, Collingwood

6:10pm Port Adelaide v Geelong Cats
6:38pm Adelaide Crows v Collingwood
7:06pm Geelong Cats v Fremantle
7:34pm West Coast Eagles v Adelaide Crows
8:02pm Fremantle v Port Adelaide
8:30pm Collingwood v West Coast Eagles
9:03pm Grand Final
Friday February 16
Etihad Stadium – MELBOURNE
Gates open at 5.30pm AEDT
Pool A: Carlton, Melbourne, North Melbourne
Pool B: Hawthorn, Essendon, St Kilda

6:40pm Carlton v Melbourne
7:08pm Hawthorn v Essendon
7:36pm North Melbourne v Carlton
8:04pm Essendon v St Kilda
8:32pm Melbourne v North Melbourne
9:0pm St Kilda v Hawthorn
9:33pm Grand Final
Saturday February 17
Allianz Stadium – SYDNEY
Gates open at 3.00pm AEDT
Pool A: GWS GIANTS, Richmond, Brisbane Lions
Pool B: Sydney Swans, Western Bulldogs, Gold Coast SUNS

4:10pm GWS GIANTS v Richmond
4:38pm Sydney Swans v Western Bulldogs
5:06pm Richmond v Brisbane Lions
5:34pm Western Bulldogs v Gold Coast SUNS
6:02pm Brisbane Lions v GWS GIANTS
6:30pm Gold Coast SUNS v Sydney Swans
7:03pm Grand Final


The views in this article are those of the author and not necessarily those of the AFL or its clubs