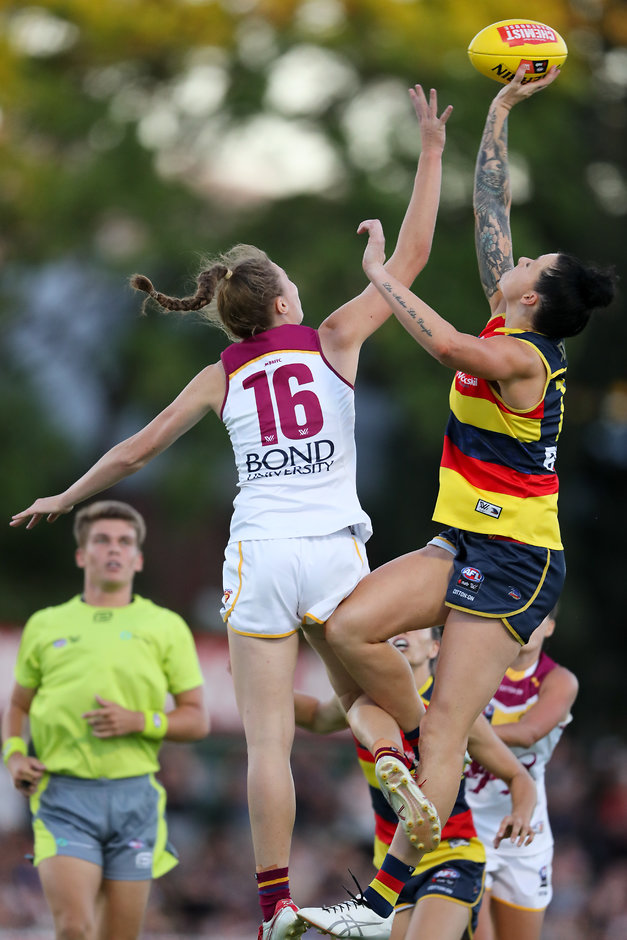 I fell in love with the game, I love the physical side of it.
Rhiannon Metcalfe
If it wasn't for her job with the Navy, Rhiannon Metcalfe might not even be playing football.
In the latest BHP Down to Earth video, Metcalfe details her role as a Leading Seaman Electronic Warfare in the Royal Australian Navy, and how her love of football started.
In her role, Adelaide's ruck is responsible for detecting and identifying air surface, sub-surface and land platforms in the ship's vicinity and beyond.
The 26-year-old also participates in simulation exercises on board, preparing for emergencies such as air raids, fires, floods, incoming missiles and man-over-boards.
"We try to make this as real as possible by using equipment such as smoke machines and wearing full firefighting gear, to try and maximise the trainings outcomes," Metcalfe said.
Four years ago, Metcalfe was introduced to football through the Navy.
"I first played for the Navy in a two-week carnival we play in Victoria every year," Metcalfe said.
"After that, I fell in love with the game, I love the physical side of it."
Originially from Nelson Bay in New South Wales, Metcalfe joined the local league in Sydney and while moving around with the Defence Force, also played in Canberra.
Luckily for Adelaide, in 2016 she decided to nominate for the AFLW draft.
"I decided to put my name in and see how far it would go, and got picked up by the Crows," Metcalfe said.
A Crow who specialises in Electronic Warfare with the Navy 🛳 https://t.co/svlCNKsDZl Rhiannon Metcalfe knows all about teamwork #weflyasone pic.twitter.com/i803rbkU2Q

— Adelaide Crows (@Adelaide_FC) February 16, 2017
A member of the 2017 Premiership team, Metcalfe is busy when pre-season starts, but manages it with the support of the Navy.
"It's a very full on time of the year, very long days," she said.
"So long as you manage your time efficiently, it's usually no dramas.
"It's also good the Defence Force are very supportive of us playing at the elite level and are flexible at times when we might be required to go to a football commitment, as long as it's not a critical time in our unit."
The BHP Down to Earth videos will be released weekly during the 2018 AFLW season on the AFC website, social channels and app, to give fans greater insight into the lives of Crows AFLW players.
BHP – through its South Australian Olympic Dam operation – is a co-major partner for the Crows AFLW team for the 2018, 2019 and 2020 AFLW seasons.