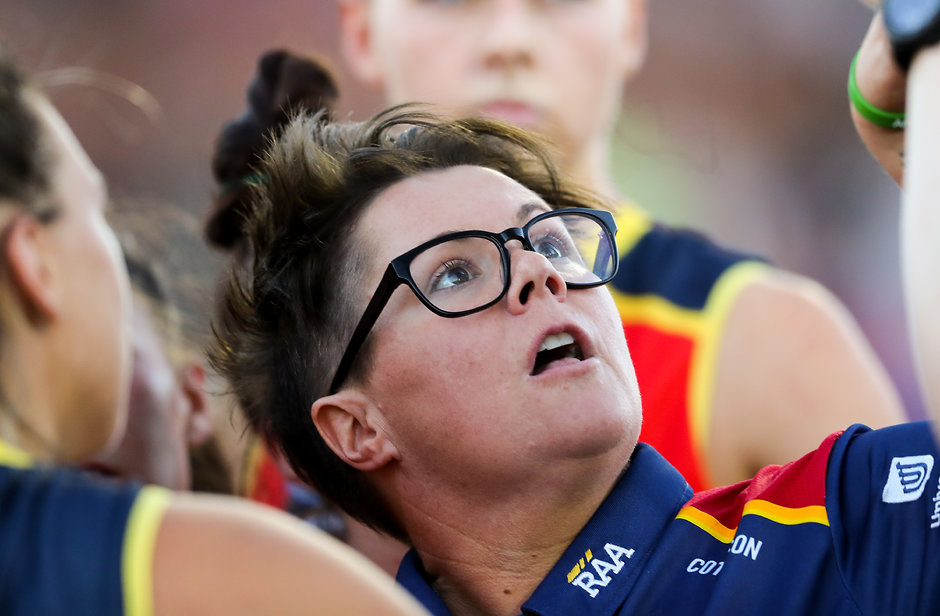 You'll see the focus is regaining a bit of composure, trusting in each other that we are going to make the one on one contest.
Bec Goddard
Fans will see more composure and trust when Adelaide's women's team takes to the field this Saturday, according to coach Bec Goddard.
Ahead of the clash with Melbourne at Casey Fields, Goddard said there won't be a repeat of last week's effort in the loss to Brisbane.
"We weren't first to the footy and when we did get to the contest, three or four of us would go to the footy and not trust our teammates to come out or lay that tackle," she said.
"You'll see the focus is regaining a bit of composure, trusting in each other that we are going to make the one on one contest.
"We want to be in the contest."
After a lot of talk during the week about congestion in the AFLW, Goddard declared Adelaide's team structure isn't going to change.
"We play five-six-five, what changes is when an opposition throws a whole zone at us," she said.
"You'll see us set up as a five-six-five and set away from the stoppages this weekend, no problems."
That structure is something Goddard would like to see throughout the competition.
"I'm really pro the anti-density rule, I declared that at a number of meetings that I had with the AFL," Goddard said.
"It's no secret to them and the other coaches that I would like to see that introduced so we can guarantee broadcast rights, sponsorship for the girls and one day a fulltime wage.
"What we have at the moment is a part-time competition and part-time athletes where you only get them a few hours a week, and I think concentrating on the footy fundamentals, the basic one-on-ones in the competition, rather than trying to introduce complex zones, or adding plus ones and twos in defence to try defeat that genuine one-on-one nature is a great idea."
"Once they are full time athletes we can start introducing the more complex elements of football."
#AFLW coach @BecGoddard22 is excited to have Abbey Holmes & Jenna McCormick back this week, hopes Erin Phillips will be available next week #weflyasone. pic.twitter.com/hAGTaDOZn5

— Adelaide Crows (@Adelaide_FC) February 9, 2018
Looking towards this weekend's game, Goddard is encouraged by the return of Premiership players Abbey Holmes and Jenna McCormick to the side.
"Abbey is obviously a bigger body, is very strong, has a great core and we are excited to see what she is going to bring to the contest," Goddard said.
"Jenna is just so lively around goals, you never know what's going to happen and you saw that when we introduced her in round two last year, hopefully she has a strong showing this weekend."
With these inclusions, Goddard is hoping to be really competitive against Melbourne.
"They are a really quality opposition; Daisy Pearce, Karen Paxman, Elise O'Dea, they are the best midfield in the competition," she said.
"We've got ourselves a target for this weekend and hopefully we come away with the result."