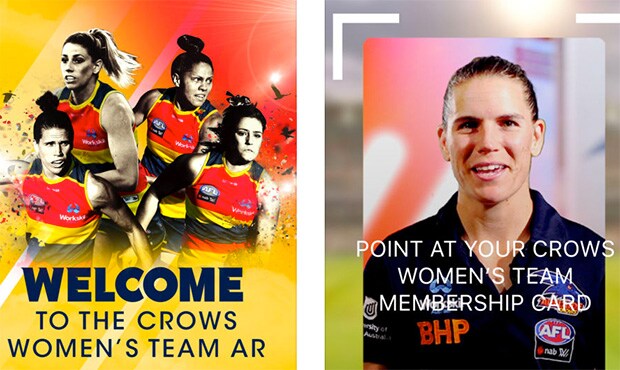 Adelaide's AFLW Members will receive another exclusive benefit ahead of the Club's Round Five clash with Carlton at Norwood Oval on Saturday night.
Co-captain Chelsea Randall has recorded a special video message in augmented reality (AR), expressing the team's gratitude for the support received so far this season.
To view the video:
Open the App and enable your device camera by following the prompts
Point your device camera at your 2018 Crows Women's Team membership card
It is another significant initiative in the push to be at the forefront of technology advancements that enhance the way in which the Club interacts with Members and supporters.
Click here to download/print CrowsAR instructions
Crows CEO Andrew Fagan said the CrowsAR App was a unique way for some of the most passionate fans to receive communication and gain a different perspective.
"We want to continue to be a leader in this country with the integration and trialling of new technologies," Fagan said.
"Our CrowsAR App is another huge step forward after testing live virtual reality and artificial intelligence through Facebook Messenger last year.
"We have been active in this space since 2014 when we rolled out one of the first virtual reality experiences in Australian sport and our 600,000 plus fans can look forward to much more in the months and years ahead."
Download and install the CrowsAR App from Apple iTunes
The views in this article are those of the author and not necessarily those of the AFL or its clubs