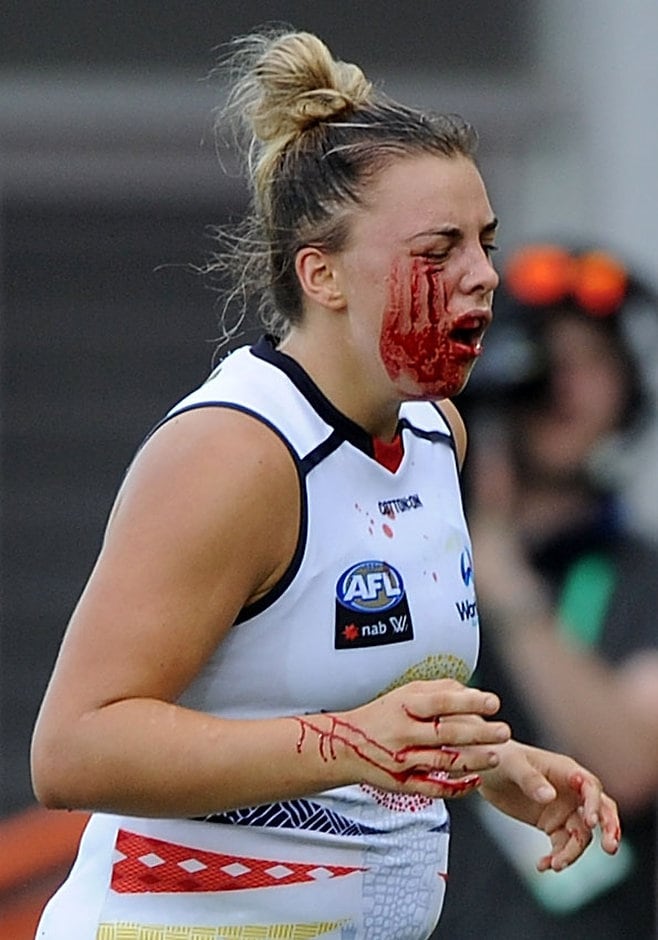 She's the toughest player in the competition
Coach Bec Goddard
Midfielder Ebony Marinoff has been hailed the "toughest player in the competition" after playing through another facial injury in Adelaide's thrilling win over Fremantle.
Marinoff required stitches in her cheek following an accidental elbow to the face in the second quarter at TIO Stadium on Friday night.
It came just six days after the courageous 20-year-old split her tongue in a nasty head clash with Carlton onballer Katie Loynes. The gruesome injury required six stitches and affected Marinoff's ability to eat leading into her team's must-win clash with the Dockers.
Despite the injuries and spending significant time off the ground receiving treatment, the Rising Star winner still laid 16 tackles on Friday night – 10 more than the next-best player on the ground – to help the Crows to a gutsy four-point win.
Coach Bec Goddard was in awe of Marinoff's resolve.
"I think 'Noffy' has had had 11 stitches in two (games) in her head, first her tongue and now the face," Goddard said after the game.
"She's the toughest player in the competition. She does really hard work for us and we just tried to fill the hole while she was on and off the ground (receiving treatment).
"She's just unreal."
Marinoff's bravery set social media abuzz on Friday night.
The effervescent All Australian responded on Twitter, thanking well-wishers.
Thank you all for the well wishes. Unlucky week for me but so proud to be apart of this special group who I'd play with a broken leg for if I could. A busted tongue a black eye and 11 stitches is bloody' worth 2 wins!!!!

— Eb Marinoff (@eb_marinoff) March 9, 2018
Marinoff wasn't the only player to display grit as both teams battled desperately to get a win in Darwin.
Co-captain Chelsea Randall went back with the flight of the ball to take a trademark intercept mark in defence at a crucial time in the last quarter, while young defender Sarah Allan was also resolute.
Goddard said 20-year-old Allan was improving every week.
"That's the best game I think we've seen her (Allan) have. She's been really consistent all year and in our best (players) every single game," she said.
"The ball came (inside our defensive 50m in the final minutes) … when I saw her underneath it I thought, 'Thank God. Thank God it was her'.
"She's grown so much. She's very mature. She knows what her role is in the team and doesn't try and do any more or less, or be flashy about it. She just did her job tonight."
At the opposite end, utility Anne Hatchard crashed a pack in the final minute to try and keep the ball in Adelaide's attacking 50m, while leaders Ange Foley, Erin Phillips and Courtney Cramey also stood up.
Playing at full-forward, Phillips kicked three goals and set up several other scoring opportunities including a selfless pass to popular teammate Sarah Perkins who kicked her first goal of the season.
The reigning Best and Fairest now sits second in the AFLW goalkicking despite missing the opening two rounds with a quad injury.
Goddard indicated Phillips was likely to remain forward in Adelaide's last game of the home-and-away season against Collingwood next Sunday.
"What can you say about Erin Phillips that hasn't been said before? She's a freak," Goddard said.
"She's really hard to defend and she had one mighty game tonight.
"She'll probably try and talk me into playing her on the ball next week, but well just wait and see about that.
"When something is working so well, why would you change it?"
The thrilling victory over Freo was Adelaide's first AFLW win in Darwin, where the Club plays one 'home' game each season as part of its relationship with AFL Northern Territory.
"Our Darwin contingent make the sacrifice every week and that's not just the players, it's the support staff and the coaches who also travel every week," Goddard said.
"They deserve to have a win in front of their families and their friends and their home crowd."
The win has lifted Adelaide, at least temporarily, into second spot on the ladder.
The top two teams at the completion of the minor round will contest the Grand Final.
"The belief rolls on another week. We have to win next week, and hope a result or two goes our way and we'll be there," Goddard said.
"But really, we're not looking beyond next week. We've got to get next week done."