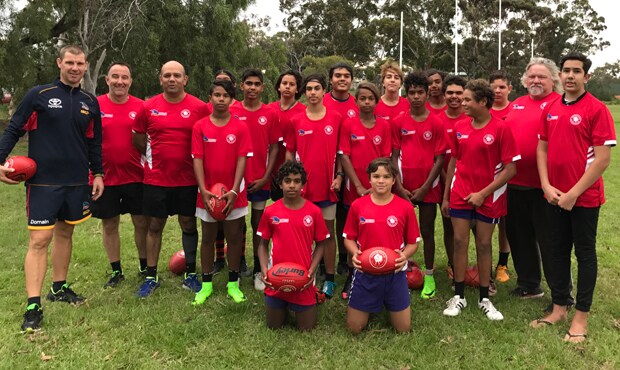 It's certainly an exciting time for the Club and the community
Next Generation Academy Coordinator Jarrod Meers
Adelaide's Next Generation Academy has this week officially launched a second regional hub in Port Augusta and Whyalla as the program continues to expand.
In partnership with the North Adelaide Football Club, the Mid North Academy will identify and develop talented teens in the region with a focus on those with an Indigenous or multicultural background.
The program includes a minimum of six skills and football education sessions with accredited coaching staff, offering up-and-coming players the opportunity to join the Club's Next Generation Academy Talent Squad.
The opening of the Port Augusta and Whyalla hub follows on from the launch of a Murray Bridge hub in partnership with the Sturt Football Club in March.
The Academy program, which kicked off in November 2016, sees the Crows working alongside SANFL Clubs North Adelaide and Sturt as well as Central District and Glenelg to provide a structured pathway for aspiring AFL players across the state.
Crows Academy Coordinator Jarrod Meers said the Mid North hub came to fruition during the Club's visit to the region for its Australia Post AFL Community Camp in February.
"When the Club was up here in February, Senior Coach Don Pyke kicked things off by taking a session with a group of young footballers who will form part of the Academy," Meers said.
"These hubs, in particular Pt Augusta, are a key component of the Club's Next Generation Academy model because there is a great deal of talent but the region has historically been under-represented at AFL level.
"Similar to our Murray Bridge Academy which is already up and running, the program in Port Augusta and Whyalla will include skill and football education sessions with accredited coaching staff to identify and further develop youth in the area.
"We hope that the initiative will open up pathways for talented footballers from the Mid North to follow their dreams and navigate their way down to the SANFL and then on to an AFL list.
"The good news is, future talent concessions may apply for a player who navigates their way through our Crows Academy from the region.
"It's certainly an exciting time for the Club and the community."
Plans are also underway to establish a Next Generation Academy regional hub in the South East of the state.
Learn more about the Adelaide Football Club's Next Generation Academy here.
The views in this article are those of the author and not necessarily those of the AFL or its clubs