Participants in the Redline Classic bike ride have raised almost $300,000 for the Crows Children's Foundation in the last eight years.
The eighth successive ride departed from the Adelaide Football Club on Monday, October 22, with the 15 riders each having to raise a minimum of $2000 for the Foundation.
The donations support children in need across South Australia, with the 2018 ride supporting breakfast program Kick Start for Kids.
Kick Start for Kids CEO, Ian Steel, joined the riders on Tuesday night to explain how vital the donations were to providing for the state's most at risk primary school children.
"Without the support of the Crows Children's Foundation and events like this, we wouldn't be able to achieve the 50,000 weekly breakfasts and holiday camps that we deliver," Steel said.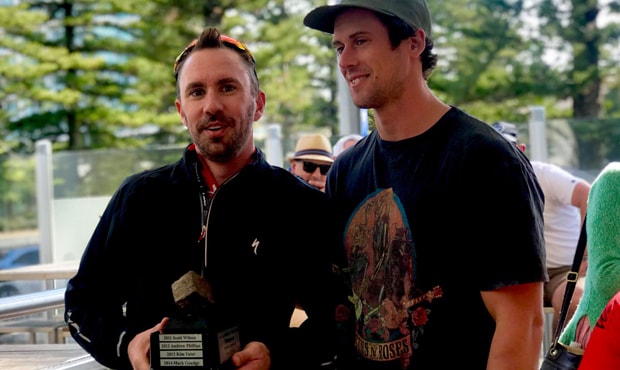 Crows defender Kyle Hartigan with one of the participants, Nick Keune
After travelling close to 400 kilometres over the three-day ride, participants were welcomed by Adelaide player and Crows Children's Foundation Board Member Kyle Hartigan at the Watermark Hotel on Wednesday.
"We appreciate your hard work on and off the road, your fundraising efforts help the Foundation to continue to put a smile on children's faces," Hartigan said.
"Thanks also the everyone's families and the Redline Classic organisers for making this all happen."
The Crows Children's Foundation would also like to thank the Crows Supporters Group for putting on a lunch for the riders on Wednesday.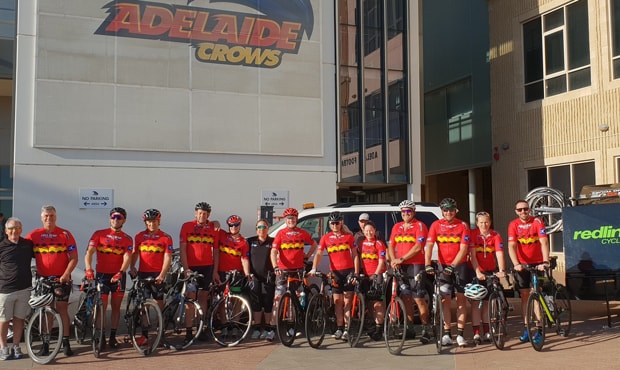 The group before they left for their three day ride