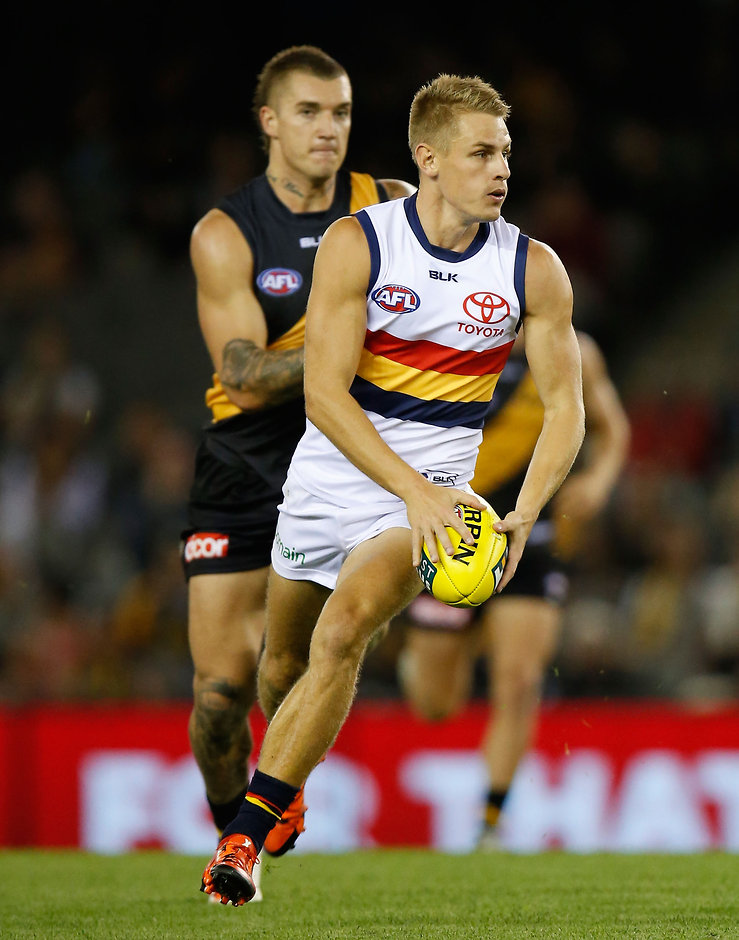 It's certainly an honour to be part of a Club like the Crows.
David Mackay
Sick of his form fluctuating like a yo-yo, an emphasis on improving his pressure around the contest has lifted the game of Crows milestone man David Mackay to new heights.
The 27-year-old utility will make his 150th AFL appearance when the Crows host the Fremantle Dockers at Adelaide Oval on Saturday.
Mackay was one of the Crows' best in last weekend's nail-biting three-point loss to reigning premiers Hawthorn.
His 23-disposal performance was the second time this season he's collected more than 20 touches, having also picked up 25 in the Round Two win over cross-town rivals Port Adelaide.
It's a welcome turnaround compared to the end of last season when he was dropped from the side for Rounds 21 to 23.
Mackay was recalled for Adelaide's two finals and has played all five games this season.
''Consistency was probably the thing that let me down last year,'' Mackay told AFL Media.
"I played reasonably well one week, then I would drop off for a week or two.
''It kept going like that as the year panned out.
''Ultimately, I wasn't having the impact I needed to have and that's why the form tapered off.''
Having spent the majority of his career on the wing or at half-back, Mackay has embraced the chance to roll through the midfield this season.
His 10 tackles against the Hawks were a team high – a stat he admits he wouldn't have been able to rack up when he was taken with the 48th selection in the 2006 draft.
"From when I first got to the Club to now, it has been the area I've had to work the hardest in and improve,'' Mackay said.
''When I first started, I probably didn't have the ability to lay lots of tackles and put a lot of pressure on.
"That's something I've really worked hard on in my game, so it can be a strength and one thing I can really contribute to the team.''
The Oakleigh Chargers product was part of a draft class that included Bryce Gibbs (No.1), Travis Boak (No. 5) and Joel Selwood (No.7) at the top end, along with bargain basement selections Todd Goldstein (No.37) and Robbie Gray (No.55).
''The clubs have got their value for money from that draft,'' he said.
''There's a few guys from the top of that list who are captains and stars of the competition, so it was a pretty good year.''
Mackay has worked on his ability to play multiple roles, whether it's slotting into the forward line, down back or through the midfield.
Having penned a four-year contract extension mid-way through 2014, Mackay is signed with the Crows until the end of 2018.
That would put him on track to reach the Crows' 200-game club, one that only has 14 members.
"That's a long way off,'' Mackay said.
"Playing 150 has crept up and you don't think about these things until they come up.
"It's certainly an honour to be part of a Club like the Crows.''



David Mackay is set to play his 150th AFL game for Adelaide this Saturday afternoon
The views in this article are those of the author and not necessarily those of the AFL or its clubs