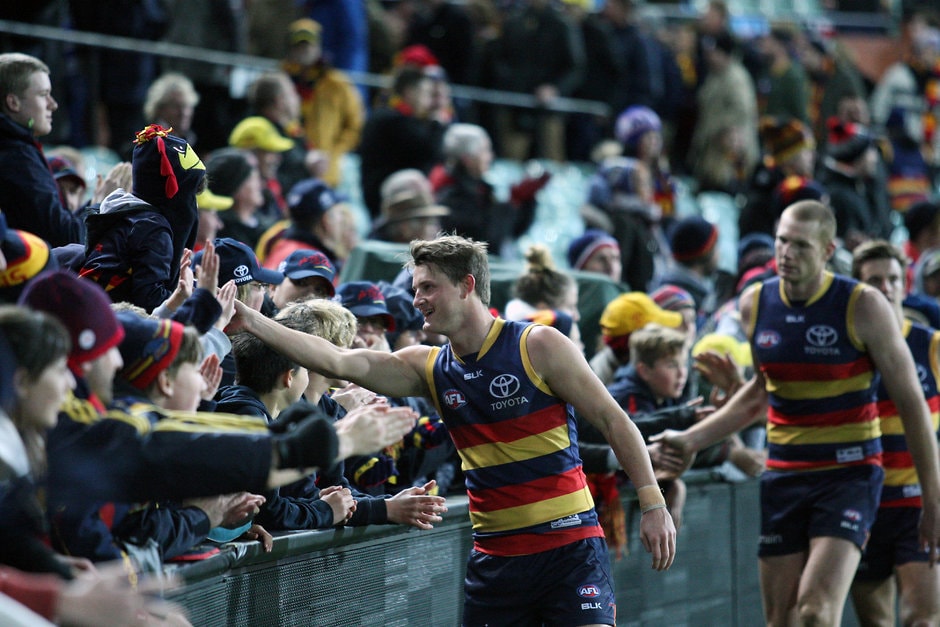 It makes us the envy of many sporting clubs both here and abroad and there is no doubt it gives our team a boost when playing at Adelaide Oval,
CEO Andrew Fagan
Adelaide fans are set to reclaim the crown for highest average home attendance in the AFL.
According to official AFL figures, the Crows have averaged a crowd of 46,583 in 10 home matches this season.
The Club has one remaining minor-round game at Adelaide Oval – Friday night's blockbuster against West Coast, which is on the verge of selling out.
Adelaide's average home attendance figure has surpassed that of Victorian powerhouse Collingwood, which has averaged a crowd of 46,187 fans in 11 home games in Season 2016.
It is also the largest achieved by any club across any sporting code in Australia.
If, as expected, another bumper crowd turns out on Friday night, it will be the second time in three seasons the Crows have topped the League's average home attendance.
The Club held the mantle in 2014 – the first year at the redeveloped Adelaide Oval – with an average home crowd of 48,046. Adelaide ranked second on average last year behind Richmond.
CEO Andrew Fagan praised Crows fans for their ongoing support.
"Year after year, our Members and fans show their loyalty and passion and I know everyone, especially the players, consider themselves lucky to have such a strong and engaged supporter base," Fagan said.
"It makes us the envy of many sporting clubs both here and abroad and there is no doubt it gives our team a boost when playing at Adelaide Oval."
The Crows are also on track to welcome 500,000 fans through the Adelaide Oval gates this season. Prior to the Round 23 clash with West Coast, 465,835 fans have attended Adelaide home games at the popular venue.
The Crows also have a good chance of topping the League in total home attendance this season. The Club needs a crowd of just over 42,200 fans to overtake the Magpies, who have ushered 508,066 supporters through the turnstiles at home games in Season 2016.
Three of Adelaide's best-ever home and away crowds have been achieved this season, against Port Adelaide in Round Two (51,585), the Sydney Swans in Round Four (51,330) and the Round Eight clash with Geelong, which attracted 53,141 fans – the highest home attendance for a minor round match in the Club's history (unofficial figure). It's the best non-Showdown attendance at the venue.
Earlier this year, the Club also broke its all-time membership record, passing 64,000 members for the first time. The record, which was achieved 12 rounds into the 2016 season, surpasses the 2015 benchmark of 63,038.
Adelaide's current membership tally is 66,572. The number of 11-game members who have access to every Crows home game is once again among the industry's best.
Find out more about Crows membership
The AFL released its audited membership figures for Season 2016 on Thursday.
Adelaide was one of 11 clubs to break its all-time membership record, with the total number of club members across the League reaching an all-time high (875,197).
The AFL's criteria for a 'member' is a person who spends more than $50 on their membership, receives a membership pack and provides their name and contact information to the club.
Adelaide's audited figure is 54,307 – ranked seventh in the League behind Collingwood, Essendon, Hawthorn, Richmond, Sydney and West Coast.
Fagan thanked all Crows members, including those with 'non-traditional' memberships, as the Club seeks to continue to grow its fan base.
"Our members have yet again proven themselves as amongst the most invested in the AFL," he said.
"It is however, important to note that these numbers whilst always interesting, represent only a part of our strong membership base.
"In addition to selling out Adelaide Oval for every Crows home match, underpinned by our extraordinarily loyal 11 game season membership base, we aim to develop a greater level of engagement with each of our 600,000 supporters.
"Many fans hold membership packages that the AFL does not count but we have their names and contact details, they invest in the Club in multiple ways and are reaching out to them every week.
"I want to thank every one of them for their loyalty and support."