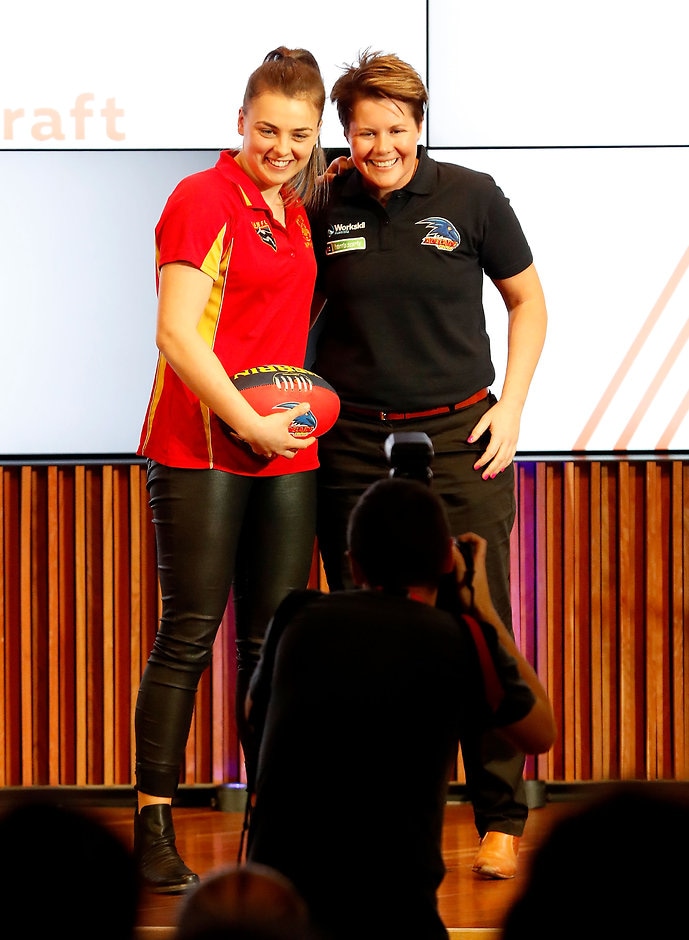 Ebony Marinoff credits mentor and fellow Crows recruit Courtney Cramey with her rise to first-round pick in the inaugural AFL Women's Draft
Ebony Marinoff
Ebony Marinoff credits mentor and fellow Crows recruit Courtney Cramey with her rise to first-round pick in the inaugural AFL Women's Draft.
On Wednesday, Marinoff became the first female player to be drafted by the combined Adelaide and Northern Territory team, selected with pick No.7 overall.
Marinoff, 18, followed in the footsteps of South Australian and Morphettville Park teammate Cramey in joining the Crows for the historic 2017 AFL Women's competition.
The tough midfielder trained alongside Cramey last offseason. She said the respected state captain had played a significant role in her development.
"Courtney has been a big mentor for me over the past couple of years. To have her take me under her wing is very special," Marinoff said.
"Courtney spoke to me at the end of last season and said, 'Look, you can get somewhere with this (football). You've just got to work hard.
"We started training together late-October last year. We did lots of running – a few sessions a week. We also did some boxing and weights sessions.
"I wouldn't be here without Courtney. I feel very privileged to be putting on the Crows guernsey with her next year."
Marinoff, who also gave up surf lifesaving to focus on football, enjoyed a brilliant season.
The promising teenager represented SA, earned All Australian selection and was part of the high-rating AFL's Women's All-Star match at the Whitten Oval. She was judged best afield with 37 possessions in the SANFL All-Stars game in April and won her third-consecutive premiership with the Morphettville Park Kangaroos.
But the highlight of Marinoff's stunning year was her match-winning goal for the Croweaters in their two-point win over NSW/ACT at Adelaide Oval in June. The clash was played as a curtain-raiser to the men's AFL match between the Crows and St Kilda.
Adelaide players, including back-to-back Goal of the Year winner, Eddie Betts watched as the left-footer coolly slotted a drop punt from a tight angle at the southern end to secure victory for SA.
"That was pretty wild," she said of the moment.
"To play against NSW/ACT on Adelaide Oval, win by two points and get that goal while Eddie Betts and all the Crows players were watching was pretty cool.
"It also shows that this Club is looking forward to female football and backing it. It's exciting times."
Marinoff also earned notoriety for her unconventional boundary line interview with Fox Sports reporter Neroli Meadows during the match.
The prolific onballer ran off mid-interview after she was called back to the interchange gates.
"I won't live that one down!" she said with a laugh.
"Every time I meet a new person or see someone I haven't seen for a few months, it always gets brought up.
"I think that will probably haunt me for the rest of my life!"
Marinoff, who doesn't turn 19 until November, is one of the youngest members of the Crows' inaugural AFL Women's squad.
Compared to the 30-year-old Cramey, Marinoff hasn't had to wait long for the opportunity to play football at the elite level.
The former Lockleys junior, who started Auskick at age five, drew parallels with the hundreds of male draft hopefuls across the country, anxiously awaiting to learn their AFL fate.
"There are boys that will get drafted next month … and then they'll be off and playing for an AFL club. For me to be able to do the same … I've just come through at the right (time)," she said.
"Last year was my last season of youth girls, so to finish that last year and have a whole season of senior football behind me, I don't think I could have any better preparation."
An aspiring police officer, Marinoff also has the good fortune of remaining in her home state.
"A lot of players have had to move around the country," she said.
"To stay close to home at the Adelaide Football Club is very special."