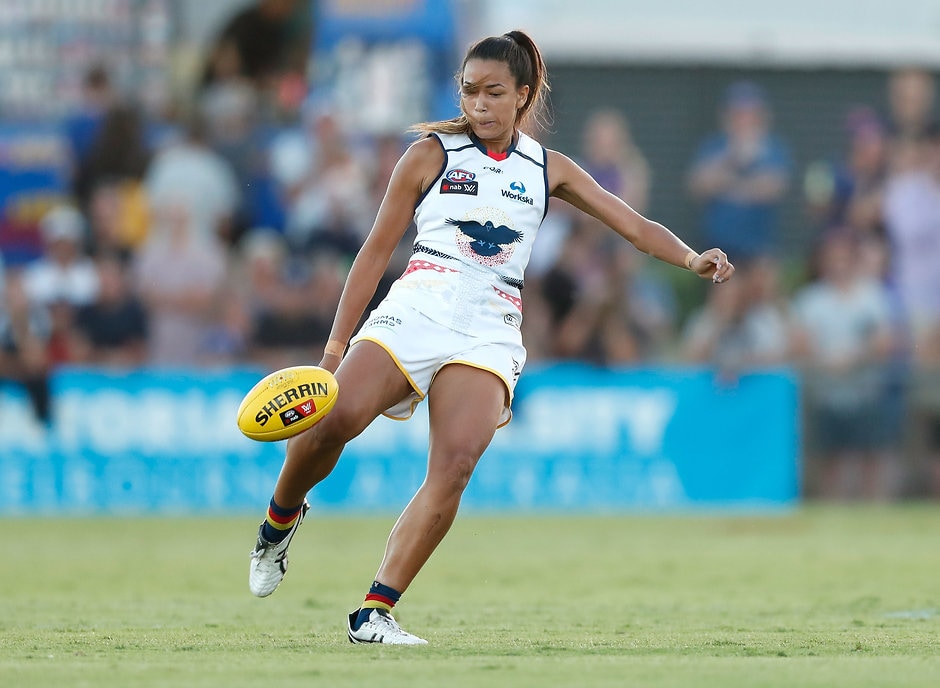 The fact that we don't have to travel for once, it definitely gives our bodies a little bit more rest
Tayla Thorn
Darwin-based defender Tayla Thorn has enough sisters to field an entire women's football team, or at least a very loud cheer squad when the Crows take on Melbourne in Darwin on Saturday night.
It's the women's side's historic first home game in the Northern Territory as part of the Club's SA/NT partnership.
Excitement is already building in the Top End.
"The girls are absolutely loving it, it's unbelievable at the moment," Thorn said.
"How amazing is it that people get to see an AFLW game in Darwin?"
The Round Six match will be the main event in a packed Saturday that celebrates women's football and International Women's Day.
TIO Stadium will host a girls' super clinic, Under-16 and Under-18 finals, and the NTFL Women's Grand Final before the Crows take to the field at 6:40pm SA time.
It's a fitting schedule that showcases the pathway now available to female footballers.
Darwin-based Crows Ange Foley, Abbey Holmes, Heather Anderson and Lauren O'Shea will be warming up as their home club, the Waratahs, take on the Buffaloes.
"Everyone wants to watch a bit of Territory footy. The 'Tahs' girls will absolutely love that their teammates will finally be there to watch them in the final," Thorn said.
The nine NT-based Crows will be spared the eight-hour round trip for the first and only time during the seven-week AFLW season.
"The fact that we don't have to travel for once, it definitely gives our bodies a little bit more rest," the 18-year-old utility said.
The Crows' only hit-out in Darwin was a practice match against Fremantle in January. The Dockers won the clash by 22 points.
Thorn said the NT-based players will use their experience in the conditions to help guide their teammates this weekend.
"Even though it's summer in other states, our humidity makes it ridiculously hot!" Thorn said.
"I'm expecting this weekend to be around 80 per cent humidity. You can be the fittest player on the field and you'll still feel the heat.
"TIO Stadium is a good one for us because it's so big and round. We just want to play our game on the outside of the oval."
The proud Territorian comes from a large Indigenous/Spanish family. She has more cousins than she can count and plenty of siblings, including 17 sisters.
"I grew up on a massive block, kicking the footy around with all my cousins, including (Geelong midfielder) Nakia Cockatoo", Thorn said.
The girl from Humpty Doo, a small town outside Darwin, may be the youngest Crow, but she already has an impressive football resume.
Thorn's achievements include representing the Youth Girls' All-Stars, serving as captain of the first Indigenous NT representative side, claiming the Best and Fairest for St Mary's and winning her home club's Under-18 goalkicker award.
"I started playing footy just to get out of class, and for the free food," Thorn said with a laugh.
She soon took the game more seriously, convincing officials that the Northern Territory should have their own representative side in the AFL National Under-18 Kickstart Championships.
She moved to Melbourne to study accounting at university last year on an AFL Indigenous Scholarship with the Eastern Devils – home of Crows' cult hero Sarah 'Tex' Perkins.
Thorn's stint in Victoria was cut short when the AFLNT suggested the time was right for her to come home before the AFLW draft.
"I moved back to Darwin and got a job as an administrator at the Michael Long Learning and Leadership Centre. I basically live there!" she said.
The MLLLC at TIO Stadium is an impressive sports facility and the Crows' training base in the NT, as well as an important Indigenous education centre.
Thorn is eager to use her AFLW experience to give back to her local community.
"Going back to my middle school and seeing all these young Indigenous women, they're definitely excited to see what's coming," she said.
"Knowing that I'm the youngest, I told them 'I can't wait to hopefully play alongside you one day!'"
The Crows' NT partnership has started a new chapter in a region that has already produced several AFL stars, including Adelaide's own Andrew McLeod.
"In Darwin, you have your famous names like the Riolis and the Longs. Massive, amazing role models," Thorn said.
"It's exciting to see what the future holds for Indigenous women. I get to make a name for myself in the footy community too."
The views in this article are those of the author and not necessarily those of the AFL or its clubs