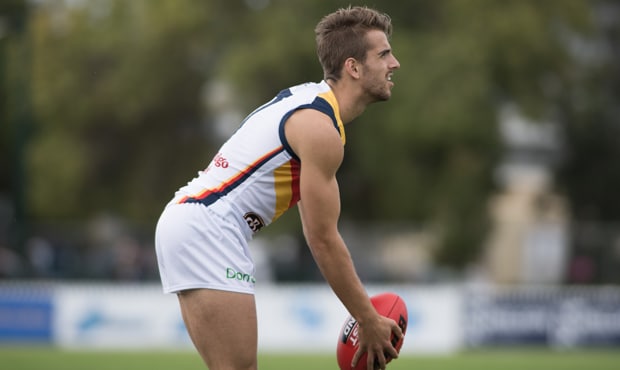 The coaches want me to take the game on, move the ball with speed and really just back myself in
Jordan Gallucci
First-round draft pick Jordan Gallucci has speed, skill and a licence to thrill as evidenced by his eye-catching display in Saturday's SANFL Showdown against Port Adelaide.
The line-breaking midfielder, who turns 19 on Thursday, produced his best performance as a Crow at Maughan Thiem Hyundai Oval and helped spark Adelaide's incredible start to the match.
Gallucci racked up an equal-game high nine disposals in the opening term alone, including seven kicks and two clearances, as the Crows bolted out of the blocks with four unanswered goals to Port Adelaide's three behinds.
Although the Crows were eventually overrun by the more experienced Magpies, Gallucci continued to attack the contest with speed and flair. He finished with a team-high 20 kicks – five more than any other Crow on the ground – from his season-best 24 disposals and five clearances.
"The coaches want me to take the game on, move the ball with speed and really just back myself in," Gallucci said post-match.
"It's a bit of a confidence thing for me as well. I focused on my kicking over the pre-season and I feel like I've improved in that area in particular, but I want to continue working on every aspect of my game."
SANFL match report: Crows v Magpies
One play late in the opening term typified Gallucci's explosive run-and-gun approach.
He burst away from a pack on the grandstand wing and beat several Magpie opponents with sheer pace, before spotting up Reilly O'Brien with a perfectly weighted pass seconds before the quarter-time siren.
Unfortunately for Gallucci and his teammates, Port forced its way back into the match with a dominant second term.
The Magpies kicked six goals to one to undo Adelaide's early work and take a six-point lead into the major break.
"We tried to reset things at quarter-time and start again from zero, but it didn't pan out that way," Gallucci said.
"They jumped us on the inside and took control in that second term which proved pretty costly for us in the end.
"We're pretty disappointed with that. We felt like we were with them for three quarters, but you can't afford to have little lapses as we saw today."
Port Adelaide's link-up play denied the Crows possession for extended periods of the game. The Magpies notched a staggering 147 marks compared to Adelaide's 79 as Port hit short targets at will and managed the tempo of the match.
"We spoke about that at half-time," Gallucci said.
"We needed to cover our men for a bit longer and I think in the second half we did improve that, but again it was that second term that let us down.
"We're a young side, so we'll learn from that."
The two teams battled ferociously on the field but came together to support a common cause off of it.
Fans in attendance dug deep to support recovering BMX World Champion Sam Willoughby in his rehabilitation from a serious spinal injury. All gate takings were added to Willoughby's 'Road 2 Recovery' fund with proceeds from a game day raffle and luncheon also donated to the Willoughby family.
"He's a great Adelaide person and a great Australian," Gallucci said.
"Anything we can do for him we're happy to try and help out. Hopefully we put on a bit of a show for everyone who came out today."
The views in this article are those of the author and not necessarily those of the AFL or its clubs