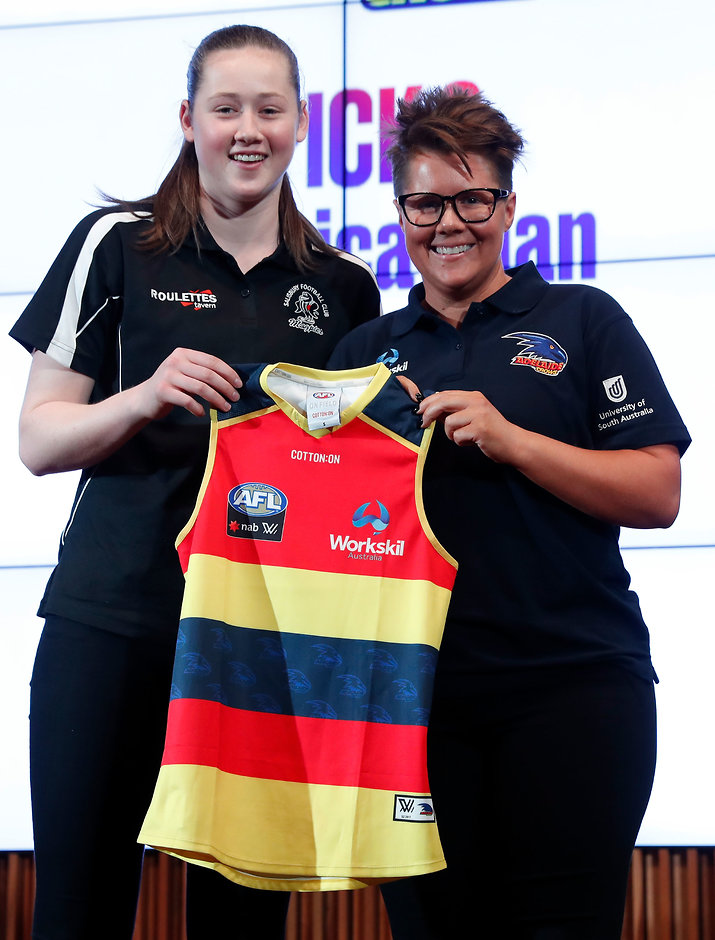 Adelaide has its first-ever set of sisters after securing young South Australian star Jess Allan with pick No.8 in the 2017 AFL Women's Draft.
Jess, 18, is the younger sister of Crows premiership utility Sarah. Their father Keith played 69 games for SANFL club Central District between 1987 and 1992.
An emerging leader, Jess captained the South Australian Under-18 team this year and was named vice-captain of the Allies.
The All Australian ruck/forward was one of six players selected by the Crows on Wednesday.
Northern-Territory based tall Jasmyn Hewett was called with the Club's second pick (No.16 overall).
A lifelong Crows fan, Hewett is originally from Stirling North near Port Augusta in SA.
The 23-year-old moved to Darwin last year and starred with NTFL team St Mary's in her first season of Australian Football, winning the Women's Rising Star Award and finishing second in the MVP voting.
An impressive athlete, Hewett finished top 10 in all six physical tests at the AFLW Combine, including second-placings in the Yo-Yo run, 2km time trial and vertical jump.
X-factor midfielder/forward Eloise Jones joined Adelaide with pick No.24 in the draft.
Jones played alongside Allan in the SA and Allies teams, also earning All-Australian selection.
The 18-year-old former basketballer, who turned down a US College scholarship to pursue football, was named the Allies Most Valuable Player at the Under-18 National Championships.
The Allies team, which was comprised of the best underage talent from SA, NT and Tasmania, was led by Crows AFLW premiership coach Bec Goddard.
Local pair Marijana Rajcic (No.32) and Ruth Wallace (No.38) were taken with the Club's next two picks.
A former captain of Adelaide United in the W-League, Rajcic swapped the soccer ball for a Sherrin ahead of the inaugural SANFL Women's League where she won a premiership with Norwood this year.
The 28-year-old onballer was part of Adelaide's development squad for the 2017 AFLW season.
Wallace, 24, juggled football and soccer growing up, turning to the round ball game because of the lack of Australian Football pathways for girls. She played for Adelaide United and also represented the Australian Junior Matildas in 2009.
The goalkicker returned to football this season, teaming up with Rajcic in Norwood's SANFL Women's League Grand Final win.
There are now three current or past Adelaide United W-League players in the Crows squad. AFLW Premiership player Jenna McCormick, who is currently playing soccer in Norway, recently signed with Adelaide United for the upcoming season.
Adelaide's final pick, Rheanne Lugg, also has a former teammate in the Crows ranks.
Originally from Western Australia, Lugg played at Swan Districts with AFLW All Australian and Adelaide co-captain Chelsea Randall at Swan Districts. She also represented WA and played in several AFL Women's exhibition matches before giving up the game to focus on her career in the Army.
Most recently, the 26-year-old winger lined up for the Riverina Lions in Canberra. Lugg's father, Gary, played one VFL game for St Kilda in 1979 before suffering an ACL injury.
Adelaide passed on its last live selection in the AFLW Draft, giving the Club the flexibility to explore the free agency market in the coming days.
The free agency period opened immediately after the draft and runs until 4:30pm (SA) Thursday, October 19.
The Crows have two available picks in the Rookie Draft after committing one spot to Olympic beach volleyballer Becchara Palmer. The Club was able to sign Palmer as a rookie prior to the draft because she has not participated in football competitively for the last three years.
For AFLW 2018, squads have been increased to 30 including 27 senior-listed players and three rookies.
In May, the Crows secured 20 members of their history-making AFLW premiership team for the 2018 season including co-captains Randall and Erin Phillips.
Crows AFLW players will start pre-season training on Monday, November 20.
Check out Adelaide's existing AFLW player profiles
2017 Drafted AFLW Crows players and current state
Pick No.8 – Jess Allan (SA)
Pick No.16 – Jasmyn Hewett (NT)
Pick No.24 – Eloise Jones (SA)
Pick No.32 – Marijana Rajcic (SA)
Pick No.38 – Ruth Wallace (SA)
Pick No.42 – Rheanne Lugg (ACT)
2017 NAB AFL Women's Draft First Round
Pick No.1 – Isabel Huntington (Western Bulldogs)
Pick No.2 – Stephanie Cain (Fremantle)
Pick No.3 – Chloe Molloy (Collingwood)
Pick No.4 – Monique Conti (Western Bulldogs)
Pick No.5 – Jodie Hicks (Greater Western Sydney)
Pick No.6 – Eden Zanker (Melbourne)
Pick No.7 – Jordan Zanchetta (Brisbane Lions)
Pick No.8 – Jessica Allan (Adelaide Crows)