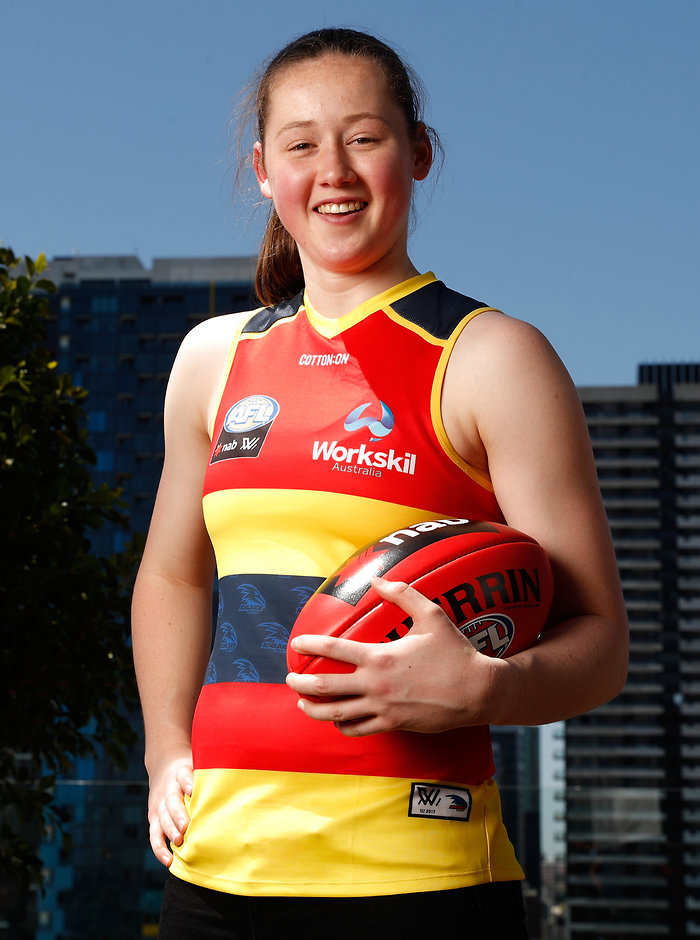 I had my Sarah Allan badge on ready to barrack for her
Jess Allan
Sarah and Jessica Allan have created history by becoming the first sisters at Adelaide, and only the second set of siblings in the AFL Women's Competition.
Last year, the Hosking twins – coincidentally also named Sarah and Jess – were both selected by Carlton in the inaugural AFLW Draft.
On Wednesday, Jess Allan joined Sarah at the Crows, selected with the Club's first pick (No.8 overall) in the 2017 AFLW Draft.
The pair has played together previously for local club Salisbury in the Adelaide Footy Women's League.
"Sarah and I are really close, so to be on the same AFLW team will be crazy," Jess said.
"I think Sarah is really looking forward to it as well. I've still got Dad to train with at home in Millicent but Sarah's in Adelaide with Nan and Pop, so they can't really kick the footy with her!
"She's looking forward to me coming to Adelaide and being involved at the Club together."
Jess, who is the youngest of three Allan sisters, has followed a similar path to middle child Sarah.
Sarah, 19, moved to the city from the family home in Millicent, 400 kilometres south-east of Adelaide, two years ago to attend university and pursue her football dream.
The 178cm utility was drafted by the Crows and played in the Club's AFLW premiership in March.
Jess tracked Adelaide's progress closely, using Sarah's success as inspiration for her own budding career.
"The first game against GWS I went with the state academy to watch and we were all decked out in our Crows gear. I had my Sarah Allan badge on ready to barrack for her!" Jess said.
"It was a pretty awesome experience just watching them run out and seeing that it was possible."
Jess was a standout at Under-18 level this year.
The 184cm ruck/forward played for Glenelg in the SANFL Women's Competition, represented South Australia at national level and was picked in the Bec Goddard-coached Allies team featuring the best under-age talent from SA, Tasmania and the Northern Territory.
Allan was named vice-captain of the NAB AFLW Under-18 All Australian team and starred at the AFLW Draft Combine, winning the vertical and running vertical jumps and placing sixth in the 20m sprint.
"To be drafted is pretty surreal," she said.
"I went from playing full-back at state last year and not being on any one's radar to having a pretty good year this year and getting a lot of attention.
"It's been a crazy year for me. To finish it off like this, it's definitely been the best year!"
A talented athlete, Jess has been part of state teams in both football and basketball.
The 18-year-old played for SA at the Under-20 State Basketball Championships as recently as February, winning a bronze medal at the meet in Bendigo.
"I started playing football when I was really young, but followed basketball a bit more than football because I seemed to be a bit better at it," she said.
"Since we were young, we were always told by our parents, 'Don't choose a sport, let the sport choose you'.
"It's pretty clear which sport is choosing me at the moment."
Jess started Auskick with Sarah and eldest sister Megan at the age of four. The trio was coached by father Keith, who played 69 games for SANFL club Central District between 1987 and 1992.
Keith and wife Susan encouraged their daughters to follow their passion.
Jess still kicks the footy with her Dad most mornings before school.
Keith also helps with her game reviews.
"I've always said Dad's been my No.1 coach since day one," Jess said.
"He captained a few sides and won the Reserves premiership for Centrals, so he had a pretty successful career.
"A lot of people have said to him, 'Don't you wish you had boys so they could play football?'
"But he ended up having three daughters who played state footy and now two at the Crows, so he's pretty happy with how he's going!
"He's had a massive impact on all of us in our sport and is very proud to see where we are now."