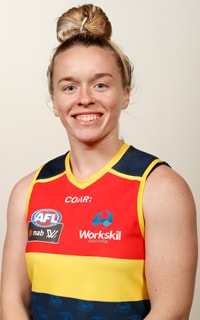 The Adelaide Football Club has signed Darwin-based midfielder Sophie Armitstead for the 2018 AFL Women's Competition.
Armitstead was originally drafted by Adelaide with the Club's seventh selection and pick No.55 overall in the 2016 AFL Women's Draft.
The 22-year-old made her AFLW debut in Round Two against the Western Bulldogs but tore the meniscus in her left knee in the third quarter of the match and missed the remainder of the inaugural season.
She was not signed by the Crows in the AFLW re-signing period in May as she continued her rehabilitation but has now committed to the Club under the Free Agency rules.
Free agency provides an opportunity for those athletes who were not pre-signed or picked up in the draft to be selected.
Crows Senior Coach Bec Goddard said she was thrilled that Armitstead would have another opportunity to showcase her talent.
"We were hopeful that Sophie would remain at the Club but with the short nature of the competition we needed to ensure she had fully recovered from her injury before offering her a contract for the second season," Goddard said.
"Sophie is a great talent. She has an exceptional workrate and we have seen just how resilient she is by the way she has approached her rehabilitation.
"She is a quality decision-maker with clean hands and a team-first mentality and we know she has a bright future ahead of her."
The Crows picked up six players in the AFLW Draft on Wednesday, adding to the 20 players who were re-signed by the Club in May.
The Club now has two available picks in the Rookie Draft on Friday after committing one spot to Olympic beach volleyballer Becchara Palmer. The Club was able to sign Palmer as a rookie prior to the draft because she has not participated in football competitively for the last three years.
For AFLW 2018, squads have been increased to 30 including 27 senior-listed players and three rookies.
Crows AFLW players will start pre-season training on Monday, November 20.
The views in this article are those of the author and not necessarily those of the AFL or its clubs