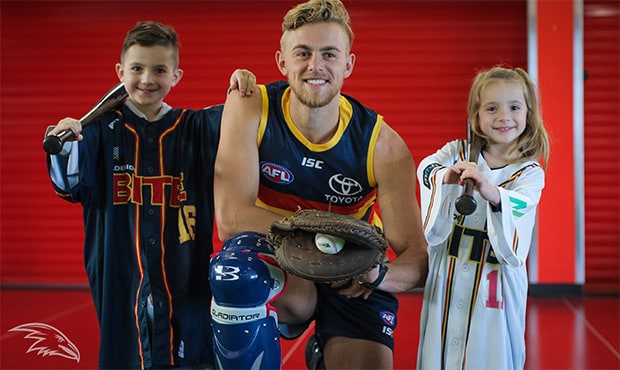 Baseball is a proven and popular sport in the United States and Asia, and it expands our brand and footprint offshore
Crows Chairman Rob Chapman
The Adelaide Football Club has acquired a professional baseball team in a deal which broadens its reach across Australia, Asia and the United States.
The Crows are taking sole ownership of Adelaide Bite which will compete in the revamped Australian Baseball League, alongside teams from Korea and New Zealand, when it launches later this year.
Importantly, the Club's football and high-performance program will not be impacted, and the arrangement will bring benefits for both organisations and respective supporter bases including:
Contributing to the long-term prosperity of baseball in South Australia through the delivery of a more commercially sustainable Adelaide Bite team and well-supported development pathways
Leveraging the scale and systems of Adelaide Football Club to enhance Member and fan engagement, including improved content production and distribution, game day experience and member servicing
A range of enhanced fan development opportunities nationally and internationally that will grow and broaden the supporter bases of both the Bite and the Crows
Important market and commercial development opportunities for the Adelaide Football Club, delivering greater exposure in Asia where baseball is hugely popular, especially in Japan, Korea and increasingly China following significant investment by Major League Baseball.
Crows Chairman Rob Chapman said the expansion into baseball was a significant moment in the Club's history.
He added it was also providing crucial support to another proud South Australian sporting community and organisation with aspirations for success.
"We have often spoken about the need to diversify and what we are doing in this instance is playing to our strengths in sports administration, while adopting a model in line with other similar organisations across the globe," Chapman said.
"Baseball is a proven and popular sport in the United States and Asia, and it expands our brand and footprint offshore.
"Our Board and senior management have a clear focus on building sustained success both on and off the field in a sports and entertainment landscape that is becoming increasingly competitive.
"Baseball Australia fielded significant interest for licenses from throughout Australia and overseas, and we are appreciative of their recognition of both our organisational capability and the importance of Adelaide continuing to be represented at the highest level of baseball in this country."
Crows CEO Andrew Fagan said the acquisition was another step in the Club's evolution following last year's purchase of successful esports franchise Legacy, which also provides exposure to international markets.
"It is important to note that this is about growth, for both the Crows and the Bite, and our existing operations will continue unaffected and as per normal," Fagan said.
"The restructured and improved national league creates an opportunity for considerable broadcast reach into Asia, not just for the Bite but for our State more broadly as well.
"We are looking forward to working with the Baseball SA and its coaches, players, staff and fans to build upon the significant work that has already taken place and deliver improved outcomes for all."

The Adelaide Shores Baseball Complex, home of the Adelaide Bite
Baseball Australia CEO Cam Vale described the Crows as a powerhouse sporting club and added their involvement in a new era of baseball was exciting for South Australia and the broader competition.
"The Crows are one of the leaders in Australian sport, and the potential that baseball has within their organisation as we push into Asia is enormous," Vale said.
"Baseball offers a global reach to which few sports can compare, with the four biggest baseball countries also being top-ten trading and business partners of Australia in Korea, the United States, Taiwan and Japan.
"There will be a minimum 40 ABL games broadcast into Korea to a total audience exceeding 10 million people, not to mention broadcasts into other countries such as Japan, Taiwan and the United States.
"In 2017 alone, 34 million people went to professional baseball games in Asia which in itself creates a great opportunity for the Bite and in turn the Crows, along with our other ABL teams."
Baseball SA and Adelaide Bite CEO Nathan Davison said the AFL club's involvement would bring benefits for coaches, players, volunteers and fans at all levels of baseball in South Australia.
"The Crows bring a market leading approach to sports administration and high performance which will support and strengthen the passionate baseball community," Davison said.
"It creates new commercial opportunities, supports the existing hard-working staff and will assist in fostering better talent pathways that will benefit generations to come."