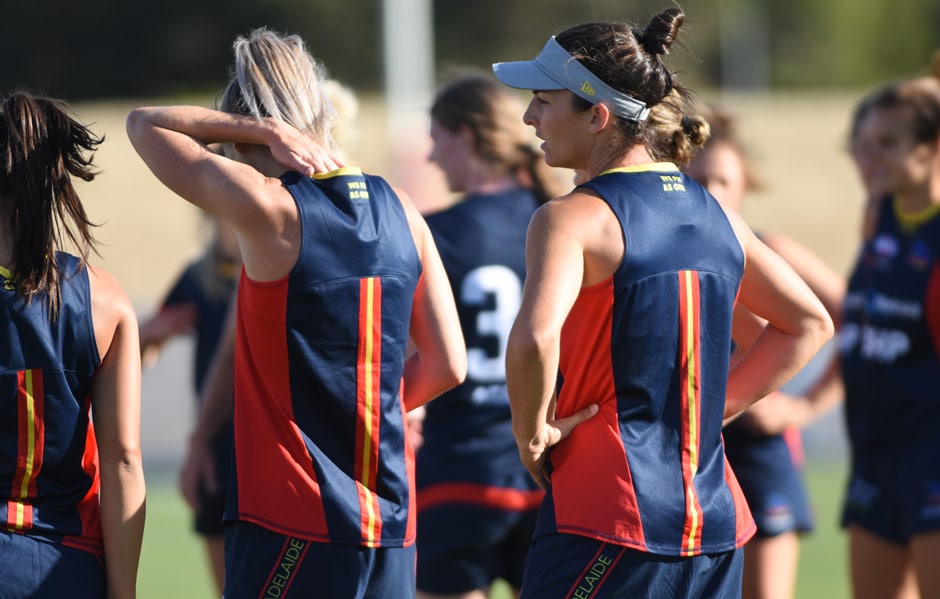 For me, it was time for a move and a career change, so I'm looking forward to being a part of the bigger group here
Angela Foley
After leading the Crows' Darwin-based players for the last two seasons, midfielder Angela Foley will call Adelaide home in 2019 in a move that will bring her closer to the entire squad.
Foley, who has been a high school teacher in Darwin for the past six years, made the decision to relocate to further her teaching career.
Having the opportunity to regularly train at the Club alongside her teammates is just a bonus.
"For me, it was time for a move and a career change, so I'm looking forward to being a part of the bigger group here," Foley said.
"It was a personal change for me, something different to open up a few more doors and seeing where that takes me.
"I'm enjoying it, it's great to be at the Club and with all the coaches and the girls."
YO-YO TEST: Noffy digs deep
In the first two AFLW seasons, Foley was one of Adelaide's most consistent players and in 2018, she earned an All Australian nomination and finished fourth in the Club Champion.
Foley maintained that form over the off-season when her and her Crows teammates played for NT Thunder in the VFLW.
Foley played 13 games for the Thunder as captain and finished third in the League Best and Fairest, as well as being named as the follower in the Team of the Year.
Playing continuous games throughout the off-season has set up Foley for the year.
"Playing in the NT Thunder definitely helped prepare for the pre-season, it's nice to be able to string more than seven or so games together," she said.
"It was good to focus on those things that we went into the Crows off-season wanting the focus on throughout the longer VFLW season.
"It was nice to have [Crows assistant coach] Tim Weatherald lead us in the Thunder season, we learnt a lot from him that we will take into our Crows season."
In the Northern Territory, Foley found contending with the climate was one of the hardest parts of her training.
Now in Adelaide, despite facing less heat and humidity, the 30-year-old has still been challenged by the intensity of training with a larger squad.
INJURY UPDATE: Erin's return to form
Under new coach Matthew Clarke, maintaining the team's fitness and working on their new game plan have been the clear priorities.
"We need to keep on top of our fitness which is a big factor in our game," Foley said.
"We've got a new game plan having a new coach, 'Doc' has got new and exciting ways of thinking and we are learning a lot from him.
Having played a variety of roles in 2018, including tagging, Foley is moving into a more permanent role as an attacking midfielder this season.


Angela Foley training with the squad in Adelaide on Wednesday night
As part of the move, one of her main focuses is improving her one-on-one contests.
"This year I will play a little bit through the midfield as well, which is a not new position for me, but it is at AFLW level," Foley said.
"I want to get better at that, I want to learn to be an elite midfielder and I need to improve my one-on-one competitive stuff, get better at winning the ball in the air and on the ground."
The team is now looking forward to their Darwin camp next weekend, which will include a trial game against Fremantle.
Foley will captain the team for the Saturday night game at TIO Stadium.
"It will be nice to go out against Fremantle and put our training into practice and see what we can do leading into Round One," Foley said.
"It seems like so long ago, the last game of the season against Collingwood last year, so we are just as excited as we were in Round One, 2018.
"We play footy because we love it and we've done all this training and we are ready to go."
FIXTURE: Adelaide's new home
While Foley has now joined the team in Adelaide, forward Jenna McCormick will be away from training for a few more weeks while she continues to play for Brisbane Roar in the W-League.
Initially, McCormick planned to play for Brisbane until the Christmas break and re-join the Crows squad in the New Year.
However, with Brisbane in finals contention and McCormick in good form, the decision has been made for the cross-coder to continue playing soccer over the next couple of rounds.
"I'm really thankful that the Crows have allowed me to pursue every opportunity to make it in this sport," McCormick said.
Despite playing for Brisbane, McCormick has been regularly training with the Crows and participated in the Yo-Yo test on Monday.