The Adelaide Football Club has signed a long-term partnership with Optus which will see the telecommunications giant become synonymous with the Crows brand.
As part of the four-year deal, Optus assumes Principal Partner status and its well-known logo will be seen on the back of Adelaide's AFL guernsey as well as the players' shorts at AFL and SANFL level, while from 2020, the logo will also be on AFLW shorts and all training uniforms.
Among the other premium assets, the company will have a prominent branding association with the Club's free-to-air television program The Crows Show, media backdrop, a grassroots female football program, and in and around Adelaide Oval on match days.
Optus is one of Australia and the Pacific region's leading telecommunications companies, connecting people through mobile, wireless internet and broadband technologies.
Crows Chairman Rob Chapman described the partnership as one of the most significant in the AFL and added that Optus would play a key role in helping the Club in its pursuit of ongoing excellence.
"We are delighted to have Optus join the Crows family, which includes 700,000-plus supporters across the country, and look forward to forging a long and meaningful partnership that brings benefits for both organisations," Chapman said.
"Everyone involved with our Club has worked extremely hard in recent years to be in the strong position we now find ourselves in both on and off the field, and with Optus we share a passion for innovation and teamwork, along with a fierce determination for success on every level.
"We are both large organisations within our respective industries and operate in competitive environments, and this is an exciting opportunity to bring two strong brands together to drive positive outcomes."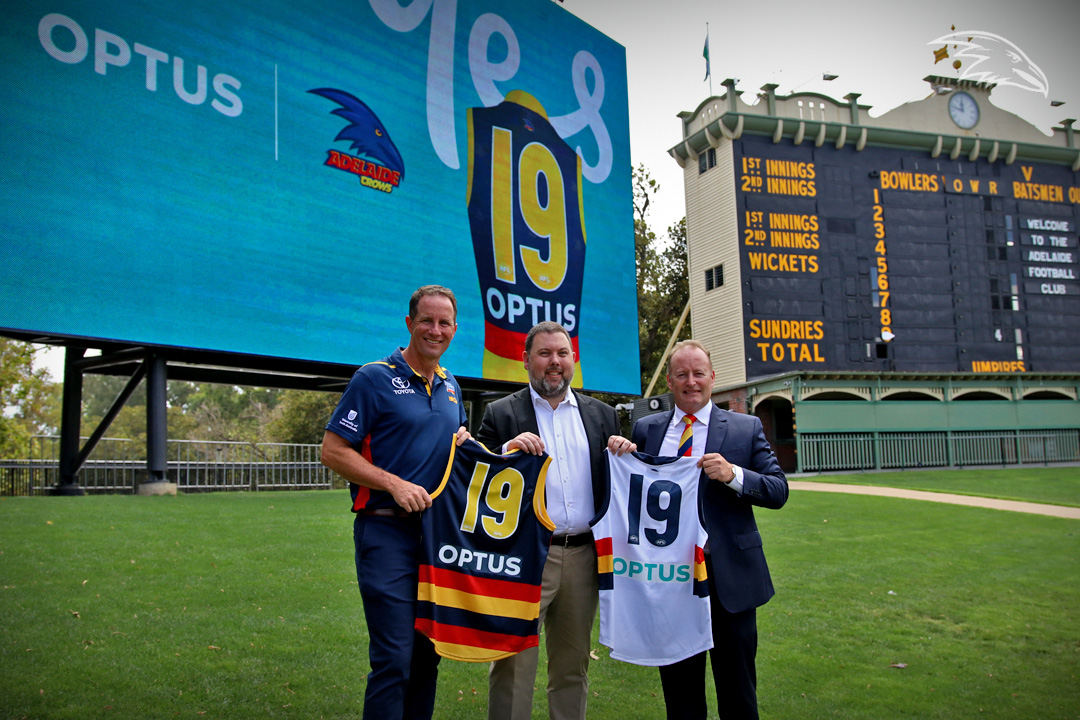 Crows Senior Coach Don Pyke, Optus Managing Director – Marketing and Product Ben White and Crows Chairman Rob Chapman at Adelaide Oval on Wednesday morning. Picture: AFC Media.
Optus Managing Director – Marketing and Product Ben White said the partnership reinforces the company's commitment to South Australia and follows a $68.5m investment to improve the State's mobile network coverage.
"We are very excited to join the Adelaide Football Club family and to have our logo on the Crows guernsey but this partnership is about much more; our sponsorship will cover the Adelaide women's team, the State League side as well as grassroots programs," White said.
"Like our investment in networks, our partnership with the Club will benefit the South Australian community, and we look forward to bringing this to fruition over the next four years."