Inaugural Adelaide co-captains Erin Phillips and Chelsea Randall have been re-elected to lead the Club's AFLW side for the 2018 season.
The pair will lead the Crows together with vice-captains Angela Foley, Sally Riley and Courtney Cramey.
The five were nominated for their roles in a leadership session held during the team's training camp in Darwin this weekend, where players were asked to align their teammates with the squad's trademarks. The group was endorsed by the Crows coaching group and Club leaders.
Crows Women's Senior Coach Bec Goddard said she was delighted with the appointments.
"Erin and Chelsea are exceptional leaders who did a fantastic job during the inaugural season and I'm thrilled they will be continuing in the captaincy role," Goddard said.
"There's no doubt that they were both inspirational on and off the field in the first season and we know they will continue to lead the group strongly.
"Ange and Sally have also been fantastic role models right from the start, and the addition of Courtney will further strengthen our leadership group.
"They are extremely well respected by their teammates, the coaching staff and the wider Club for the way they go about things."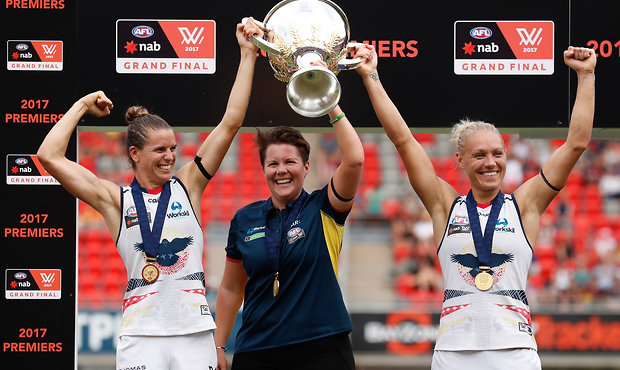 Randall, Goddard and Phillips hold up the 2017 AFLW Premiership Cup
Phillips, who dominated the inaugural season of the AFLW competition, said it was an honour to be re-appointed to the role.
"It's a real privilege to again be part of the team's leadership group," Phillips said.
"We know the competition is going to be much harder this year and we have to improve significantly from last season but we are all excited and ready for the challenge."
Nominated the most courageous player in the competition in 2017 by her peers, Randall said she was extremely proud to lead the group again alongside Phillips.
"I'm incredibly honoured and humbled to again lead this team alongside Erin," Randall said.
"This playing group is like my family and I'm excited to be on this journey with them.
"Together with Ange and Sally, we're really proud of the culture we created in season one and we're thrilled to have Courtney as part of the leadership group to help us build on this in season two."
The Crows AFL Women's team's 2018 campaign commences with a trial game against Fremantle at TIO Stadium in Darwin tonight at 7.30pm (local time). Fans wanting to watch the trial can do so here or in the video player below.
The first official game for the 2018 season will be against last year's Grand Finalists the Brisbane Lions on Saturday, 3 February at Adelaide's Norwood Oval with free entry for all.
The Crows team is in partnership with AFLNT.