Crows fans have put their selection hats on, telling us who they want to see in our inaugural AFLX squad, and why.
The new shortened format of the game will feature seven players a side, with three players on each interchange bench.
Read the AFLX Frequently Asked Questions
Speed, contested ability, endurance and skill were the core player attributes underpinning most fan selections.
Here are the players the fans have selected to represent Adelaide in the newest pre-season competition, with a 14-man squad available across the tournament.
STARTING TEAM
Hugh Greenwood
Brad Crouch
Matt Crouch
Bryce Gibbs
Rory Sloane
Eddie Betts
Rory Laird
INTERCHANGE
Jordan Gallucci
Paul Seedsman
Wayne Milera
EXTENDED SQUAD
Taylor Walker
Rory Atkins
Darcy Fogarty
Mitch McGovern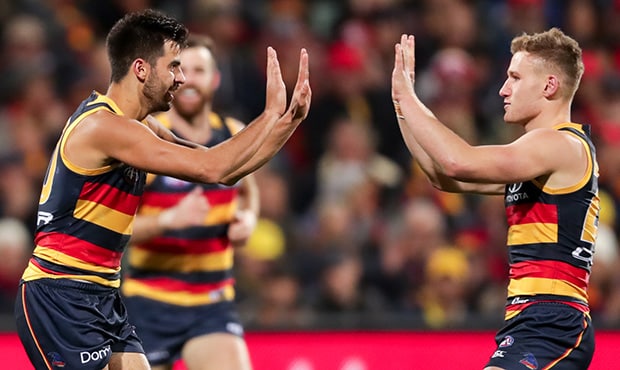 Wayne Milera and Rory Laird could be teaming up in February
YOUR TAKE
AFLX will be a game of one-on-ones. Speed and endurance will also be a big factor - Luke, Royal Park.
I think you'll want speed and skill for this format; play a majority of younger, up and coming players - Tobias, Sellicks Beach.
Good skills, pace, endurance, youth - Matthew, Old Reynella
Play good ball handlers who can kick accurately and long, and who also have a bit of X Factor - Peter, Littlehampton
My criteria were speed, the ability to defend and kick 10 pointers running out of defence, along with a mix of goal kicking opportunists - Lawrie, North Plympton
A good mix of leadership, size, skill, toughness and athleticism - Gus, Flinders Park.
AFLX launches on Thursday, February 15, with Adelaide taking on West Coast and Collingwood at Hindmarsh Stadium.
Tickets are now available at X.afl