Clubs have spent the past two weeks locked in their recruiting 'war rooms', finalising their order of prospects ahead of next week's NAB AFL Draft.
Here at AFL.com.au we've also worked out our final rankings of the best 35 players in the 2019 pool, in the fifth and last edition of the Phantom Form Guide.
A reminder that this is simply our view of the best prospects available in the pool, and is not necessarily where they will get selected or where bids will come for the Academy and father-son players.

1/7/01
180cm/78kg
Vic Metro/Oakleigh Chargers
Midfielder
October ranking: 1
Rowell has been atop the Phantom Form Guide in every update this season for a reason. He is incredibly consistent, and failed to play a bad game in 2019. His numbers tell a great story: he averaged nearly 32 disposals a game for the Oakleigh Chargers, including 17 contested touches plus eight clearances. But they only show a little of his influence. In every big game Rowell has played in the past two years – including NAB AFL Academy performances and back-to-back under-18 Grand Finals – Rowell has lifted to drag his side over the line. He also claimed the Chargers' best and fairest despite playing only seven games. A midfielder who competes ferociously until the ball is in his hands, he doesn't waste touches, and he has a burst of speed. Ready to go.
Where does he go? Rowell will have his bags packed, ready to head to Gold Coast with the No.1 pick next Wednesday night.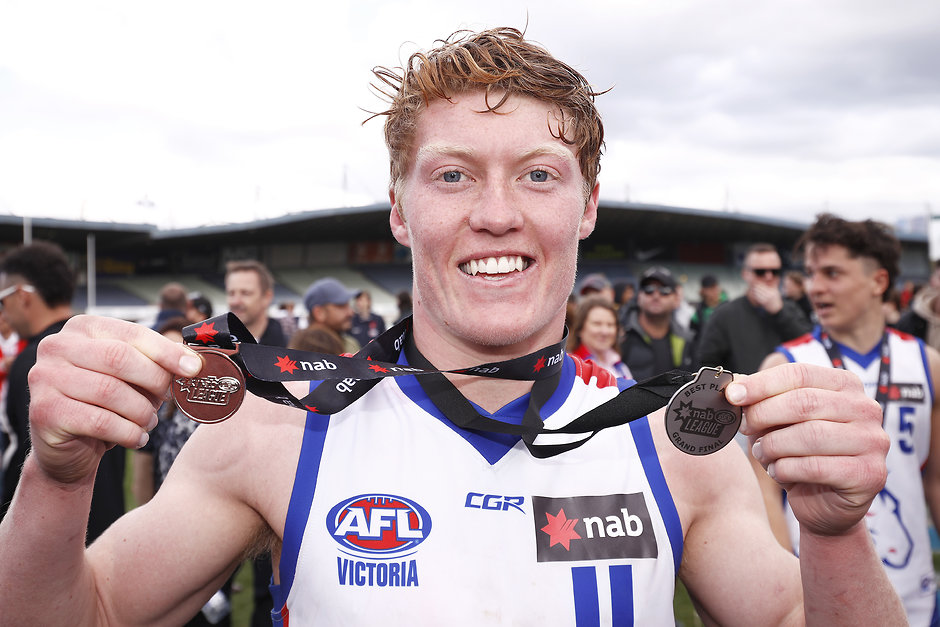 17/2/01
191cm/87kg
Vic Metro/Oakleigh Chargers
Midfielder
October ranking: 2
At his size, and with his skill set, Anderson is able to impact games in a number of ways. Underpinning all of that is his work-rate – he's a hard-running midfielder who just keeps pressing all game. He showed that at the NAB AFL Draft Combine, when he completed the 2km time trial in 6:17 minutes, but he also has some take-off speed (he ran three seconds flat for the 20-metre sprint), which can be seen in his midfield work. Throughout the year Anderson also averaged two goals a game for the Chargers at NAB League level, highlighting his ability to push forward and be a genuine threat. The Vic Metro captain is a natural player who attracts the ball.
Where does he go? Anderson is off to the Suns with his close mate Matt Rowell, a perfect double-hit for the club as it attempts to climb the ladder.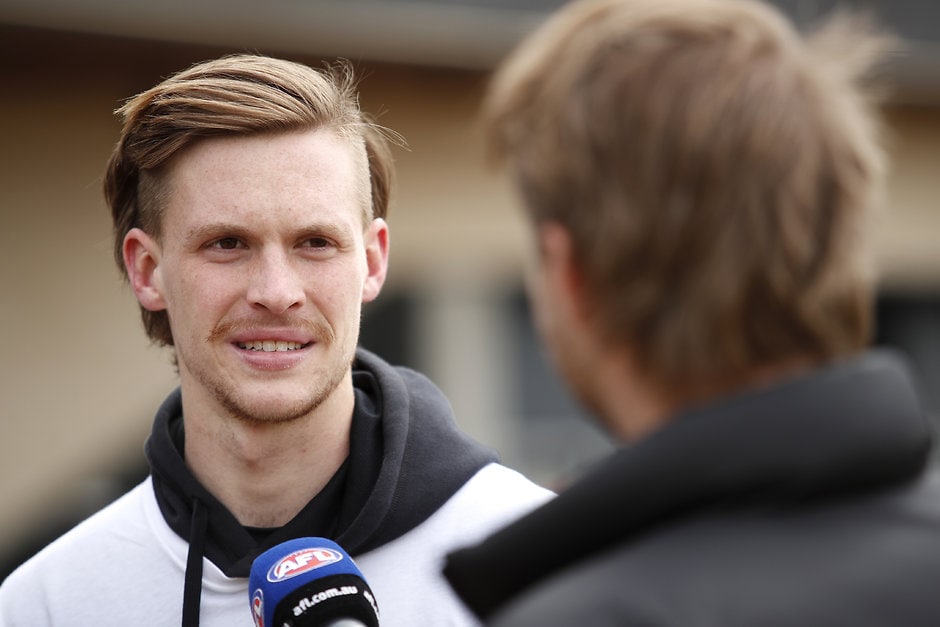 23/1/01
191cm/89kg
NSW-ACT/GWS Academy
Midfielder
October ranking: 3
If you're picking a team from this year's draft pool, Green would have to be one of the first players selected. He fits the mould of what's required at the top level for midfielders: he's tall, strong and tough, he digs in and finds the footy (he averaged 33 disposals for the Giants' side in the NAB League) and he can feed the ball out by hand and foot. Green is a competitor who thrives on the tough work and has also improved his running across this season to be able to meet the demands of a ball-winner. Missed the end of the season, and testing at the Draft Combine, after suffering a knee injury.
Where does he go? The draft's wildcard. Not because of questions on his ability, but because where the bid comes on the GWS Academy prospect will shape the top-10. If Melbourne bids at pick No.3, what will the Giants do at pick No.4? Seems most likely that a bid doesn't come until Sydney's pick No.5 at the earliest, which the Giants would match.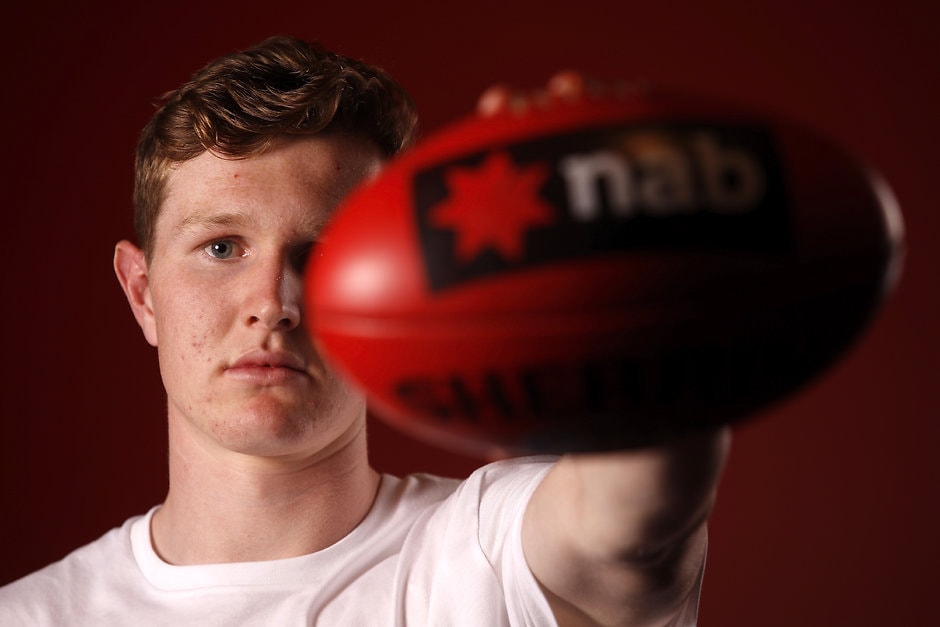 9/2/01
179cm/88kg
Vic Country/Gippsland Power
Midfielder/forward
October ranking: 4
Serong couldn't have done much more this season. He starred for Gippsland Power, averaging 24 disposals and seven clearances for them, and also co-captained Vic Country, where he was named an All Australian after averaging 23 touches. Serong is a tough, competitive, hard-edged midfielder who has a solid frame and is difficult to tie down. He can also press forward and hit the scoreboard, while his overhead marking and spring for a player his size gives him an extra skill. Serong is a player who enjoys being in the thick of the action.
Where does he go? Now looking like a player who sits in the back half of the top-10. Melbourne (pick No.8) and Carlton (No.9) are likely to consider if he's still on the board there, while Fremantle, at pick 10, may also look closely. Could he get through to Port at No.12?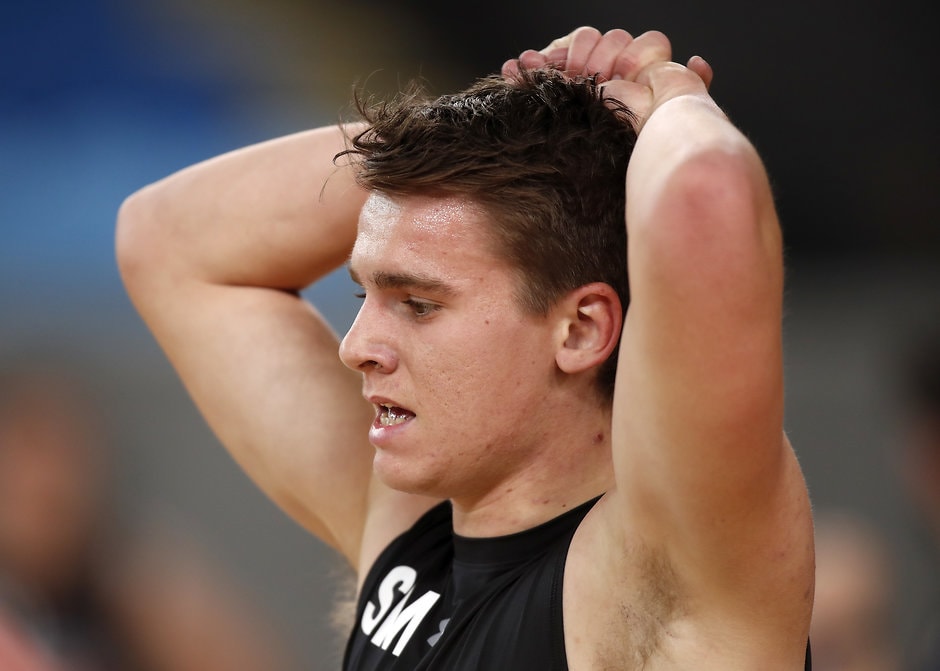 11/4/01
188cm/83kg
Vic Country/Dandenong Stingrays
Defender
October ranking: 5
Very little tends to separates Young's games, which is testament to his consistency and ability to play at a high level regularly. The classy half-back is what clubs look for in their rebounders: he delivers the ball with precision, he can stop an opponent, and he can help out and chop off an entry in the air. Young's kicking efficiency was 75 per cent during the under-18 championships and 73 per cent in 12 games for the Dandenong Stingrays, highlighting his key attribute as a distributor. Young is quick by mind and in tight spaces, which came through his agility test at the Draft Combine, which he won by running 7.94 seconds.
Where does he go? In the mix for the Dees' top choice, but if he gets through, then the Giants will look hard if he gets past Melbourne. Sydney and Adelaide will look at Young very hard, while Fremantle, too, will have to consider in the chance he's there at No.7. Clubs deeper in the top-10 are starting to think he could be available.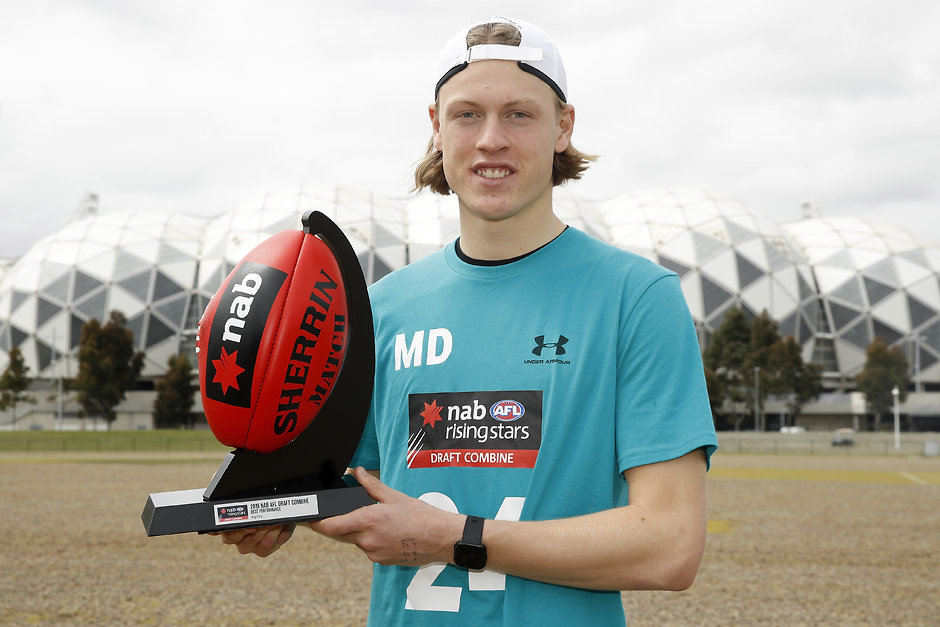 24/7/01
182cm/82kg
Vic Country/Gippsland Power
Forward/midfielder
October ranking: 6
Flanders is right among this top group after a stellar season. The explosive midfielder has the jets to get out of trouble around the ball and then create space where there isn't any. He averaged 24 disposals and six clearances for the Power in 12 games, and starred in their finals series, including a memorable four-goal quarter against Oakleigh in the qualifying final. His ability to push forward, mark up high and create adds another element to his package, while he plays on the edge in an aggressive, menacing way that makes him always a part of the contest. Excelled at the Draft Combine, showing great stamina in the endurance tests, reaching level 21.3 in the Yo-Yo test and dispelling some doubts over his aerobic capacity.
Where does he go? The Crows have been linked to the match-turner, while Sydney is also a good chance to take Flanders. He's in the Giants' thoughts too, and with family in Western Australia, he has been linked to Fremantle's pick No.7 as well.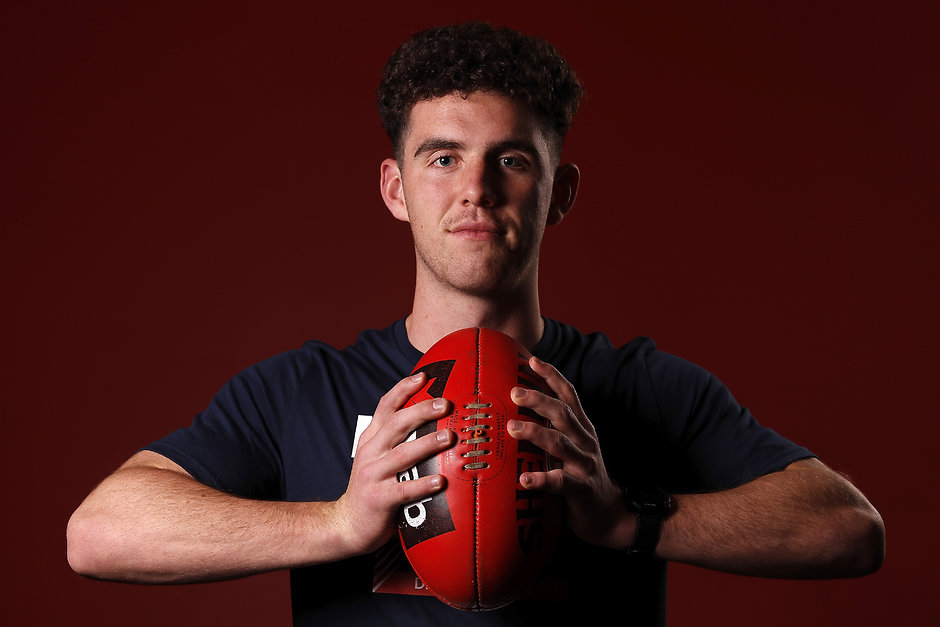 21/6/01
186cm/80kg
Vic Country/Murray Bushrangers
Defender
October ranking: 7
The run-and-carry gun of this year's draft pool. Ash brings with him plenty of speed, and the ability to take on the game from the half-back line. He averaged 23 disposals for Vic Country and the Murray Bushrangers this year, and would often catapult his side out of the backline into an offensive position quickly. He has drawn comparisons to Essendon gun Adam Saad for his ballistic style, but he's also got a tough streak and has an ability to shut down opponents.
Where does he go? Ash is in the mix to land at Greater Western Sydney at pick four, while he will also be on the radar of Sydney, Adelaide and Fremantle.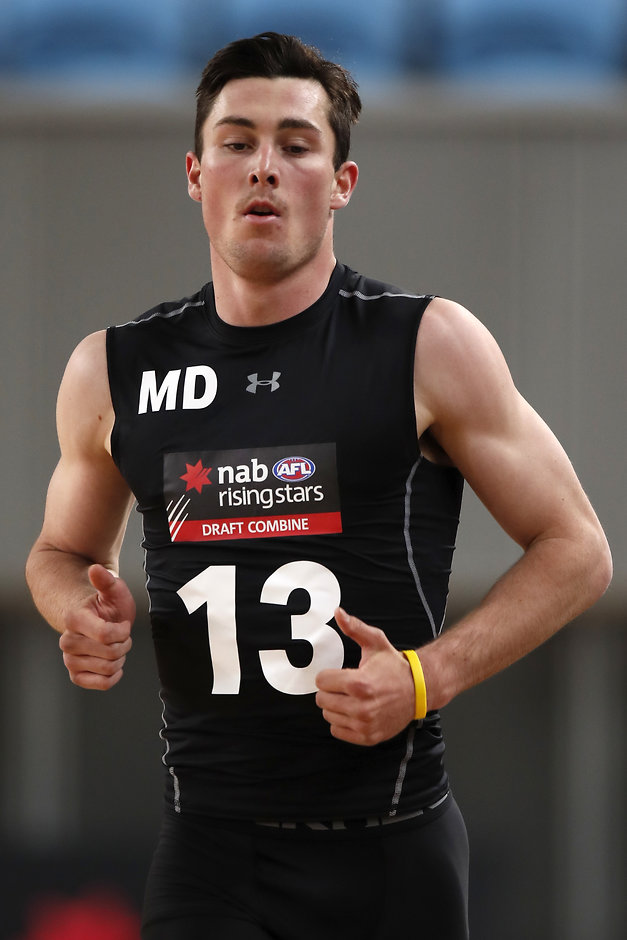 1/5/01
193cm/89kg
Vic Country/Bendigo Pioneers
Utility
October ranking: 8
Kemp last week underwent further medical testing under the eye of clubs who wanted to further check out the status of his reconstructed knee. That injury ruled him out for the end of this season and most likely the majority of next year as he goes through his 12-month rehabilitation process. Look beyond the injury when assessing Kemp though. He's a versatile prospect who can play as a third tall defender, a marking forward or as a clearance-winning midfielder. Clubs all have different views on where he ends up long-term but there aren't questions on his talent.
Where does he go? The knee makes Kemp a fascinating case. Carlton has been strongly linked to the Bendigo Pioneer at No.9, while Melbourne has also shown some interest at pick No.8. Hawthorn recently visited Kemp's house so could be a chance at No.11.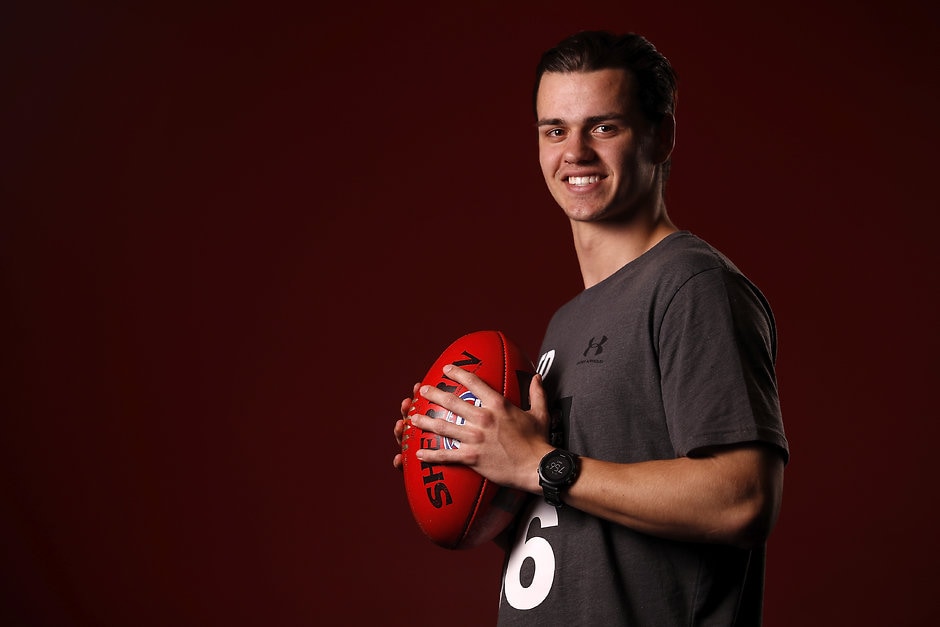 30/6/01
184cm/81kg
Western Australia/Perth
Midfielder
October ranking: 9
The midfielder you want to have on your side at the stoppages. Robertson is a bull when the ball is up for grabs: he attacks it with vigour and strength, and he doesn't care who's in his way. Robertson averaged 30 disposals and seven clearances for Western Australia at the under-18 carnival on his way to being named as the winner of the Larke Medal. Wasn't sighted after that as he underwent shoulder surgery. Doesn't have the polish with his kicking that others possess but will rise to the AFL's competitive environment.
Where does he go? Robertson is a polarising player for clubs. Some love him, others have him a little further back given his foot disposal. Fremantle (picks 7 and 10) have been linked to the local, and Melbourne is a chance at No.8, while Hawthorn are likely to snap him up if he gets through to 11.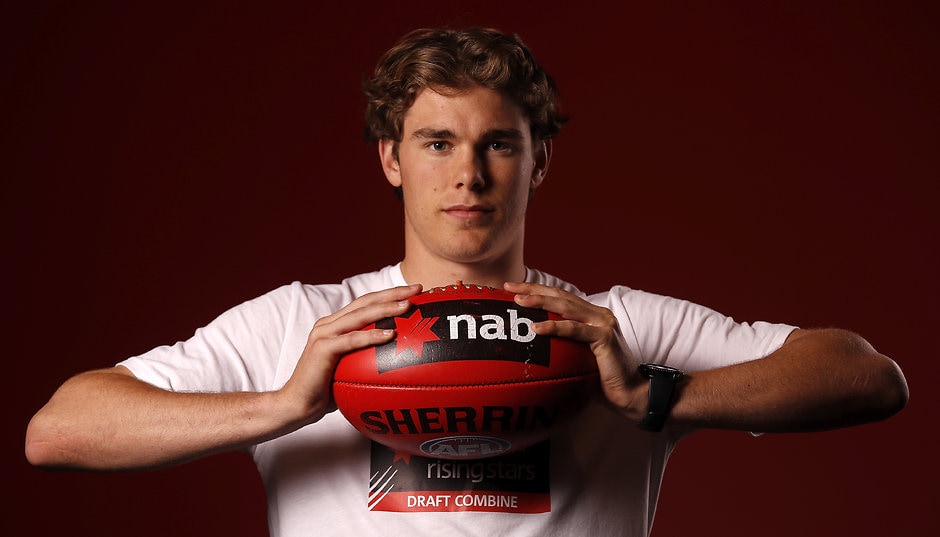 8/3/01
197cm/91kg
Vic Metro/Sandringham Dragons
Key defender/forward
October ranking: 10
McAsey's marking strength makes him the leading key position player available. He can play at both ends, but has been more consistent as a defender, where he's capable of backing into packs and cutting off forward forays in the air. His intercepting and ability to read the game is a key trait, but has also allowed him to make an impact in attack and around goal. He claimed Vic Metro's MVP at the under-18 carnival. McAsey ended his season with a foot stress fracture that also kept him from testing at the Combine.
Where does he go? Port Adelaide will be hoping McAsey gets through to No.12, where they're likely to swoop. But Hawthorn has also been heavily linked to McAsey with pick 11, while the late mail is the Crows have spent plenty of time on him across the year. If Geelong trades into the top-10, McAsey is likely to be its man.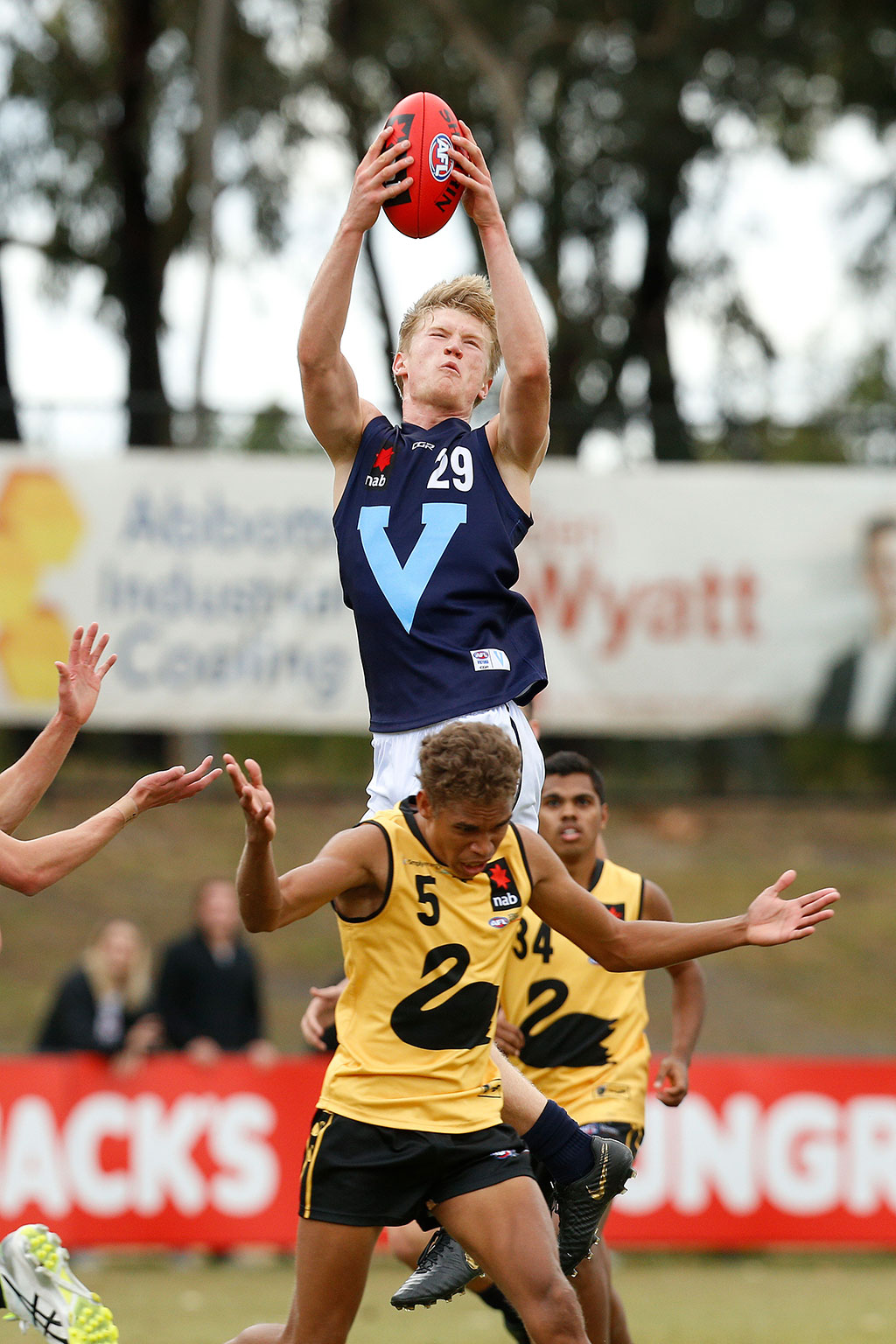 29/9/01
199cm/94kg
Western Australia/East Fremantle
Ruckman
October ranking: 14
The athletic ruckman has plenty of fans at the very top end of the draft and it's because of his ability at ground level and in the air. For a ruckman he is clever at the hitouts, but is also capable of following up when the ball is on the deck, grabbing it at his toes and spinning out of trouble. He averaged 33 hitouts in the WAFL colts competition and was also the standout ruckman in the under-18 carnival. Jackson may start his career as a forward, given he has shown a good ability in the air.
Where does he go? Jackson could become a Demon, with the club weighing him up at No.3. He has firmed to be their likely pick at that choice. If not, the Giants and Adelaide are also keen, while Fremantle will look at him if he is there at No.7, which is unlikely.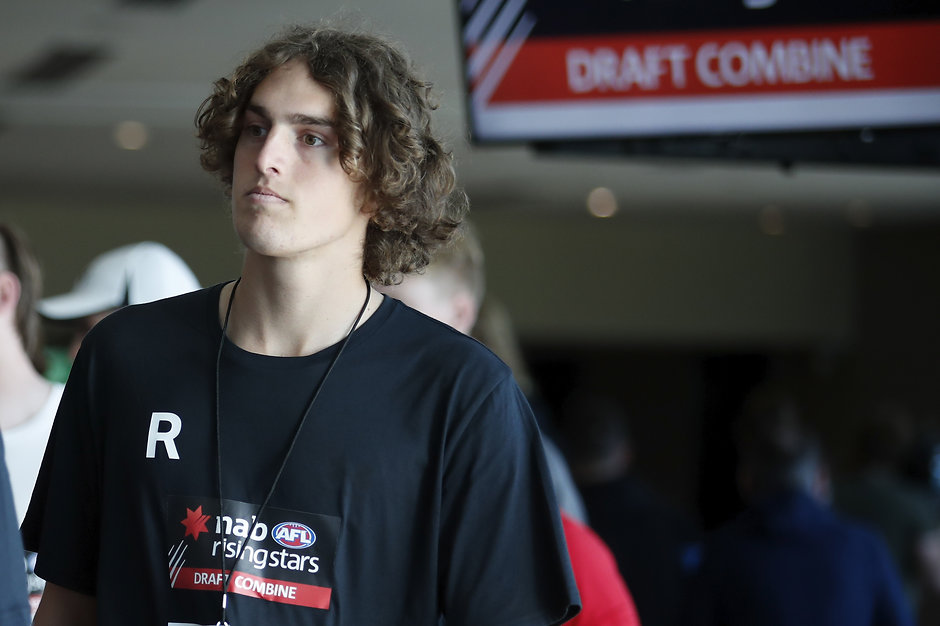 8/1/01
183cm/74kg
South Australia/Norwood
Midfielder
October ranking: 11
Stephens' ability to step up at senior SANFL level and perform in the second half of the season makes him one of the leading midfielders available. He averaged 19 disposals in 13 senior games for Norwood, before dominating the reserves Grand Final with 26 touches. Stephens has the rare mix of high-end speed and endurance: he ran 2.97 seconds in the 20-metre sprint and 6:01 (third overall) in the 2km time trial. Think Andrew Gaff with even a little more acceleration and zip with ball in hand, and he's also crafty on his left side.
Where does he go? Stephens will be the first player drafted from South Australia. Adelaide is a possibility, as are Fremantle, Carlton and Hawthorn. Port would be very keen if he somehow got through to No.12.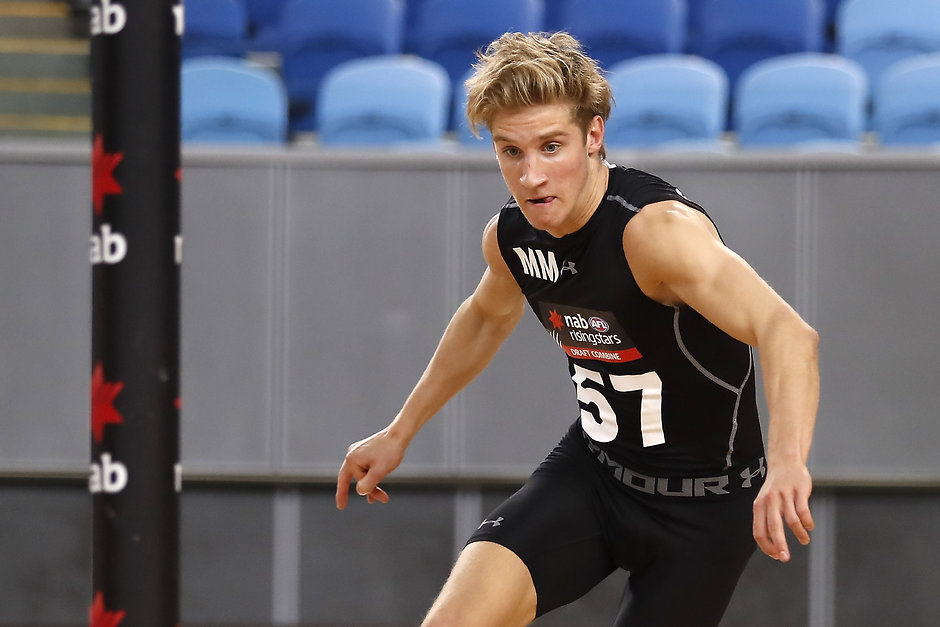 15/1/01
178cm/75kg
Vic Country/Dandenong Stingrays
Forward
October ranking: 12
The electric small forward rarely wastes a chance around goal. Despite his height, Weightman's marking is one of his strengths and central to his forward craft: he's good on the lead and will go for his grabs against bigger opponents. He was Vic Country's highest goalkicker at the mid-year carnival and can be trusted to convert his opportunities. Weightman was played up the ground late in the year and he's an active, energetic prospect with some cheek.
Where does he go? Melbourne has an interest, but there may be others ahead in the queue if the Dees stay at No.8 – but if they trade back he'll be a chance. Gold Coast (No.15), Port (No.16) and Geelong (No.17) are all a chance to snare Weightman.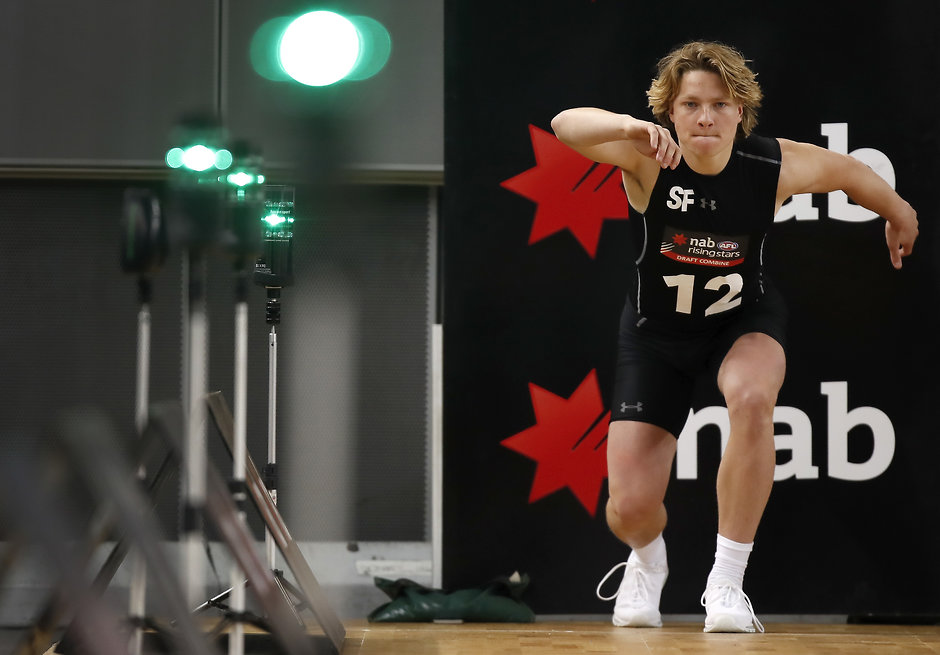 28/8/01
180cm/68kg
Claremont
Forward
October ranking: 16
Henry is a special talent. His standout game of the year came when the stakes were perhaps highest, in the title-decider of the under-18 championships. The West Australian starred in his side's gripping win over Vic Country that saw them take out the carnival, with Henry best afield. His field kicking, smarts with the ball, class around goal and fine touch were on show, but only for a little longer after that, having injured his knee late in the season.
Where does he go? Fremantle has first rights on Henry and will hope a bid doesn't come before pick 10, its second choice. Melbourne (pick No.8) and Carlton (No.9) are both thinking about placing a bid on Henry. The Dockers are expected to match, even if it means trading back down the order. They have invested plenty into the forward.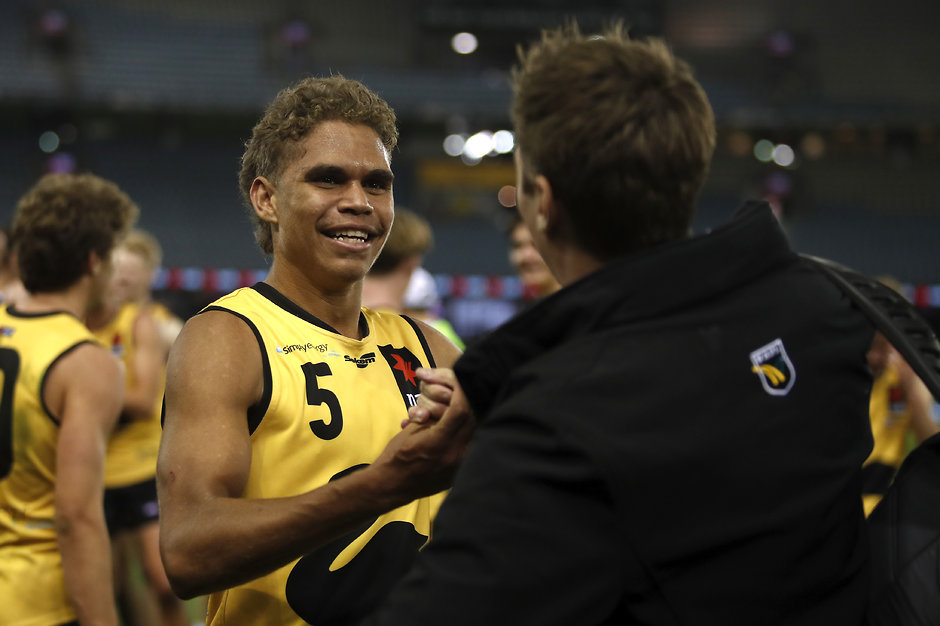 11/4/01
195cm/83kg
Vic Metro/Sandringham Dragons
Key defender/forward
October ranking: 13
The Sandringham Dragons defender had his year cut short by a shoulder reconstruction after the championships. The Vic Metro carnival was different for Worrell, though, having played as a key forward for his state side (and done well, having booted seven goals in two games). But Worrell's best position is as a backman, where his ability to read the play and flight of the ball and intercept mark is crucial. He's also a penetrating left-foot kick.
Where does he go? Geelong is looking for talls and could leap at Worrell with one of its first-round picks. The Cats have spent plenty of time on Worrell and he could fit the bill. Port, at pick 18, is also a possible home.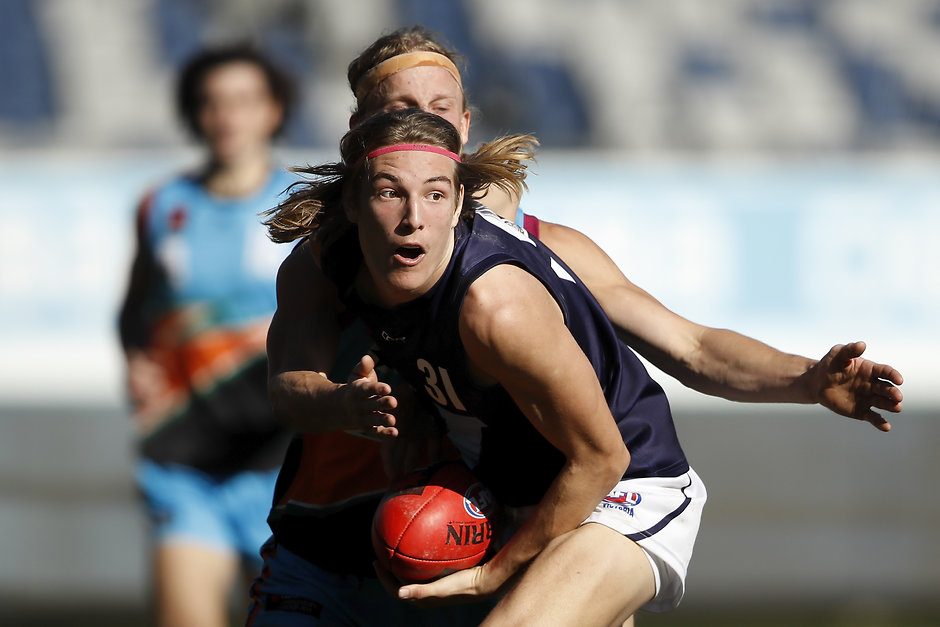 23/2/01
189cm/82kg
Vic Metro/Sandringham Dragons
Midfielder
October ranking: 15
Maginness has the qualities that will step up at the next level. Can he run? Yep, he finished second in the 2km time trial at the Combine. Is he quick? Yep, he ran 2.96 seconds in the 20-metre sprint. Can he win the ball? Yep, of his average of 21 disposals in the NAB League, half were contested. He's big and strong and tall and has the athletic profile to match. Maginness will head to the Hawks as a father-son pick and couldn't have done much more in a strong campaign.
Where does he go? He'll be headed to the Hawks, it's just a matter of where the bid comes. It seems most likely now that a bid comes early in the second round, which the Hawks would match with their next pick/s.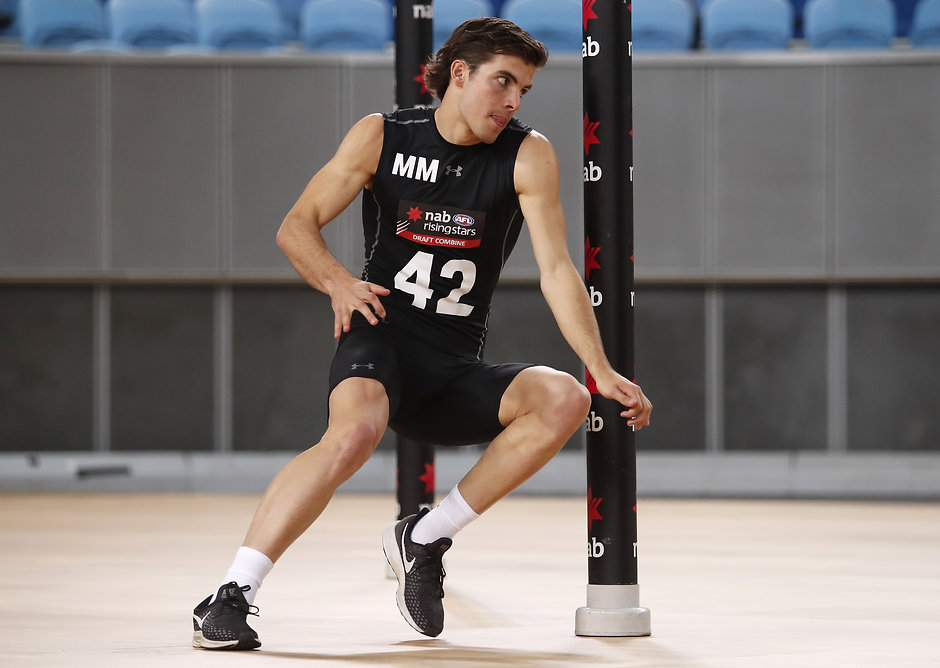 18/10/01
189cm/83kg
Vic Metro/Sandringham Dragons
Midfielder/forward
October ranking: 17
A big end to the season thrust Bergman's name right in front of recruiters, and has seen him become a likely first-round pick. There's a lot to like about the 18-year-old. Playing as a wingman or half-forward, Bergman has speed, he's athletic and can jump – he comes from a running background but is also a high leaper, which was on show at the Draft Combine. He is a booming long kick and booted four goals against the Geelong Falcons late in the season. Excitingly for scouts, he's also grown a bit and at his size looks a very versatile option.

Where does he go? Bergman is off to the first night of the draft so is high on many boards. The Bulldogs and Fremantle have shown interest lately, while Geelong (No.14) and Gold Coast (No.15) are also a good chance to take him.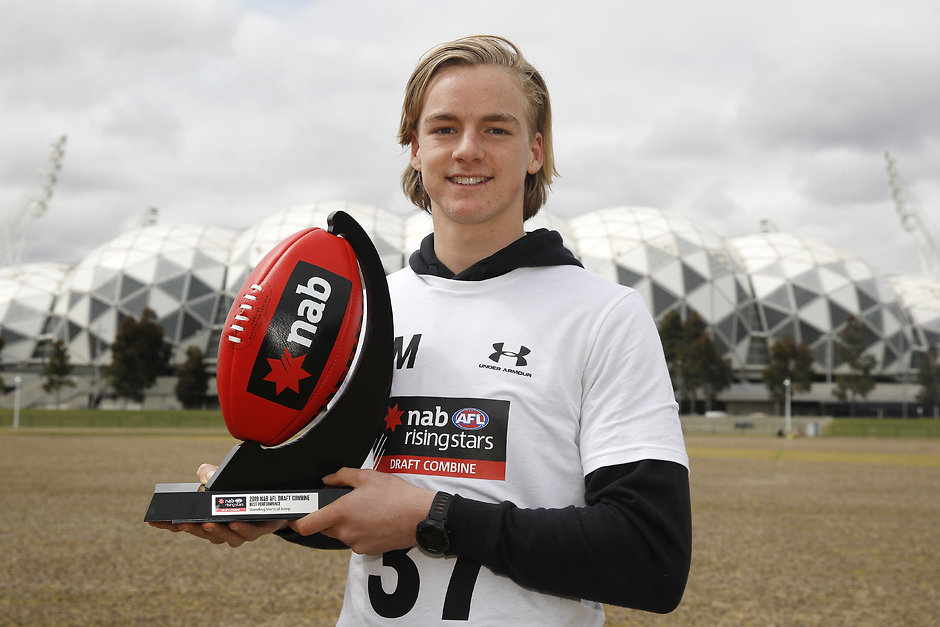 5/6/01
189cm/76kg
South Australia/West Adelaide
Defender
October ranking: 18
Day projects as an attacking half-back who does everything you'd want in a player at that spot. He's a rangy size at this stage of his development, and will need some time in the gym in his first couple of years at an AFL club, but he marks well, can tie down opponents and run off and create, and his disposal is trusty. He will be able to play on a variety of forwards in coming years. A natural footballer with smarts.
Where does he go? Geelong, Gold Coast, Richmond and Port Adelaide are all in the mix to take Day in the top 20. He has a lot of fans.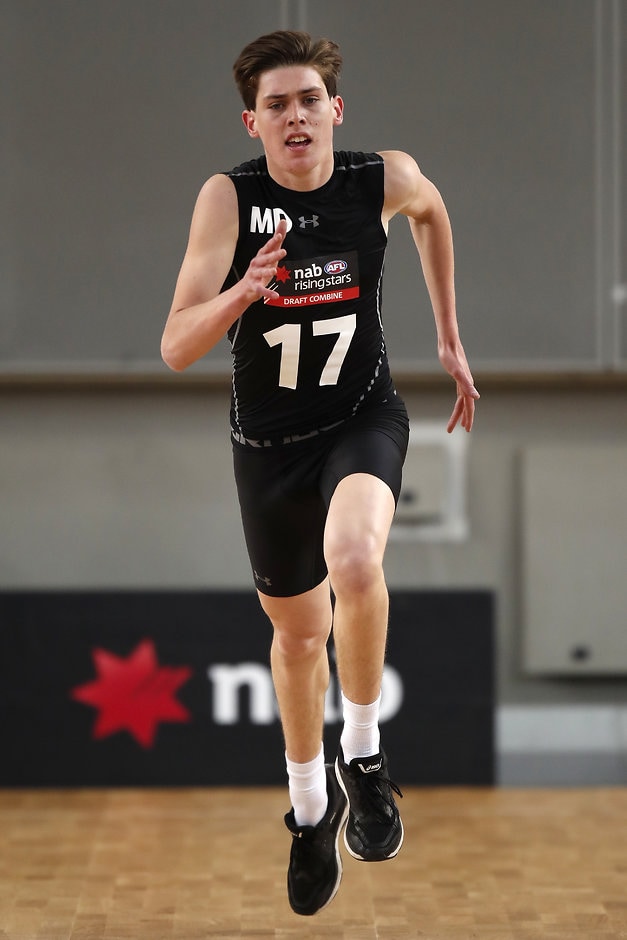 20/1/01
178cm/73kg
Vic Metro/Oakleigh Chargers
Defender/midfielder
October ranking: 20
Bianco's finals series capped a very good season for the Oakleigh Chargers prospect. Not only did he captain the Chargers to their NAB League premiership, Bianco was one of their September stars, including gathering 29 disposals and 10 marks in the Grand Final. A brilliant kick on both feet, Bianco buys himself time with his disposal and only needs a second with the ball in hand to make the right decision. Is given the ball and trusted with it.
Where does he go? Is likely to fit into the back-end of the first round or very early in the second. Geelong, Richmond and Port Adelaide all interested in Bianco.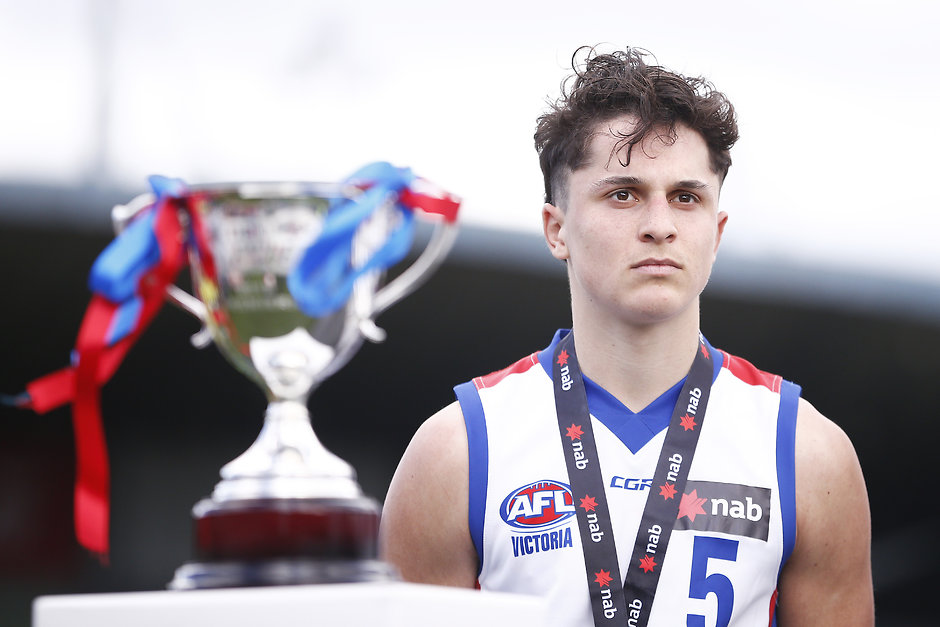 14/1/01
192cm/106kg
South Australia/Glenelg
Defender
October ranking: 20
Gould has one of the leading CVs of any draftee. He's a back-to-back All Australian after consistent performances over the past two years for South Australia's under-18 side, and he played a valuable role in Glenelg's breakthrough SANFL premiership win. That senior experience sets him apart from many players his age. He's a powerful prospect with a penetrating kick, but some have queried his versatility away from that half-back role.
Where does he go? Gould copped the wrath of some clubs for his fitness at the Combine, so he will be an interesting watch on draft night. Adelaide, at pick 23, and Geelong, with the following selection, appears to be the start of his draft range, while North Melbourne will also consider with their pair of picks in the 20s.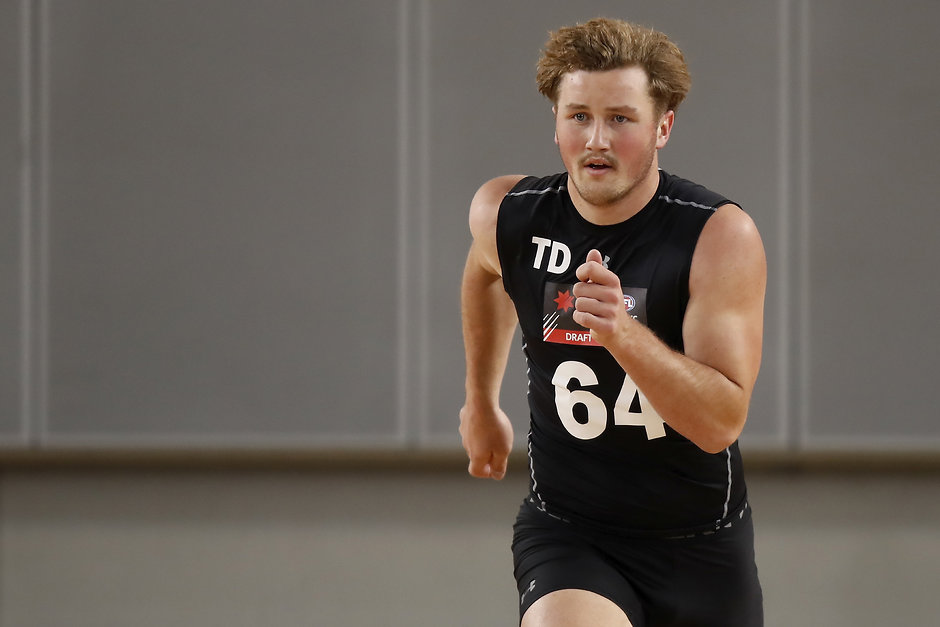 30/9/01
184cm/83kg
South Australia/Woodville-West Torrens
Midfielder
October ranking: 21
Mead averaged 20 disposals and four inside-50s in 11 games at SANFL reserves level this year for Woodville-West Torrens. He's a midfielder who is just as comfortable playing across half-forward, where his goal sense and nifty ball use make him a dangerous player in attack, particularly given his marking strength overhead for a player his size. Won All Australian honours for his efforts for South Australia at the carnival.
Where does he go? Has been nominated as a father-son selection by Port Adelaide, where his dad Darren was a best and fairest winner. Is set to head there, and if a bid comes in the 20s they'll match with later pick/s.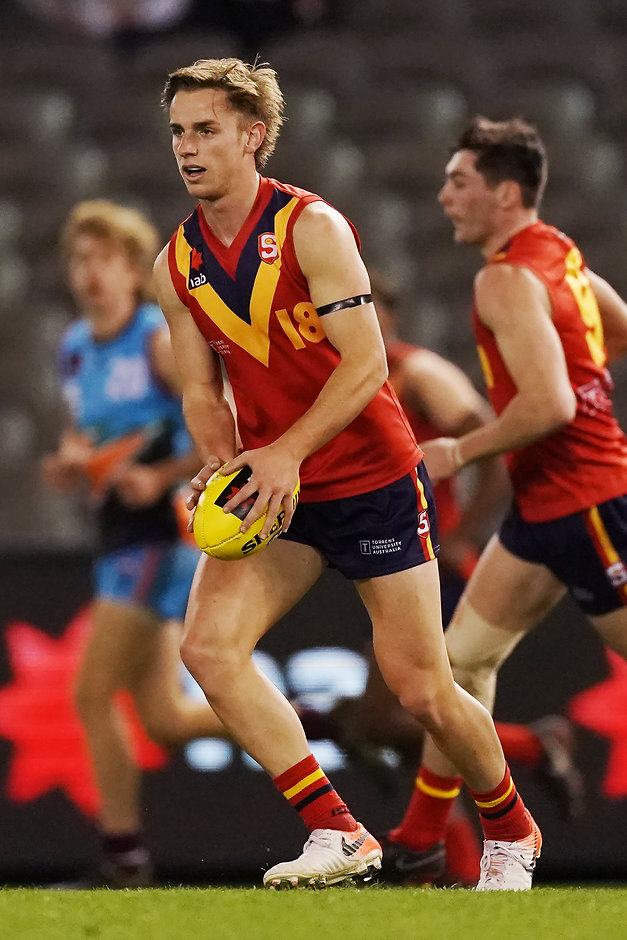 26/2/01
201cm/86kg
Vic Country/Dandenong Stingrays
Defender
October ranking: 22
De Koning's best patch of form for the season came at the under-18 championships, when he was one of the leading key defenders at the carnival and was named an All Australian. He uses his height and athleticism to tussle with opponents and get in their way, and can also be used part-time in the ruck. The younger brother of Carlton's Tom is raw and may need some time but has quality attributes.
Where does he go? Geelong is looking for talls and could jump at De Koning with a first-round pick. Adelaide is also among the interested clubs.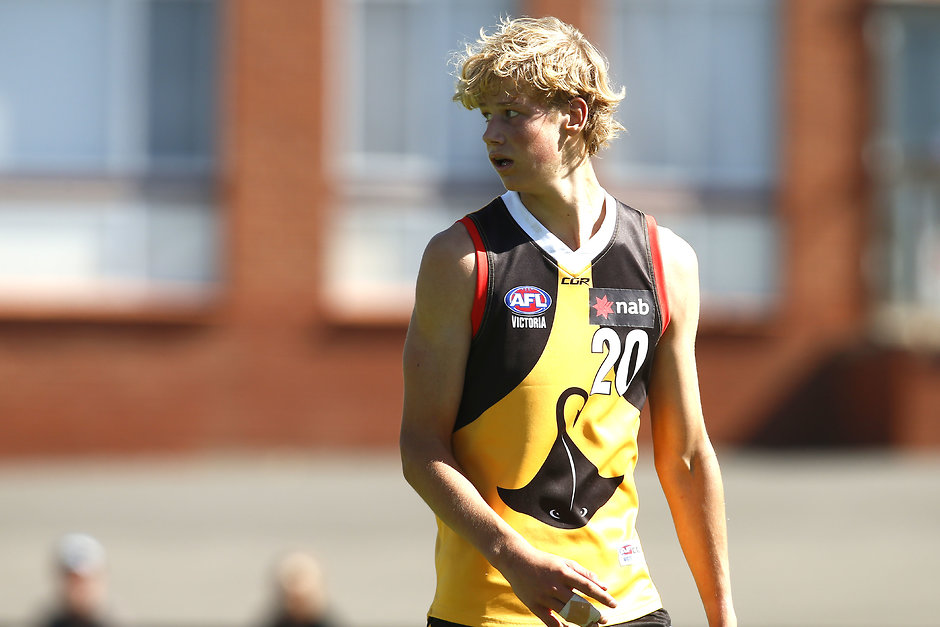 30/7/01
188cm/85kg
Western Australia/East Fremantle
Defender
October ranking: 24
The rebounding Rivers offers plenty of run and drive from half-back. He averaged 27 disposals at 71 per cent efficiency in nine colts games for East Fremantle, occasionally also pushing into the midfield. Rivers will be hoping to build his endurance as he enters the AFL system but showed his high-end agility at the Combine, when he finished fourth overall (8.1 seconds).
Where does he go? The Queensland clubs are both looking at Rivers with their picks at the start of the second round. Gold Coast and Brisbane are possible homes for the West Australian, as is Richmond, who met with him last week and could look at Rivers at pick 19.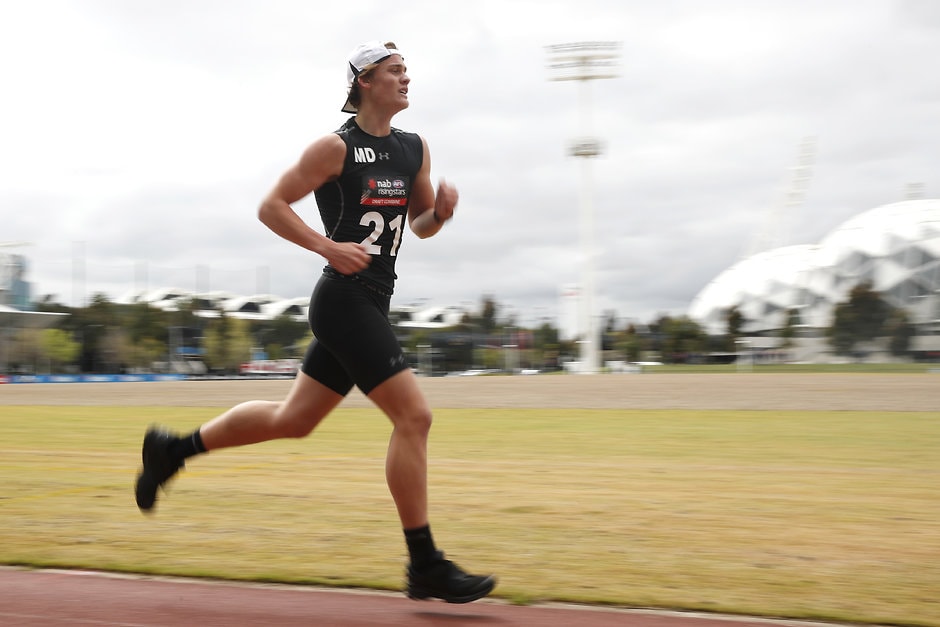 17/1/01
188cm/83kg
Vic Country/Geelong Falcons
Midfielder
October ranking: 23
Another big winner out of his testing at the Combine. Stephens had a point to prove in front of recruiters, given he had not played since April when he broke his leg. The big-bodied midfielder blew scouts away with his performances at the Combine, where he was a joint winner of the Yo-Yo test (level 21.8), and he also finished in the top echelon for the running vertical jump (83cm) and the 2km time trial (6:17). Stephens is a ball-winner who thrives in contested situations.
Where does he go? Stephens appears likely to fit into the first half of the second round. Fremantle have had a recent chat and could look at him with No.22, while Adelaide is also in the mix at No.23. Carlton met him last week but he's unlikely to get through to No.43.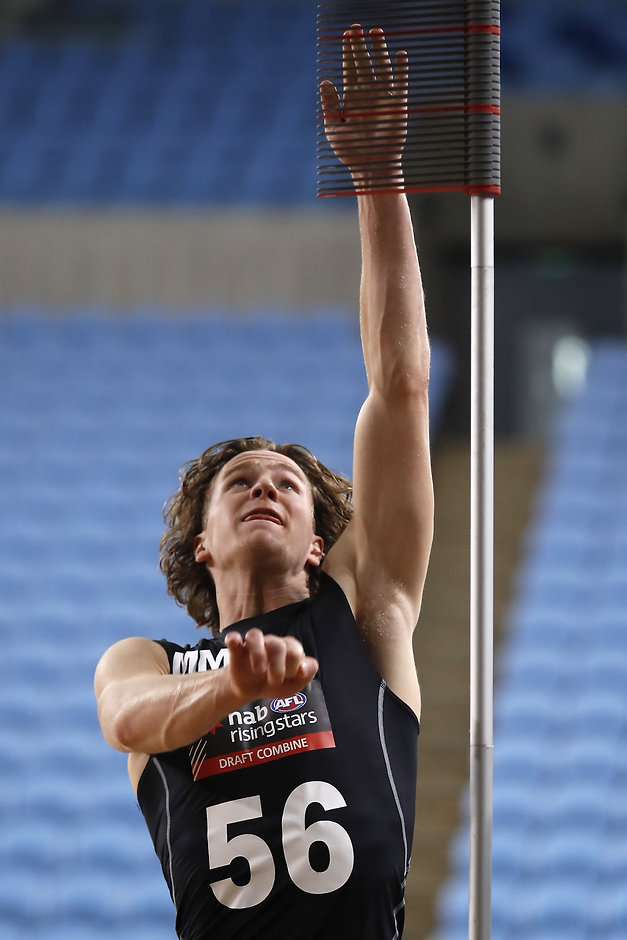 10/6/01
185cm/83kg
Greater Western Victoria Rebels/Vic Country
Midfielder
October ranking: -
The draft's running man. Rantall was super-impressive at the end of year Combine, when he set an all-time record for the 2km time trial (running 5:50 minutes) and also sharing top honours in the Yo-Yo test (reaching level 21.8). The midfielder was a consistent player for Vic Country at the Under-18 Championships, averaging 19 disposals, and 24 disposals for the Rebels in the NAB League. The former star junior basketballer is a consistent, reliable player who digs in and gets his hands dirty.
Where does he go? Richmond has shown some interest, and pick No.19 would be the start of his draft range. Brisbane, Geelong and Sydney are all options in the 20s, too.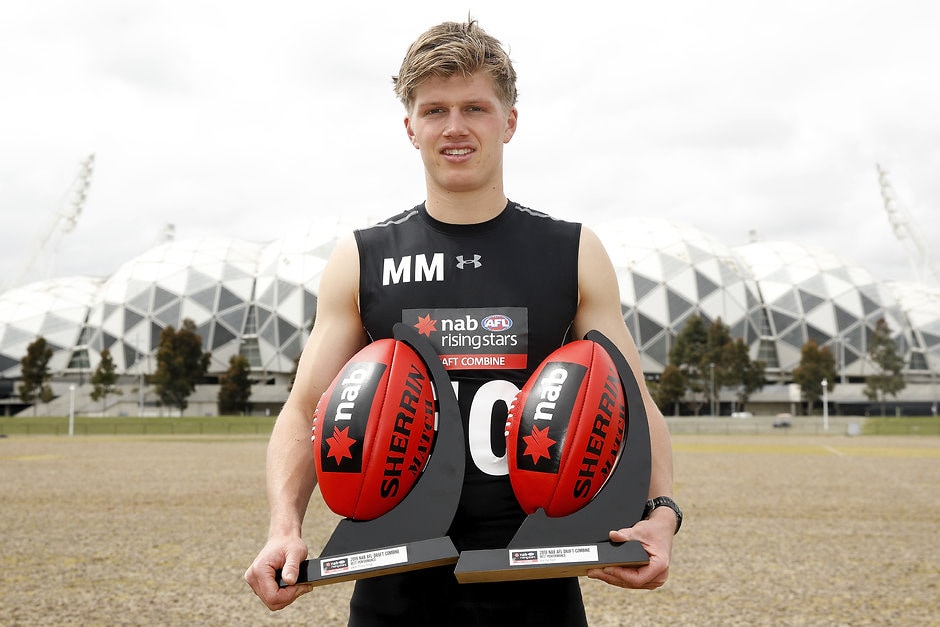 25/2/01
196cm/78kg
Vic Metro/Calder Cannons
Forward
October ranking: 26
Jones was another player who highlighted his traits at the Combine. As an athletic tall forward, Jones gave an insight into his running capacity when he reached level 21.4 in the Yo-Yo test and also completed the 2km time trial in 6:32 minutes. He roams up the ground and has good leading patterns, and he was one of Vic Metro's better performed players for Vic Metro at the mid-year carnival. Some clubs think Jones could start his career as a defender.
Where does he go? Adelaide, Geelong and Essendon continue to get linked to Jones, with the Bombers looking to get up the order from No.31.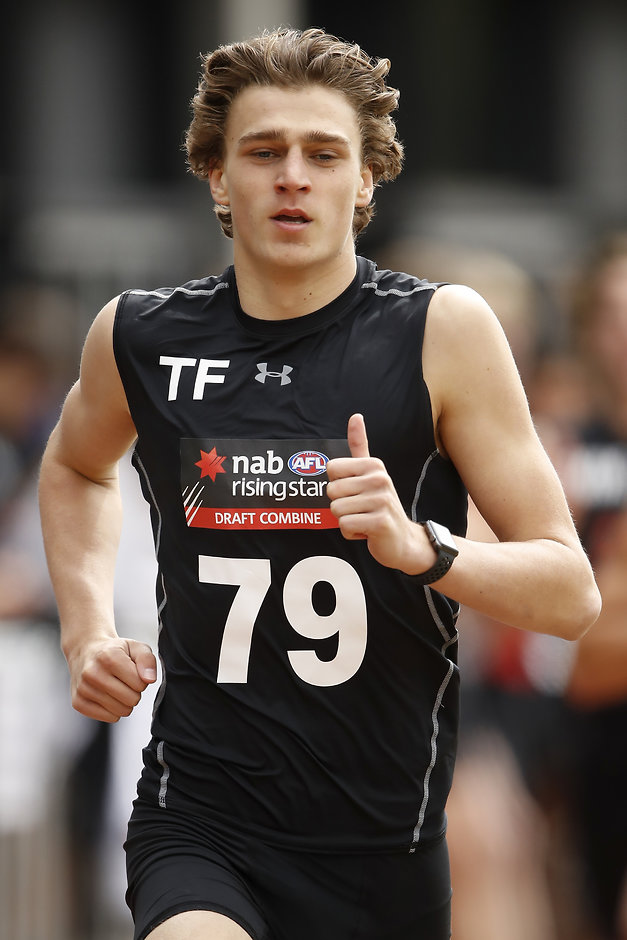 13/8/01
189cm/81kg
Western Australia/East Fremantle
Midfielder
October ranking: 25
Sharp is a run and carry midfielder who can break the lines with his endurance base, speed and long kicking. He's a penetrating player who showed his athletic ability at the Combine, when he tested at 2.966 seconds in the 20-metre sprint and 6:12 minutes in the 2km time trial. Sharp is an outside midfielder who will bolt up and down the ground and appears best suited to a wing position.
Where does he go? Sharp appears a likely second-round pick. Gold Coast (No.20) and Geelong (No.24) are a chance, and Essendon will look at No.31 and 33 if he's available.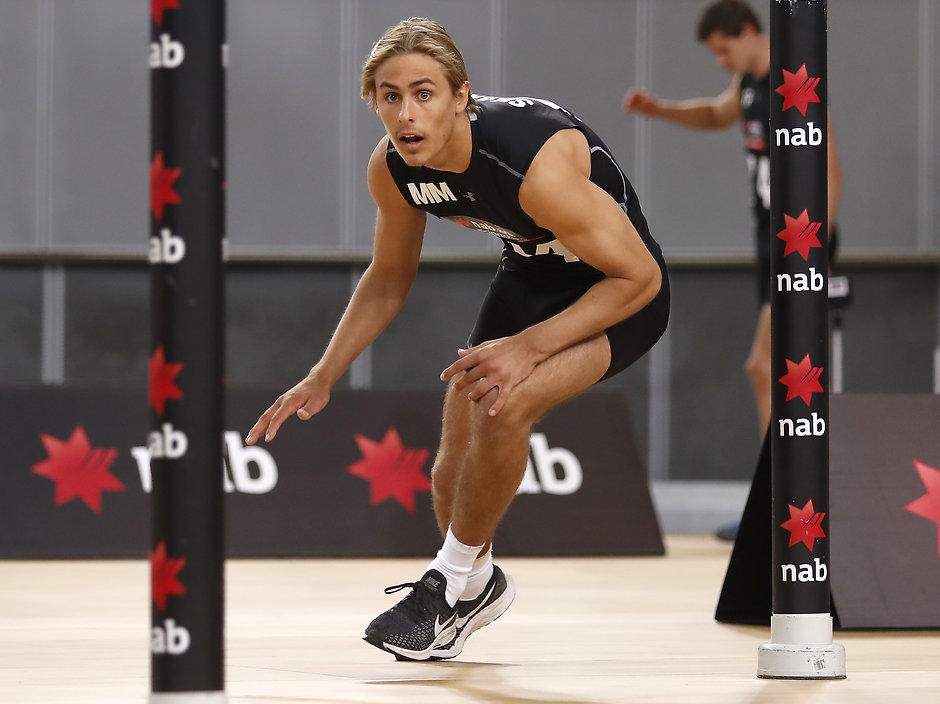 1/7/01
186cm/81kg
Vic Metro/Oakleigh Chargers
Forward
October ranking: 27
Last week Williams was one of a handful of players to participate in a 2km time trial in front of recruiters, completing it in 7:18 minutes in a promising display. It showed recruiters Williams had done the work while on the sidelines with a back stress fracture, which ruled him out of the second half of the season. Williams is one of the most talented players in the pool, having dominated patches of games in the forward line, where his overhead marking and goal sense is uncanny.
Where does he go? One of the mysteries. Will a club jump in early and punt on his talent? Or will he slip a bit further down the order? West Coast is a possibility at No.46 should Williams get that far, but the Cats and Power will think about him before then.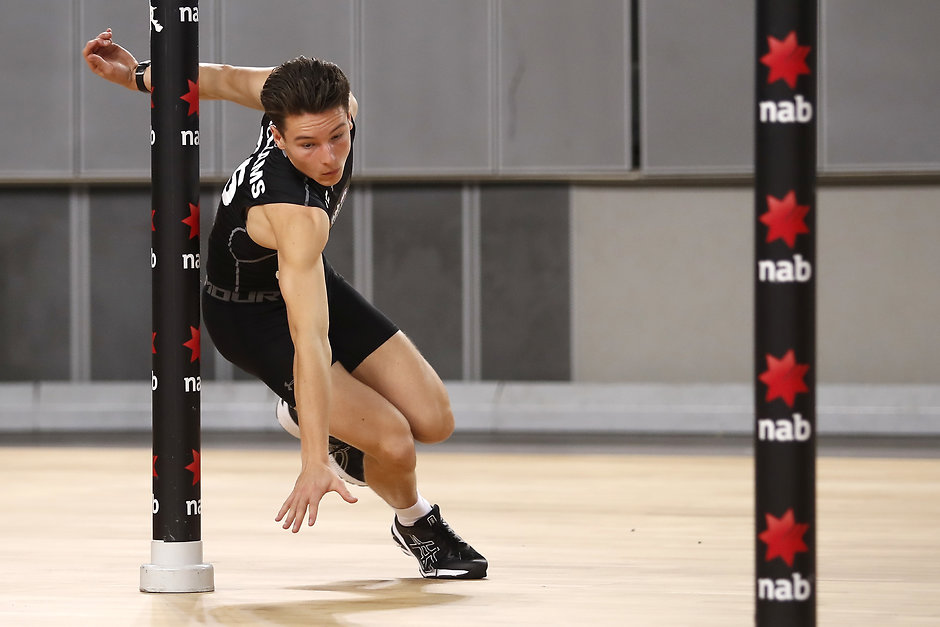 1/5/01
188cm/77kg
Western Australia/Perth
Forward
October ranking: 29
Blessed with speed, agility, game sense and an ability to change a game in a moment or two, Taylor is one of the most talented players in this pool. He may take some time to adjust to the elite environment's demands, but the medium forward showed at the mid-year carnival that he belongs amongst the best of his age. He was named an All Australian after his carnival, and provided highlights in each game he played.
Where does he go? On ability he would be in the top-10. But Taylor is expected to go later in the piece, with clubs in the 20s believing he's likely to still be on the board.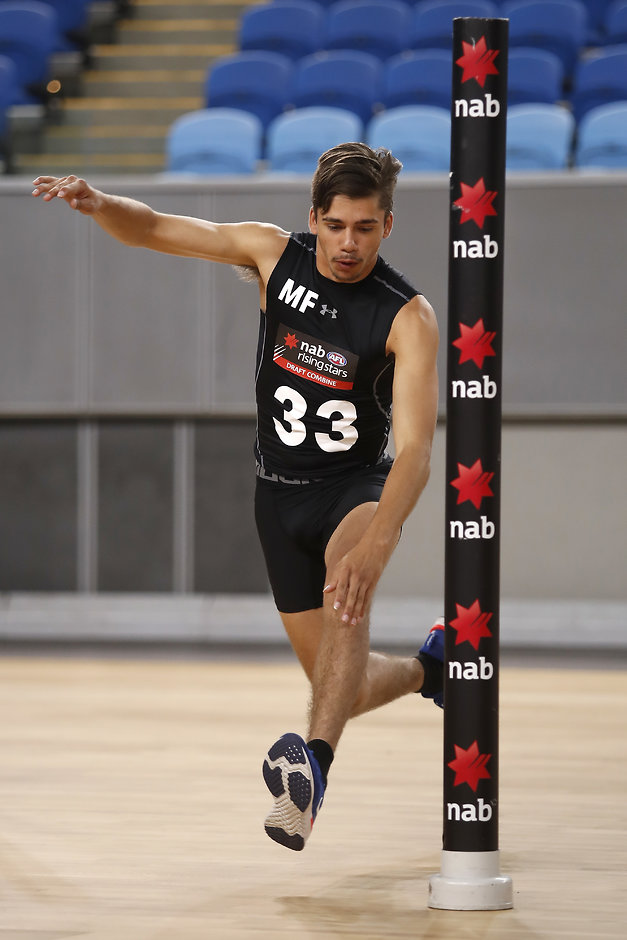 2/6/01
171cm/71kg
Woodville West Torrens/South Australia
Forward
October ranking: -
Pickett is the talk of the town after being a late call-up to the opening night of the draft. The small forward excites in a number of ways: he flies for speccies, he is clever at ground level, he's classy around goal and he likes the physical side of the game. Check out the video below of his bump from last year that went viral last week. The nephew of former North and Power star Byron is short and small but packs in plenty of power.
Where does he go? Melbourne likes Pickett, but will they have others ahead of him when they call a name at pick No.8? Or will he be more in the mix for them if they trade back down the order? The Western Bulldogs have put in plenty of time into Pickett, while Port Adelaide could also swoop with one of their three first-rounders.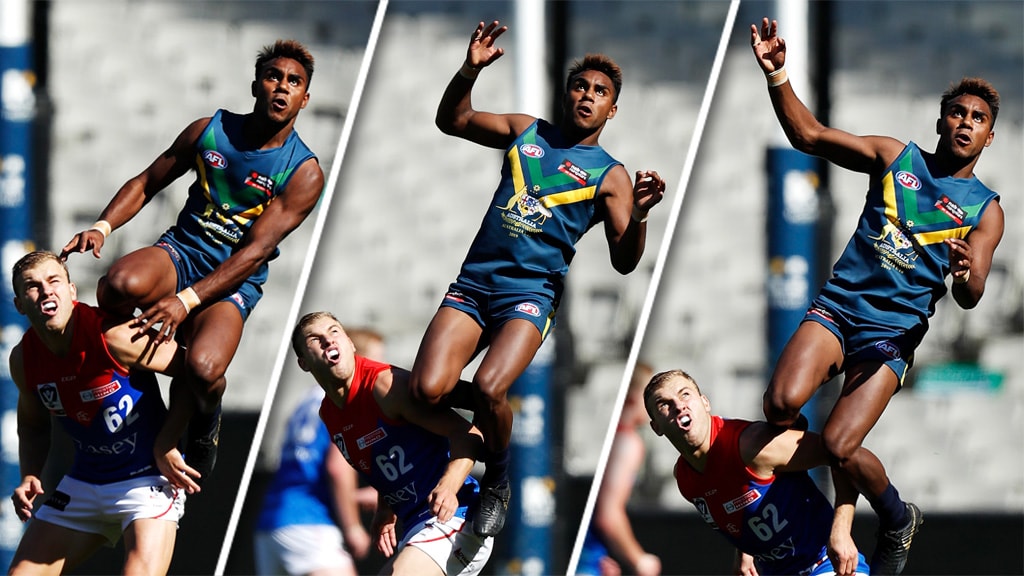 9/11/01
188cm/75kg
Sandringham Dragons/Vic Metro
Midfielder
October ranking: 30
There will have been clubs debating Ralphsmith strongly in their recruiting teams over the past month and throughout the season. They will have looked at his exciting bits, which include his genuine upside, athletic capabilities and capacity for the X-factor, like a big leap or clever goal. He was a star at the Combine, showcasing his excellent long-distance running as a wingman/half-forward. Ralphsmith had an inconsistent season, which could see him push back in the draft, but he has plenty to work with.
Where does he go? Ralphsmith is a chance to get through to the end of the second round, where Richmond could swoop. North Melbourne is also a chance with its pair of picks in the 20s.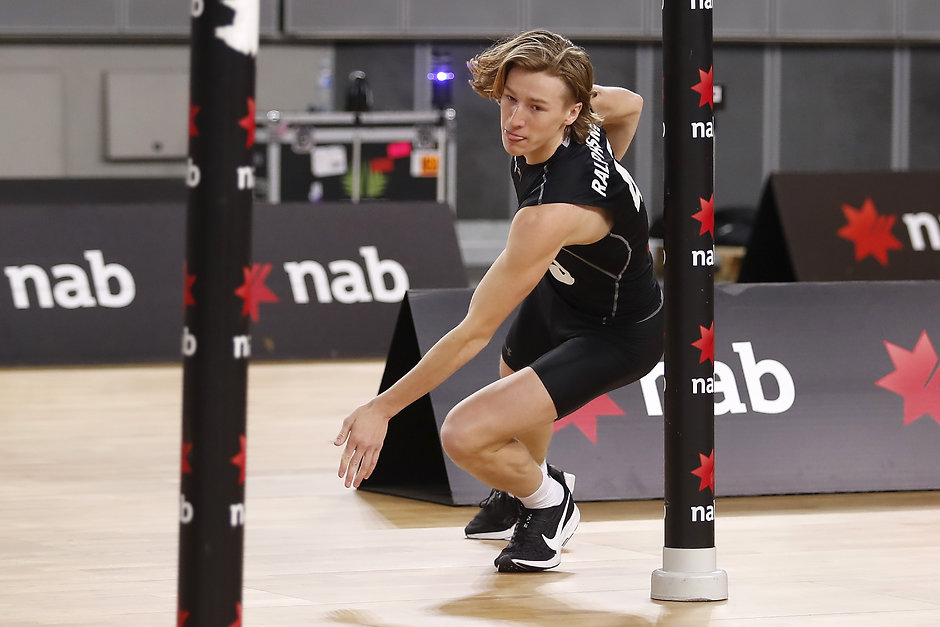 20/7/01
199cm/84kg
Gippsland Power/Vic Country
Forward/ruck
October ranking: -
Assessing Comben is about forecasting to the future. Comben had his moments this year, and generally they revolved around his work in the air. The forward/ruckman has sticky hands – the type that go up with a pack of players and come down with the ball. He presents well as a key forward and can also move into the ruck, and will be seen as a long-term option who won't be rushed into senior football.
Where does he go? The Bombers will be eyeing a tall and Comben will be on their radar with picks 31 and 33. Geelong, as well, could consider with its fourth selection.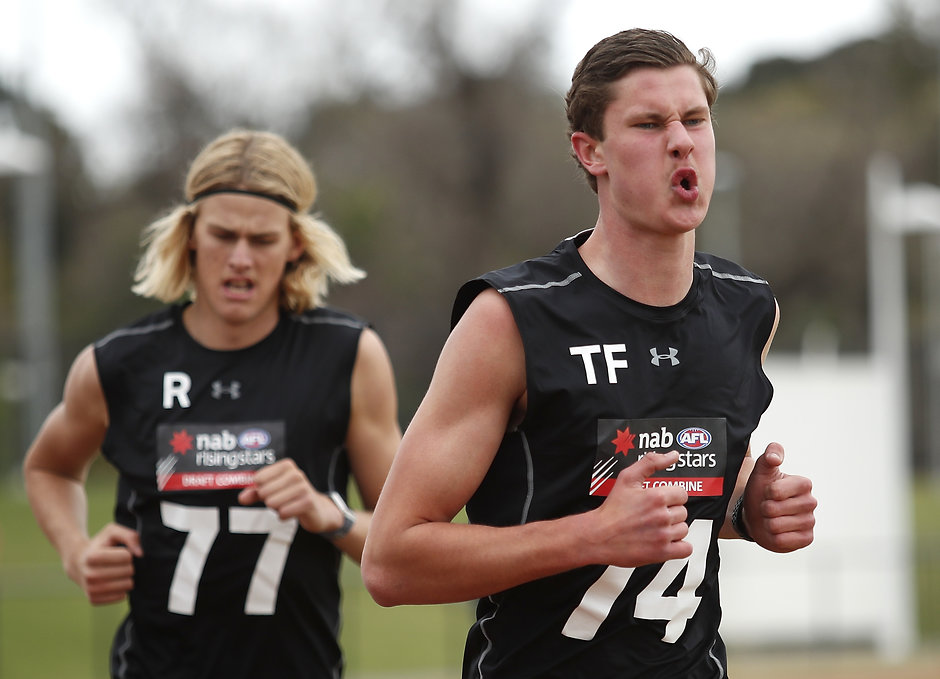 21/2/01
180cm/78kg
Woodville West Torrens/South Australia
Midfielder
October ranking: -
Schoenberg was a surprise at the start of the season, having not even made South Australia's initial under-18 squad. But he showed his qualities as a busy midfielder during the early stages of the season and then in the mid-year under-18 carnival, when he averaged 27 disposals and was named an All Australian.
Where does he go? Adelaide has been linked to Schoenberg with its pick 28, and he sits in that part of the draft. Sydney, Richmond and Geelong are others who could look at Schoenberg.

16/10/01
184cm/76kg
Bendigo Pioneers/Vic Country
Midfielder
October ranking: 28
Dow will catch the eye in a game with a brilliant scoop off the ground at pace, a twist out of trouble or a running bounce. It's these flashes that made up a lot of his year, as the midfielder developed into a prospect with a turn of speed and ability to switch forward, too. He averaged 22 disposals for the Pioneers and also did well at the Combine, where he finished third overall in the agility test.
Where does he go? Has his fans, who like his ability to whisk the ball away at pace, but his inconsistency means Dow probably fits around the back half of the second round. There is a chance he gets through to Carlton's pick No.43, at which stage he probably gets taken.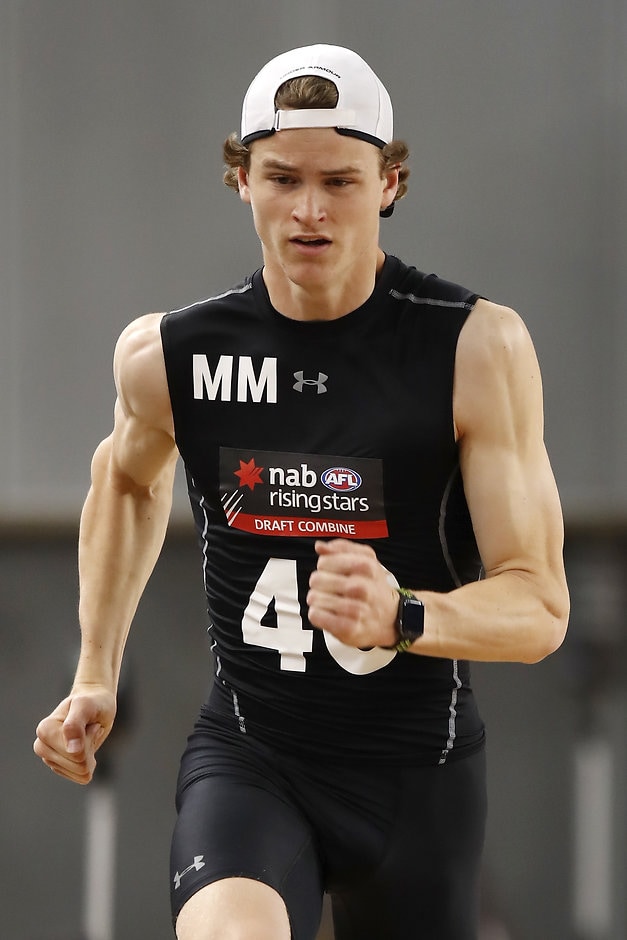 13/3/01
188cm/81kg
Gippsland Power/Vic Country
Defender
October ranking: -
Smith might not be as eye-catching as others in the draft but his ability to shut down opponents – of all shapes and sizes – will be appealing for clubs. The captain of the Gippsland Power is hard, tough, consistent and rarely gets beaten in one-on-ones. He was a consistent player for the Vic Country line-up at the national carnival.
Where does he go? Smith's spoken to every club throughout the year but his draft spot is unclear. He's likely to be selected somewhere after pick 35.