Three members of Adelaide's SANFL development squad have tasted interstate success in an amateur match against Queensland.
Jy Farrar, Pierce Seymour and Jay Boyle represented the South Australian Amateur Football League team against the Queensland Amateur Football League on Saturday.
After a tight first three quarters, SA dominated the final term to win by 20 points - 15.15 (105) to 12.13 (85).
Farrar embraced the opportunity to understand more about professional football.
"The way they set it up, with all the flights, accommodation and how professional everything was, it was a very good experience," Farrar said.
"Playing at a higher level with some of the best amateur talent, it was good to have the experience just to see where I was at with my skill level up against better players in the amateur ranks."
The 22-year-old said being part of the Crows development squad this year has helped his football immensely.
"The development squad pre-season helped me get more kilometres under the legs," Farrar said.
"Because we train at such a high level, it just helped me with everything – skills, running and structure.
"Going back to my amateur team, I have really seen an improvement in my game, with skill level leadership and higher intensity."
DOEDEE'S PRAISE: Tom's thoughts on Jordon Butts
Farrer hails from Halls Creek, a town of just over 1500 people in the Kimberley region of Western Australia, and is the cousin of Crows forward Shane McAdam.
Football has taken Farrar across the country – starting in Halls Creek, winning a best and fairest at North Wangaratta in Victoria, before moving to South Australia.
He started playing for Scotch Old Collegians in 2018 - alongside cousin, teammate and fellow Crows development squad player Ashley Johnson - but suffered a severe ankle break mid-season.
Luckily, Farrar was able to return in time for the finals and win a division three premiership in the Adelaide Footy League.
The grand final wasn't without drama, though.
Farrar played on his injured ankle and Johnson was rushed to hospital for surgery after severely breaking his arm in a marking attempt – causing the game to stop for 45 minutes.
After the win, Johnson was given his medal in hospital by his teammates.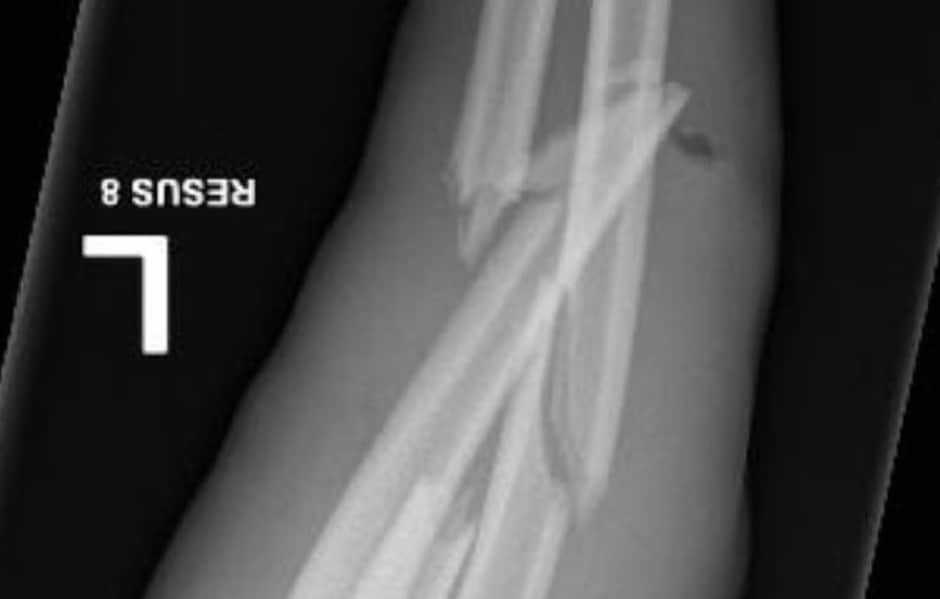 Johnson's broken arm
The duo spent the start of the 2019 pre-season rehabbing together.
"It was good to have Ash with me," Farrar said.
"We challenge each other on the track and we want to work hard and show everyone what we are all about.
"Once I had my pre-season under me and all my rehab, it felt great to play good footy."
From travelling the country playing footy, training in the development squad and playing in the state team, Farrar can't believe how good football has been to him.
"I look back and I am dumbfounded by how I ended up where I am now," he said.