Recruiting guru Alan Stewart explains why Rory Laird slipped through to the Rookie Draft, and how he's developed into one of the premier rebounding defenders in the AFL.
Laird started out playing soccer, but took up Australian Football at the age of 10. He played for Colonel Light Gardens Primary School, as well as the Kenilworth Football Club.
Small but competitive and driven, Laird was invited out to West Adelaide as a 12-year-old. He enrolled at Scotch College where he made the First XVIII in just Year Nine. He was named in the South Australian Under-15 squad and earned All-Australian honours after the national carnival.
Laird was selected to represent SA at the Under-18 Championships in 2011. He overcame tonsillitis to play four games at the Championships, being named in the best players in three of them …
"There was a game 'Lairdy' played at Adelaide Oval during the National Championships that I really liked. For his size, he was quite a good one-on-one player. He could actually take a good mark and in one of the games he took a couple of really nice contested marks against his opponent playing in defence. I never forgot it.
"He used to get the ball a fair bit. His role changed somewhat over the course of the carnival – I'm pretty sure he played as an onballer in one of the games – but he had a natural feel of how to find the footy."
Laird in action for SA at the Under-18 National Championships in 2011
After starting 2011 in West Adelaide's Under-18 team, Laird was promoted to the reserves in the latter part of the year. He finished equal-fourth in the reserves best and fairest despite only playing seven games …
"His footy in the reserves was really consistent. He rarely had a bad game. His ability to make good decisions, anticipate and read the play – we could see that in his junior footy. He had a good skill set. He's a good handballer and had a solid kick even though it needed some work, and he rarely fumbled.
"There were lots of things we like about Lairdy. He ticked nearly all the boxes in terms of what we look for in a player."
The Crows interviewed Laird, who only qualified for the draft by two days, in the lead-up to the 2011 AFL National Draft. The well-mannered teenager passed with flying colours.
But some recruiters, including Stewart, were worried how his 176cm, 76kg, frame would fare at AFL level …
"At the end of the year, we rated Lairdy really well. The discussion was about his size. We talked about it quite a bit; about how he could get into our AFL team and whose place he could take at that size.
"It was a period of time when a lot of AFL recruiters, coaches and match committees were favouring the 185-188cm, athletic, utility-types. The industry as a whole was a bit cautious about picking the smaller, more natural players.
"As we've seen over the last few years, it's gone back the other way and we're picking more smaller players."
After a busy exchange period where the Crows traded for Brad Crouch, Luke Brown, Tom Lynch, Josh Jenkins and Lewis Johnston, the Club took four 'live' picks into the National Draft.
Hard-running Bendigo Pioneers onballer Sam Kerridge was selected with Adelaide's first pick at No.27. Two more midfielders, local pair Mitch Grigg (No.41) and Nick Joyce (No.46), filled the next two spots. With their last pick, the Crows opted for that bigger-bodied type in Cam Ellis-Yolmen – a 188cm, 89kg, clearance winner.
Laird was overlooked by all of the AFL clubs, and had to wait until the Pre-Season and Rookie Drafts to see if a club would give him a chance to prove he could compete at the elite level.
Fortunately for Laird, who also trained with Essendon in the lead up to the drafts, his name was the first read out by the Crows (pick No.5) in the Rookie Draft.
He's one of a handful of players from that rookie meet, including Geelong best and fairest winner Mark Blicavs, North Melbourne ball magnet Sam Gibson, Essendon defender Mark Baguley, Western Bulldogs trio Shane Biggs (Sydney Swans), Lin Jong and Jack Redpath, Collingwood onballer Jack Crisp (Brisbane Lions), still in the AFL system today …
"With that late pick in the National Draft, we were looking for the bigger-bodied player and Cam was that big, strong midfielder who fit the bill.
"We saw Lairdy as our best prospect in the Rookie Draft that year and we were very happy to take him."
Stewart, who was working in development as well as recruiting at that stage, admits the Crows recruiters didn't realise just how good Laird was as a player until his first pre-season at West Lakes …
"During the pre-season, I remember talking to (development coach) Peter Jonas about how Lairdy had fitted in so well. I think that evolved because of his ability to understand the game.
"He improved really quickly over the pre-season and we realised quite early in the piece that he was better than a rookie! He should've been a senior-listed player for us."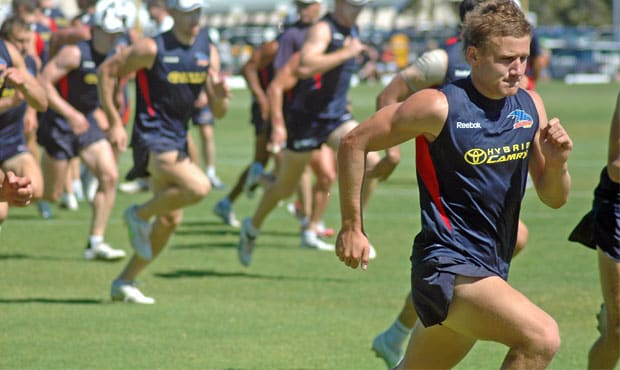 Laird pushes hard in his first pre-season at Adelaide
Laird played senior football for West Adelaide in his first year with the Crows, earning a Star Search nomination – the SANFL's equivalent to the Rising Star – on debut.
He worked hard to improve his game, got on well with teammates at both clubs and showed maturity beyond his years when he was left out of the Bloods Grand Final team to make way for a senior player despite having played 18 consecutive games …
"We were really impressed as a coaching group with how quickly he adapted to senior football.
"It was probably only 6-8 games into the SANFL season that we knew Lairdy was a player we could put onto our senior list, and we held that view all the way through.
"He was very, very quiet but he was able to accept feedback really well and then go and apply that to his game.
"He's been respected from day one because of his attitude and the way he trained. Then when he played senior footy, the players all realised how good a player he was."
Laird continued to impress in his second summer at West Lakes, making his Crows debut in Round One of the 2013 NAB Cup. He was promoted to senior list and made his AFL debut against the Western Bulldogs in Round Four. The courageous and composed small defender went on to play 18 games that season …
"We put him on the senior list and he's never, ever looked back. We knew he was a young lad who had a real drive to be successful.
"I remember one day I said to him, 'Lairdy, I'm really pleased for you because you're playing some excellent football here. I have to say I was one of those people who had a little bit of doubt whether you were big enough to play AFL football, but I have no doubts at all now that you'll play AFL footy and I think you could possibly be a 250-game player'.
"Lairdy just looked at me with a blank expression on his face as if to say, 'You're kidding!'"
Fast forward a few years and Laird is a two-time All Australian nominee, Club Champion runner-up and emerging leader. The nuggety backman, who many people thought was too small to play AFL, has grown a couple of centimetres but remains the second-shortest player (178cm) at Adelaide behind Eddie Betts (172cm).
The 22-year-old has played 76 games, and looks every bit the 250-game player Stewart believes he can be …
"He's one of the best rookie players I think we've ever had, to be honest. And we've had a few over the years.
"It's just a great story of a player sticking to his belief that he could make it, and it's a credit to him.
"The AFL is a funny system at times. You look for athletes or natural footballers, big people, small people, fast people – it tends to be a changing scenery. But some things don't change, like the ability to handle the football cleanly, being smart with your decision making, having a good skill set and being competitive. Lairdy has all that.
"I'm really proud of what Lairdy has achieved. He proved everybody wrong, including me to a certain extent!"
Laird accepts the member-voted 19th Man Award in 2015